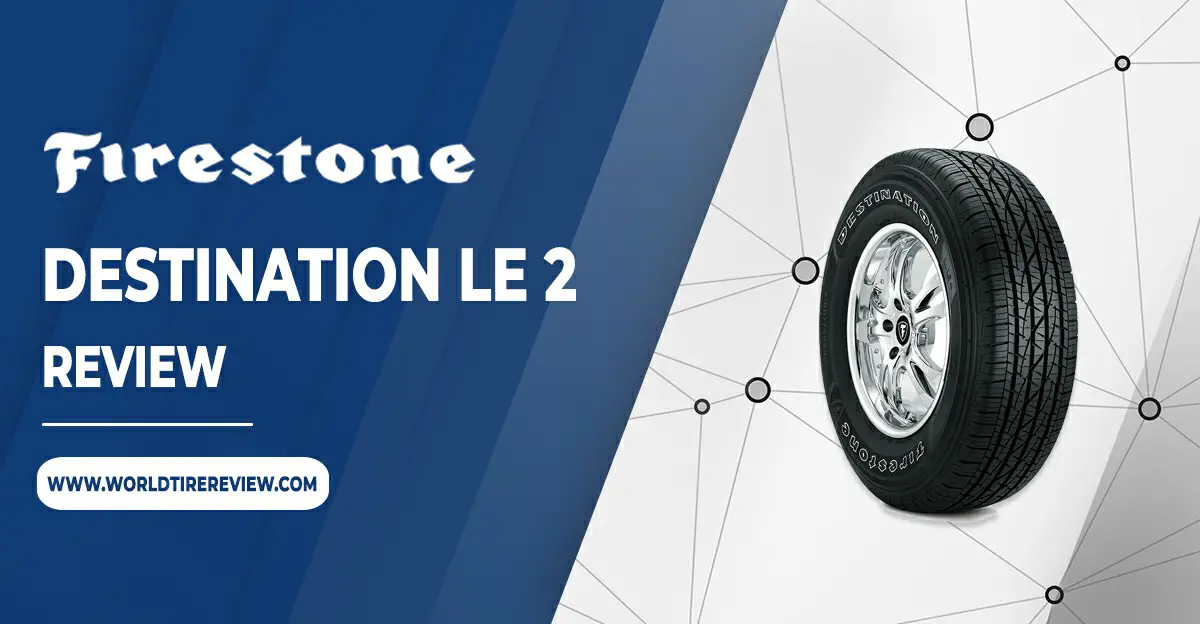 Choosing a new tire is not a piece of cake as you thought when various choices are available on the market, right? Learn more with us in this review and figure out whether it is suitable for you or not.
When it comes to tires, Firestone has always been one of our go-to options. Founded in 1900, Firestone is a well-known brand among drivers all over the world. 
Firestone offers a wide range of tires, from all-season, touring to performance. All Firestone tires come with a treadwear warranty of up to 60,000 miles and a three- to four-year limited warranty.
One of Firestone's strengths is their all-season highway tires.  This type of tire is designed to improve the performance of your truck or SUV on the route. They are far more comfortable and quieter than all-terrain tires, with superior traction and better high-speed stability.
Firestone Destination LE 2 Tire Review
The Firestone Destination LE 2 is likely one of the brand's top-rated models. It has every feature of the previous version, but better. Firestone has developed the Destination LE2 to become more suitable for light/medium trucks, vans, and crossovers.
First of all, we have to talk about Destination LE 2's unique design. It has a silica-enhanced compound and symmetrical tread pattern. This design provides better traction and grips, whether you are driving on dry, wet, or snow surfaces.
The Firestone Destination LE 2 also has closed shoulder blocks like the previous version. This feature not only enhances dry performance but also improves wear life.
The circumferential grooves help keep water out of the tire for great braking in wet conditions, while the zigzag sipes and sweeping slots improve traction in light snow. 
However, we wouldn't recommend this tire on an icy road or with large crossovers since it's not the most responsive one out there.
The inside of Firestone Destination LE 2's body is made from polyester cord. It will offer you a more comfortable and quieter ride. You can say that it has everything you want in an affordable tire.
Personal Opinion
Compared to the original version, the Firestone Destination LE 2 is obviously a defined upgrade. After trying it with our SUV, we have come to some overall thoughts.
First off, we can say that this model is the standard all-season tire for trucks and SUVs. Its tread design is long-lasting and provides excellent grip. We had tried Destination LE 2 in different conditions, and it didn't disappoint us.
Firestone Destination LE 2 has some unique details, such as the circumferential grooves or zigzag sipes. They offered great stability and braking even when we were driving at high speed or in heavy rain. 
However, we don't think that Destination LE 2 is the best for big crossovers or driving on icy roads. It's not the most responsive compared to other models on the market.
But despite being a highway tire, Destination LE 2 is very quiet and comfortable. Along with its reasonable price, we would recommend this tire to anyone without a doubt.
To conclude this review, let's say that the Destination LE 2 has everything you need at an affordable price
Competitors & Alternatives
| | |
| --- | --- |
| Treadlife Warranty: | 5 Years / 60,000 Miles (P-metric & euro metric)  Excludes LT Tires  Half mileage for rear if different size than front |
| Uniformity Warranty: | First 2/32″ of wear |
| Workmanship & Materials Warranty: | 5 Years / Free replacement first 3 years, then prorated until 2/32″ remaining depth |
| Manufacturer's Road Hazard Warranty: | None |
| Manufacturer Special Warranty: | 90 Day Buy & Try Guarantee (1) |
| Additional Information: | (1) Purchase four or more, full refund or exchange |
Destination LE 2 warranty summary for replacement tires purchased on or after 01/01/19 at Tire Rack
| 15″ | | 16″ | |
| --- | --- | --- | --- |
| P 215/75R15 | P 235/70R15 | P 205/70R16 | P 235/75R16 |
| P 225/70R15 | P 235/75R15 | 215/65R16 | P 245/70R16 |
| P 225/75R15 | P 265/75R15 | P 215/70R16 | P 245/75R16 |
| | | 225/70R16 | P 255/65R16 |
| | | P 225/75R16 | P 255/70R16 |
| | | P 235/65R16 | P 265/70R16 |
| | | P 235/70R16 | P 265/75R16 |
| 17″ | | 18″ | |
| --- | --- | --- | --- |
| 215/60R17 | P 245/65R17 | 225/55R18 | 255/55R18 |
| 215/65R17 | P 245/70R17 | 225/60R18 | P 255/65R18 |
| 225/60R17 | P 255/65R17 | 235/50R18 | P 255/70R18 |
| 225/65R17 | P 255/70R17 | P 235/55R18 | P 265/60R18 |
| 235/55R17 | P 265/65R17 | P 235/60R18 | P 265/65R18 |
| P 235/60R17 | P 265/70R17 | P 235/65R18 | P 265/70R18 |
| 235/65R17 | P 275/60R17 | 245/60R18 | P 275/65R18 |
| P 235/70R17 | | P 245/60R18 | |
| 19″ | | 20″ | |
| --- | --- | --- | --- |
| 225/55R19 | 255/50R19 | P 235/55R20 | 265/50R20 |
| 235/45R19 | 255/55R19 | P 245/50R20 | 275/45R20 |
| 235/50R19 | P 255/60R19 | 245/60R20 | P 275/55R20 |
| P 235/55R19 | 275/55R19 | 255/50R20 | P 275/60R20 |
| P 245/55R19 | | P 255/55R20 | |
Destination LE 2 prices range approximately from $105.99 – Firestonetire
Goodyear Vector 4Seasons SUV
Goodyear Vector 4 Seasons Gen 2 SUV
Yokohama Geolander AT G015
Dunlop Grandtrek ST20
Continental ContiCrossContact LX 2
Nokian WeatherProof SUV
Firestone Destination LE 2 – Compare Prices
We found 5 online tire retailers selling Firestone Destination LE 2. Refer to the details below to get the best price:
Firestone Destination LE 2
PRICE
SOLD BY
 

Offers

Offers

Offers

$127

Offers
Destination LE 2 Ratings By Consumer