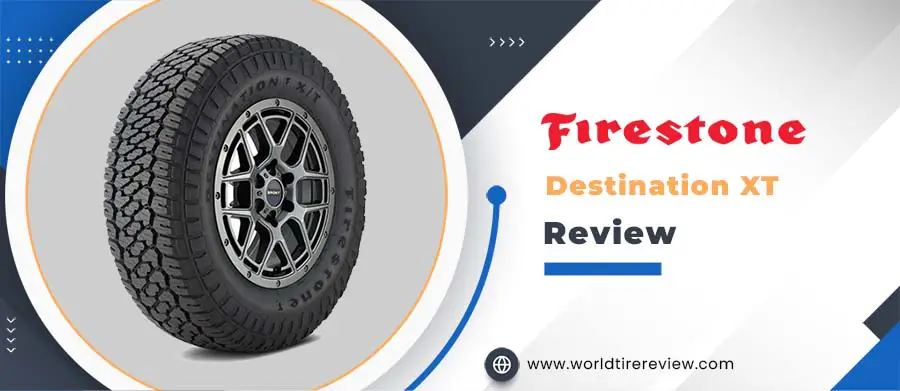 Firestone is a brand specializing in rubber and tire production. It was established in the United States and operated under the management of the mother company – Bridgestone. 
Firestone's product obviously evokes the American breath, which is tough, durable, and robust. Being influenced by Bridgestone's customs, Firestone also releases quality-verified products.
 Up to now, tires from this manufacturer have been usually rated over 4.0 score by customers on reliable review websites. Therefore, its quality is undeniable. 
Among them, Firestone Destination XT is consistently upgraded in treadlife, durability, and performance. Customers can recognize its excellent all-terrain capabilities and weather resistance. 
All-terrain Performance
Off-road ability is considered the most outstanding feature of this model. Thanks to the wider open shoulder design, the product's traction on any surface has been reinforced significantly. Hence, drivers will have no trouble on-road or even off-road performance.
Compared to the conventional closed tire, open-edge tires can certainly evacuate water more effectively. Hydroplaning is minimized, and the safety of the rider is simultaneously guaranteed.
On the tread surface, tread blocks are larger, while grooves are deeper with an interlocking 3D design. It means that they own firmer biting edges on mud, snow, and water. Therefore, the wheel will not slip even though you go through muddy terrain.
The stone ejectors located between deep grooves are also another important factor. In some cases, small rocks and sand can clog on tires, making the wheel's operation lagged after a long usage time. For Destination X/T, drivers can rest their minds about this issue.
Well-optimized blocks, sipes, channels, etc., combine to form a sophisticated tread pattern, serving heavy-duty driving requirements. From there, its traction or biting edge on many kinds of terrain possibly please you.
Weather Resistance
As we have shared, Firestone dedicatedly invests in the rubber shelter of its tires. And, of course, Destination XT is not an exception. 
This item is made of tougher rubber with a perfect grip regardless of surface conditions (wet, dry). In particular, the tire does not experience deformity like expansion in hot weather or stiffness in winter.
Surprisingly, the snow performance of these all-terrain tires is the highest appreciated. They are tagged by 3PMSF (3 Peak Mountain SnowFlake) symbols, meaning performance in winter has been censored based on the testing standards.
Treadlife
Customers can also count on its durability. The tires can accompany you up to 50,000 miles on average. You seem to use it for at least 3 years (and of course, this measurement depends on your usage frequency). 
Remarkably, Firestone is committed to delivering stable and consistent performance throughout the tread warranty. Hence, you can complete heavy-duty trips without being afraid of quality degradation.
Fuel Efficiency
Destination XT is also an economical choice because of its lightweight structure. Although born to serve the aggressive roads, this product weighs only 50.2 pounds (~227kg). 
This way, rolling resistance is also reduced, and tires cost less energy during operation, resulting in a fuel-efficient consumption.
Firestone Destination X/T reviews: Pros & Cons
Our Personal Experience
We tested it for about 7-8 months, and we were impressed by its ability. Remarkably, the ability to run on thin or medium-thick snow is undeniable.
In winter, the tire can still rotate without effort. We confidently state that this item is one of the few all-terrain tires with the best snow performance. 
Moreover, riding on other confusing surfaces such as mud, sand, or clay is well worth our purchase. Tires went through these areas very smoothly.
In addition, we feel facilitated by the tires' lightweight size. It means that we can use less energy when driving, but its performance remains unchanged.
We also do not overlook the eye-catching design. Despite the heavy-duty function, the tires show an appearance combining elegance and sturdiness. Our SUV did not look too aggressive. That's why they can still fit the urban areas.
The only downside is the noise. We emphasize that it does not concern ride comfort like shock or vibration. 
Sometimes, when operating within the high speed and strong driving force, the tires emit humming noise. However, its frequency is insignificant.
Who Should Buy This Tire?
Based on our review, we believe it is the wise choice for adventurous drivers who often discover and conquer rough terrains.
 In addition, the item can also be confidently applied for heavy lifting works. Based on the verified snow performance, you might consider it if you regularly deliver goods in winter. 
Despite the harmonious design, we believe it is not suitable to commute in the city. You might consider passenger tires that were meant for this purpose.
We believe that Destination X/T shines only when fully used for off road targets.
Competitors & Alternatives
| | |
| --- | --- |
| Treadlife Warranty: | 5 Years / 50,000 Miles  Half mileage for rear if different size than front |
| Uniformity Warranty: | First 2/32″ of wear |
| Workmanship & Materials Warranty: | 5 Years / Free replacement first 3 years, then prorated until 2/32″ remaining depth |
| Manufacturer's Road Hazard Warranty: | None |
| Manufacturer Special Warranty: | 90 Day Buy & Try Guarantee (1) |
| Additional Information: | (1) Purchase four or more, full refund or exchange |
Warranty summary for replacement tires purchased on or after 01/01/21 at
Tire Rack
| 15 | | 16 | |
| --- | --- | --- | --- |
| LT 30X9.50R15 | LT 33X12.50R15 | LT 215/85R16 | LT 245/75R16 |
| LT 31X10.50R15 | | LT 225/75R16 | LT 265/75R16 |
| | | LT 235/85R16 | LT 285/75R16 |
| 17 | | 18 | |
| --- | --- | --- | --- |
| LT 235/80R17 | LT 265/70R17 | LT 265/70R18 | LT 285/65R18 |
| LT 245/70R17 | LT 275/70R17 | LT 275/65R18 | LT 35X12.50R18 |
| LT 245/75R17 | LT 285/70R17 | LT 275/70R18 | |
| LT 255/75R17 | LT 315/70R17 | | |
| 20 | | | |
| --- | --- | --- | --- |
| LT 265/60R20 | LT 285/60R20 | | |
| LT 275/55R20 | LT 285/65R20 | | |
| LT 275/60R20 | LT 295/60R20 | | |
| LT 275/65R20 | LT 305/55R20 | | |
| LT 285/55R20 | LT 35X12.50R20 | | |
Destination X/T prices range approximately from $180.00 to $396.00 (Discount Tire)
Cooper Discoverer Rugged Trek
prices range approximately from
Firestone Destination X/T – Compare Prices
We found 5 online tire retailers selling Firestone Destination X/T. Refer to the details below to get the best price
Firestone Destination X/T
PRICE
SOLD BY

Offers

Offers




Offers




Offers



Destination X/T Ratings By Consumer