Our Firestone Winterforce 2 will give you more information about the tire, as well as some special features to look for in winter tires.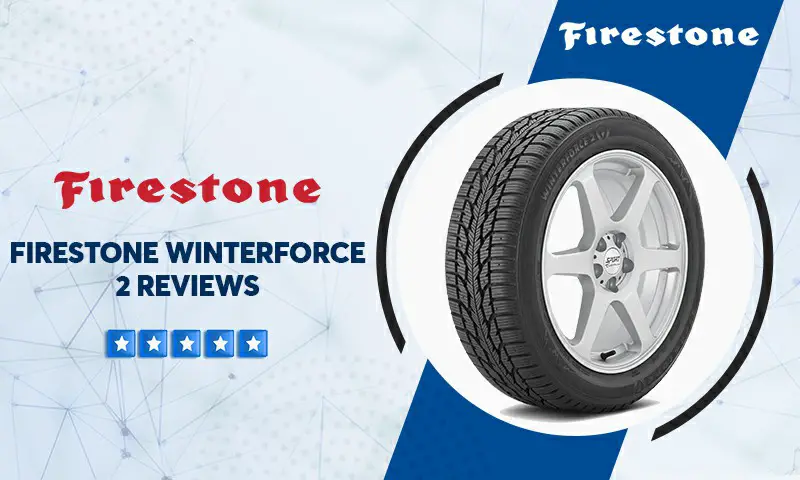 Firestone Tire and Rubber Company is an American tire company that has been active since 1900.
They were primarily known as a supplier of solid rubber side-wire tires, pneumatic tires, and other forms of wheeled transportation common in the era. It was not until the founder of Firestone saw the huge potential in automotive tire marketing that the company became the leadoff in the mass production of tires. 
In this Firestone Winterforce 2, we would like to break down all important features of the tire, including tread, traction, braking, handling, and speed, especially during wintry conditions.
View more: Firestone WeatherGrip Reviews: What You Need To Know Before Buying
What Makes Firestone Winterforce 2 Different From Other Snow Tires? 
According to the Firestone website, The Winterforce 2 tire is certified with the three-peak mountain snowflake designation. A three-peak mountain snowflake is a sign branded on the sidewall of the tire, signifying the tire meets required performance criteria in snow testing. As a result, it is a much better choice, exclusively safer, compared to regular tires when it is winter. 
Tread
With full-depth tread features, specifically 0.375 inches while it is 0.313 inches for regular tires, Firestone Winterforce 2 promises to bring you an enduring performance. For winter tires that need biting edges to strengthen acceleration and braking traction on loose surfaces, full depth tread features are what you would be looking for. 
Traction, Braking, And Handling
With tire studs inserted to improve tire-road friction in snow or ice conditions, Winterforce 2 will have problems in the handling department. Despite the lack of responsiveness, it is reported to perform well enough in traction, cornering grip, and braking. 
On wet and slippery roads, Winterforce 2 clearly performs as well as most winter tires. Nonetheless, there will be a botheration on icy roads without the studs attached. Once the studs are inserted, you will have a much more comfortable and safer ride.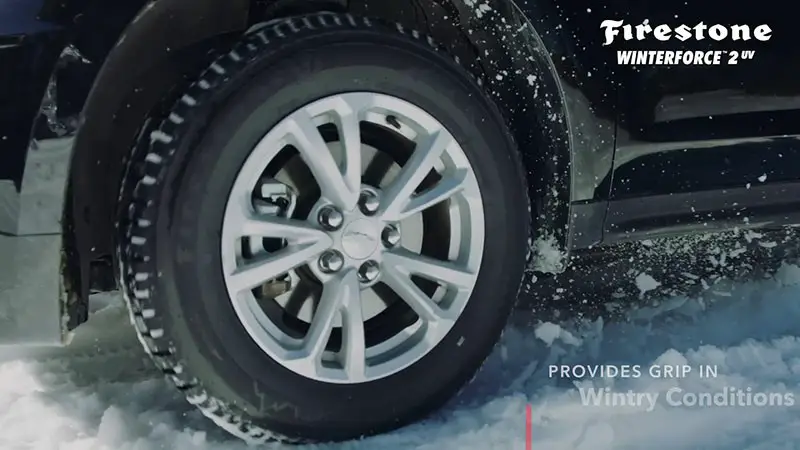 Speed
For having the most common speed rate, particularly S, Winterforce 2 is recommended for sedans, minivans, and light trucks drivers. 
Off-roading
With soft rubber and adequate tread depth, off-road drives are certainly not suitable for Winterforce 2. You definitely should look for a more practical choice if you do not want the soft rubber to be damaged. 
Noise
Another piece of information to underline is noise, Winterforce 2 is reasonably noisy. Despite it being a lot quieter than most other affordable tires in the market, it may give you unpleasant rides if you are into comfort. Michelin X-Ice and General Arctic tires are some of the few snow tires that are as quiet as all-season tires you might want to check out.
Pros & Cons
Firestone Winterforce 2 Test Drive
In the huge market of winter tires, we know it can be difficult and confusing to choose a perfect one for you. In our experience, Firestone Winterforce 2's performance in wet, slippery, and icy roads are sufficient owing to its full-depth tread features. 
Unless tire studs are inserted in, there is no discomfort in traction, braking, and handling. However, noise and off-road driving are some of the few things you should be aware of before purchasing this winter tire.
Firestone Winterforce 2 is a suitable tire for passenger car use. In particular, sedans, minivans, and light truck drivers are to be recommended. 
As one of the best options in the automotive tires market out there, you probably will not be able to find another alternative with the same price. 
Conclusion
Is Firestone Winterforce 2 an economical and practical choice for you? If you are those who find all features mentioned in our reviews suitable as well as accepting all its disadvantages, Winterforce 2 is something to go for!
Competitors & Alternatives
| | |
| --- | --- |
| Treadlife Warranty: | None |
| Uniformity Warranty: | First 2/32″ of wear |
| Workmanship & Materials Warranty: | 5 Years / Prorated until 2/32″ remaining depth |
| Manufacturer's Road Hazard Warranty: | None |
| Manufacturer Special Warranty: | None |
Firestone Winterforce 2 summary for replacement tires purchased on or after 01/01/19 at Tire Rack
| 14″ | | 15″ | |
| --- | --- | --- | --- |
| 185/60R14 | 185/65R14 | 175/65R15 | 205/65R15 |
| | | 185/60R15 | 205/70R15 |
| | | 185/65R15 | P 205/75R15 |
| | | 195/60R15 | 215/70R15 |
| | | 195/65R15 | |
| 16″ | | 17″ | |
| --- | --- | --- | --- |
| 195/50R16 | 215/55R16 | 205/50R17 | 215/65R17 |
| 205/50R16 | 215/60R16 | 215/45R17 | 225/45R17 |
| 205/55R16 | 225/60R16 | 215/50R17 | 225/50R17 |
| 205/60R16 | 225/65R16 | 215/55R17 | 225/55R17 |
| 205/65R16 | 235/60R16 | | 235/55R17 |
| 18″ | | | |
| --- | --- | --- | --- |
| 225/40R18 | 225/50R18 | 225/60R18 | 235/50R18 |
| 225/45R18 | 225/55R18 | 235/45R18 | |
Winterforce 2 prices range from approximately $81.99 and up
BFGoodrich gForce Winter 2
Yokohama BluEarth Winter V905
Michelin Primacy Alpin PA3
Nexen Winguard Snow G3
Nokian Hakkapeliitta 8
Michelin Alpin 6
Firestone Winterforce 2 – Compare Prices
We found 5 online tire retailers selling Firestone Winterforce 2. Refer to the details below to get the best price:
Firestone Winterforce 2
PRICE
SOLD BY
 

$53.87

Offers

Offers

Offers

Offers
Firestone Winterforce 2 Ratings by consumer