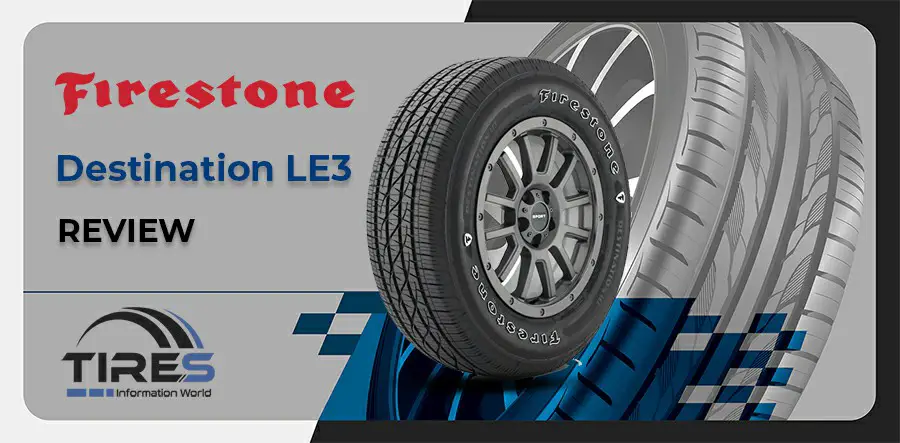 The Firestone Destination LE3 is an all-season tire designed for light to medium-sized trucks. The tire is an upgrade version of their popular predecessor, which is the Destination LE2, but with better traction and higher mileage. Check out our in-depth Firestone destination LE3 tire test for more information on these versatile all-season tires!
Firestone Destination LE3 Introduction
Firestone is well-known for providing customers with quality tires at multiple price levels. The Firestone Destination line is a popular choice for truckers looking for affordable, all-season tires. Let's have a quick look at the company's profile before diving into our Firestone Destination LE3 tire.
Firestone Tires Company
Founded in 1900 by Harvey Firestone in Akron, Oklahoma. Firestone is one of the earliest tire manufacturers in the industry. The brand started by specializing in fire truck tires before expanding to the current tire market for wagons, trolleys, and trucks. Ford motors even chose Firestone as the original equipment tires for their automobiles.
In 1988, Bridgestone Corporation of Japan bought Firestone and continued to mass-produce high-quality tires as a subsidiary of Bridgestone.
Firestone Destination LE3 Features
The Firestone Destination LE3 is a great tire for light and medium-duty trucks as well as SUVs. Firestone used its most advanced all-season technology for the Firestone Destination LE3 to provide drivers with a smooth and safe driving experience. 
Equipped with an advanced rubber compound and asymmetrical spike pattern, the Firestone Destination LE3 allows for precise steering and handling.  Firestone also included a 3D tread feature in the Destination LE3's TractionTech package to help maintain its performance when the tread is worn out.
The Firestone Destination LE3 also comes with full-depth 3D sipes for better traction in snow conditions and Hydro-grip technology to help decrease the risk of hydroplaning on wet roads. All these features let drivers have a piece of mind when driving with the Firestone Destination LE3 in bad weather conditions.
Firestone Destination LE3: Pros & Cons 
The Firestone Destination LE3 is a generally good all-season tire with great performance and handling for the price.
Let's explore some of the pros & cons of this tire below:
Tire Drive Test
Let's dig deeper into the capabilities of this tire. Here we'll share the most practical experiences of ours. No need to wait more! Scroll down to read!
Driving in Bad Weather
Engineers designed The Firestone Destination LE3 using the most innovative technologies such as full-depth 3D sipes and Hydro-grip for optimum handling in bad weather conditions. In the snow, deeper sipes allow for more biting edges on tires in order to increase traction. 
On wet roads, Hydro-grip technology uses an optimized tread pattern with open shoulder slots to reduce the chances of hydroplaning.
Despite the exceptional features, it is important to note that the Firestone Destination LE3 is an all-season tire and not a snow tire. It'll let the driver safely turn and brake on snowy days. Nevertheless, if weather conditions are extreme, we would advise against using these tires.
Comfortable Ride Experience
Firestone designed the Destination LE3 while viewing from the driver's perspective. The tires are surprisingly comfortable, absorbing any force during small collisions with rocks and potholes on the road, leaving the passengers with a smooth and quiet ride. 
Off-roading
The Firestone Destination LE3 has excellent handling and traction capabilities on regular tarmac roads, but if you plan on off-roading, these might not be your ideal tires. As the tires are designed for regular roads, the tires are simply not made with thick enough materials to withstand the sharp rocks encountered while off-roading. 
Overall, if you're a truck owner looking for high-quality, all-season tires with good traction and handling, then the Firestone Destination LE3 is for you – as long as you stay on the tarmac!
Competitors & Alternatives
| | |
| --- | --- |
| Treadlife Warranty: | 5 Years / 70,000 Miles (P-metric & euro metric)  Half mileage for rear if different size than front |
| Uniformity Warranty: | First 2/32″ of wear |
| Workmanship & Materials Warranty: | 5 Years / Free replacement first 3 years, then prorated until 2/32″ remaining depth |
| Manufacturer's Road Hazard Warranty: | None |
| Manufacturer Special Warranty: | 90 Day Buy & Try Guarantee (1) |
| Additional Information: | (1) Purchase four or more, full refund or exchange |
| 15 | | 16 | |
| --- | --- | --- | --- |
| 215/75R15 | 235/75R15 | 205/70R16 | 235/75R16 |
| 225/70R15 | 265/75R15 | 215/65R16 | 245/70R16 |
| 225/75R15 | | 215/70R16 | 245/75R16 |
| | | 225/70R16 | 255/65R16 |
| | | 225/75R16 | 255/70R16 |
| | | 235/65R16 | 265/70R16 |
| | | 235/70R16 | |
| 17 | | 18 | |
| --- | --- | --- | --- |
| 215/60R17 | 235/70R17 | 225/55R18 | 255/55R18 |
| 215/65R17 | 245/65R17 | 225/60R18 | 255/65R18 |
| 225/55R17 | 245/70R17 | 235/50R18 | 255/70R18 |
| 225/60R17 | 255/65R17 | 235/55R18 | 265/60R18 |
| 225/65R17 | 255/70R17 | 235/60R18 | 265/65R18 |
| 235/55R17 | 265/65R17 | 235/65R18 | 265/70R18 |
| 235/60R17 | 265/70R17 | 245/60R18 | 275/65R18 |
| 235/65R17 | | | |
| 19 | | 20 | |
| --- | --- | --- | --- |
| 225/55R19 | 245/55R19 | 235/55R20 | 265/50R20 |
| 235/45R19 | 255/50R19 | 245/50R20 | 275/45R20 |
| 235/50R19 | 255/60R19 | 245/60R20 | 275/55R20 |
| 235/55R19 | 275/55R19 | 255/50R20 | 275/60R20 |
| | | 255/55R20 | |
Destination LE3 prices range approximately from $133.89 to $260.80
Continental TerrainContact H/T
Michelin Defender LTX M/S
Kumho Crugen HT51
Michelin LTX M/S2
General Grabber HTS 60
Firestone Destination LE3 – Compare Prices
We found 4 online tire retailers selling Firestone Destination LE3. Refer to the details below to get the best price:
Firestone Destination LE3
PRICE
SOLD BY
 

Offers

$130.99

Offers

Offers
Destination LE3 Ratings By Consumer