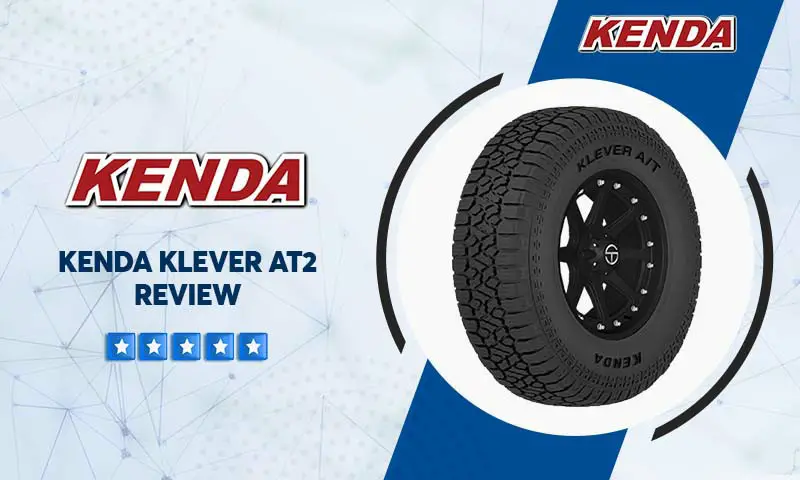 Kenda Tire is a well-known brand that produces tires for automobiles, bicycles, and other industries. In 2014, the company established its technical center in Akron, Ohio, US. Here is also the place where Kenda Klever AT2 was designed. 
This model is the new product of the Kenda Klever AT line, developed in 2012. It's made to handle all types of road conditions from the highway to off-road. If you are looking for one that can perform smoothly in different driving applications, this tire is worth considering.
Kenda Klever AT2 Tire Reviews
This tire offers drivers high off-road performance and paved road driving benefits. It's guaranteed to perform smoothly on wet and dry surfaces. The three-peak snowflake (3PMS) makes it certified for winter conditions. 
The model is expected to retain its superior traction in different terrains and reduce noise capability on highways. Huge tread blocks keep stability and traction in all seasons conditions. 
Based on the industrial demands, the tire comes in 40 different sizes (15 – 20 inches) with the size's additional expansions. For LT specifications, it promises 50,000 miles of warranty, while the number hits 60,000 miles for P-Metric/Metric fitments. 
The price of this product is highly admired compared to what it can bring to customers. The company's representative said that their Kenda's 2nd generation offers top-notch performance to gain the benefit package consumers require. Now, it's proving its message.
Pros & Cons
Personal Opinion
According to our Kenda Klever AT2 , the model was proven for its amazing snow capability, high off-road performance, and on-road comfort, especially for light trucks, SUVs, and 4×4. It's better than just an evolution of the old model.
Wet And Dry
Our 4-month testing has shown that this generation has better traction performance. Its huge tread blocks give it the ability to drive on all surfaces. It works well on dry surfaces. A mild condition is not a problem with this model.
Deep sipe grooves (Run full-depth) provide high aquaplaning resistance, suitable for wet and muddy surfaces. The sidewall brings more feeling of consistent traction while driving on mud and deep snow. 
One small minus thing about this model is not every size comes with a three-ply sidewall. Though it's not standard for all-terrain tires, it's a little bit inconvenient if you want to use this on severe off-road. You should choose the size that comes with a three-ply sidewall for better off-road safety and durability.
Snow
The traction on snow is highly increased thanks to the high density of sipes. Its true winter capability is confirmed, as well as on cold and clear roads. The tread compounds are for freezing resistance of the tire in winter temperature. The stamp of its approval is the three-peak mountain snowflake logo on its sidewall. 
Tread Life
You can irregular wear helps to prolong the tread life. This design is promised to give the even wear over time by two wide shoulders and interlocking center block. 
The double steel belt is the key to guaranteeing the solid treat life of the model. The tread footprint combined with the new compound is a renovation of the AT series. It provides drivers treadlife warranty as they expect.
Noise And Comfort
The tread design comes in a 3-2-3 pattern (two shoulder and one center sections) instead of five conventional lines. This mesh of tread blocks makes this model look less aggressive than the previous one. It helps increase the biting edges and lateral grip. Therefore, the model provides better on-road comfort and minimizes noise.
By and large, this new Klever AT all-terrain tire generation is highly recommended for winter conditions. However, it functions nicely in mild terrain conditions as well. Though there are a few disadvantages of noise and comfort, the model has a long tread life, good traction, and snow capability. We hope this review can be useful for you.
Treadlife Warranty:
LT specifications: 50,000 miles
P-Metric: 60,000 miles
Manufacturer's Road Hazard Warranty:
None
warranty summary for replacement tires purchased on or after 06/01/19 at
| 15 | | 16 | |
| --- | --- | --- | --- |
| 235/75R15 | | 235/70R16 | 255/70R16 |
| | | 245/75R16 | 265/75R16 |
| | | 245/70R16 | 265/70R16 |
| 17 | | 18 | |
| --- | --- | --- | --- |
| 235/75R17 | 255/70R17 | 255/70R18 | 265/60R18 |
| 245/70R17 | 265/70R17 | 265/70R18 | 275/65R18 |
| 245/65R17 | 265/65R17 | 265/65R18 | |
| 255/75R17 | 285/70R17 | | |
Kenda Klever A/T2 prices range approximately from $147.99 to $324.99 (Simple Tire)
Kenda Klever A/T2 – Compare Prices
We found 1 online tire retailers selling Kenda Klever A/T2. Refer to the details below to get the best price
Kenda Klever A/T2
PRICE
SOLD BY
 

Offers



Kenda Klever A/T2 Ratings By Consumer