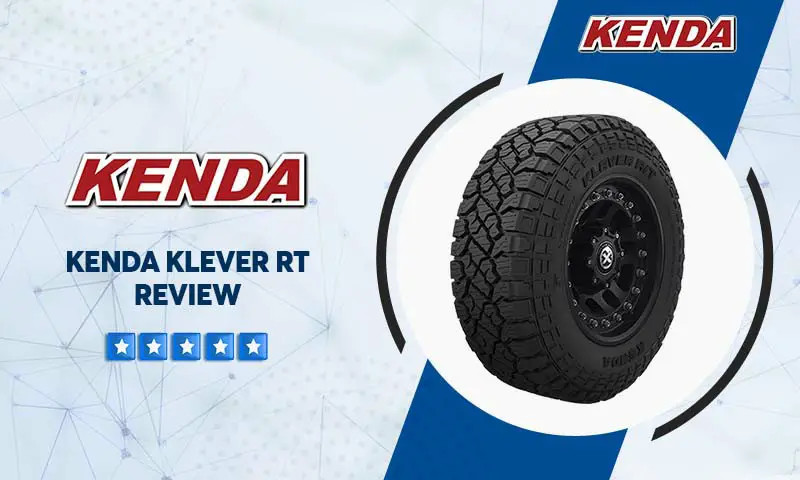 Overview About Kenda Klever RT
Before jumping into the details about the Kenda Klever RT, we should comprehend some general information about the brand and the specification of the tires.
About Kenda Tires
Kenda is a tire manufacturing brand that has gained trust from customers since the day it was founded in 1962, thanks to its high-quality products. Regardless of the tire size, Kenda will meet all of your tire demands.
For more than 50 years, Kenda has provided great rubbering rings for various vehicle types, including automobiles, bicycles, ATVs, motorbikes, golf cars, and light trucks, which serve customers from North America, Europe, and Asia.
Kenda's products are available in more than 150 countries, and the number of employees currently working is 10,000. In 2012, Kenda was awarded as one of the 29 world's biggest tire manufacturing brands.
What Is An RT Tire?
The acronym RT stands for rugged-terrain. Rugged terrain is a rocky and uneven area of land where there is barely any plant or tree. And the RT tires are made to help automobiles move smoothly on this terrain.
RT Tires are a cross of mud-terrain and all-terrain tires, combining the qualities of each. The tire longevity and reduced road noise of certain R/Ts make them ideal for use in severe snow conditions. Let's see whether the Klever RT meets this standard.
Kenda Klever RT Review
Kenda Klever RT is built to last on the rugged terrain and bring comfort to drivers while driving. Therefore, the tread has an aggressive outlook, and the grooves are with each other and form an interwoven pattern.
Klever RT can run on the muddy road perfectly with that unique pattern, thanks to the upper tread. To increase the endurance of the Klever RT tire in a harsh environment, 3-ply sidewall technology has been applied when constructing this tire.
In general, Klever RT KR601 can perform quite well in all the weather. However, it is acceptable when it comes to performing on snowy roads.
Pros & Cons
Personal Thoughts On Kenda Klever RT
Several Kenda Klever RT reviews are available on the Internet that give you some general idea about this rubber ring. However, the Kenda Klever RT KR601 tire that we bring to you is based on our experience with this product.
Appearances
In the beginning, the tire treads and grooves on the Klever RT are deep and have an outstanding outlook and pattern. After one year of driving on the rough and harsh terrain, the tire is still in good condition with the proper maintenance, and the erosion is not so visible.
On Dry Road
Now let's see the performance on the dry road. Given the rough terrain, this rubber ring does a good job on dry routes. So it's a great choice if you want to drive daily.
Because of the huge blocks, the tire has a lot of surface area to adhere to the ground. If your car has a powerful acceleration, you may feel some slide, but everything is still under your control.
Klever RT won't make you jaw dropped when it comes to handling. It's quite predictable and responsive in its tracking. You'll maintain a great degree of control regardless of speed.
Braking distances, on the other hand, seem to be adequate. Certain tires may provide better performance but not significantly.
On Slippery And Wet Road
Thanks to the rubber compound, the tire's grip and traction on a wet surface are excellent. It is safe to say that the tire will exceed your expectation or regular use in most situations. In addition, the brakes can efficiently stop the vehicle.
Thanks to its broader grooves, the Klever RT has great resistance to aquaplaning. When traveling at high speeds in deeper water, the vehicle will stay rather steady.
Off-road
The tire has a lot of traction and grip, particularly while driving on unpaved roads in mild situations. You should have no problem getting a decent grip on this tire in shallow sand or mud.
The Klever RT can handle everything from thick mud to mudslides with ease. In situations when all-terrain wheels may struggle, this tire still works properly. However, in some worst-case scenarios, tires used for mud-terrain will be more effective.
On Snowy Road
With its M+S classification, this rubber ring performs well in snowy situations. A good deal of stability and grip in mild snowfall is what Klever RT can offer you. Avoid overdriving your tire, and you'll have a more manageable one.
If the driving conditions are aggressive and harsh, the Kenda Klever RT won't stand a chance against the winter tire. This tire allows you to put studs on the surface in case you want better winter traction.
Sporty Driving
Kenda Klever RT tires are not a good fit for sporty driving. The tire doesn't have any features that would make it suitable for sporty driving.
This rubber ring has enough power for everyday driving, but if you force it to work more than it can be, it will begin to expose its flaws.
Comfort
Now it's Kenda Klever RT tire review about its comfort.
If you're looking for a comfortable, soft tire, the Klever RT tire isn't your best option. Ride quality is reduced because of the tire's 3-ply design. Although you can feel the vibrations, they are so subtle that you barely notice them.
One advantage of this rubber ring is its relatively low noise output compared with other off-road tires.
Which Cars Are Suitable With Kenda Klever RT?
Below are some names of the cars for which Kenda Klever RT can be a good fit:
F-150, Ford Bronco 
Chevrolet Colorado
Cherokee, Jeep Gladiator, Wrangler
GMC Canyon
Mercedes G Class
Pajero, Mitsubishi L200
Frontier, Nissan Titan, 
Pickup, Ram Power Wagon 
Hilux, Toyota, Tundra, Tacoma.
This tire is not covered by a manufacturer's treadlife warranty.
| 16 | | 17 | |
| --- | --- | --- | --- |
| LT235/70R16 | | 33*10.50R17LT | LT245/75R17 |
| | | 35*10.50R17LT | LT265/70R17 |
| | | 33*12.50R17LT | LT265/65R17 |
| | | 35*12.50R17LT | LT285/70R17 |
| | | LT235/80R17 | |
| 18 | | 20 | |
| --- | --- | --- | --- |
| 33*12.50R18LT | LT275/70R18 | 33*12.50R20LT | LT275/55R20 |
| 35*12.50R18LT | LT275/65R18 | 35*12.50R20LT | LT285/55R20 |
| LT265/65R18 | | | |
Kenda Klever RT prices range approximately from $99.99 to $484.99 (Simple Tire)
Kenda Klever R/T – Compare Prices
We found 2 online tire retailers selling kenda klever R/T. Refer to the details below to get the best price
Kenda Klever R/T
PRICE
SOLD BY
 

Offers




Offers



kenda klever R/T Ratings By Consumer