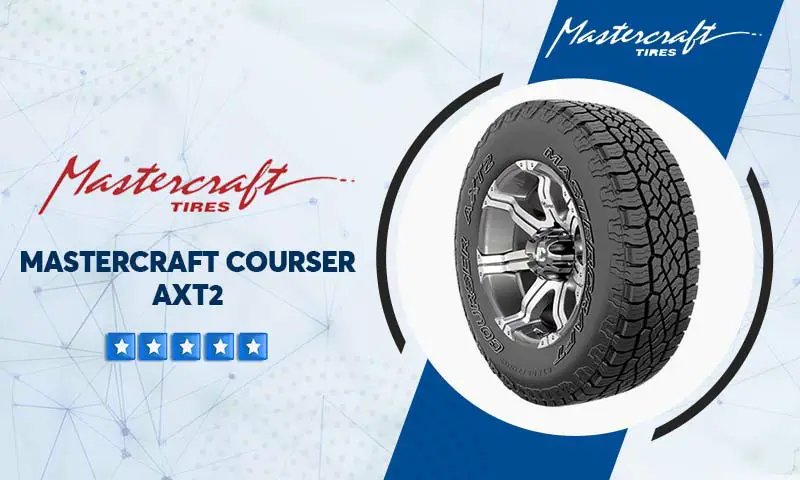 Introduction
About Mastercraft
Before getting to the review, let's have a quick rundown on the brand of this tire.
Mastercraft is one of the big names in the American market, known for making premium quality tires for the past 100 years. The firm is a subsidiary of Cooper Tires, manufacturing tires for a wide range of vehicles, including SUVs, light trucks, and even passenger cars.
What makes Mastercraft different from other brands? It brings premium quality with economic prices. With various options to choose from in each category, Mastercraft has never failed to bring about drive-enhancing tires to even the most skeptical consumers.
Mastercraft Courser AXT2 Features
Mastercraft Courser AXT2 is an all-terrain tire built for most types of pickups, SUVs, and other 4x4s. The tire has a mildly aggressive design. In this version, Mastercraft's tread uses a proprietary compound, utilizing silica in its makeup to enhance the traction on snowy and wet roads.
Even better, this tread pattern features a five-rib design with 12% more lateral grooves than the previous model to improve the grip performance. At the base of the compound, you will find an extra layer of rubber for wear and tear reduction from small and sharp rocks.
The tire comes with a 55,000-mile tread life warranty included in all sizes, covering against defects in workmanship and materials. Also, if users detect any defects in the first 2/32-inch of the tread wear, including balancing and mounting, they can require to replace their tires for free.
Pros & Cons
Personal Opinion
Real Experience
Let's talk about the good things first, shall we?
I like the special tread pattern of these tires; they do an incredibly good job in terms of performance on dry tarmac, though I feel it's plenty aggressive for off-roading yet smooth enough for highway driving. 
That, however, also means things may not be as smooth as you'd prefer if you're accelerating more aggressively.
Road noise is to be expected, but it is not too loud. Even though the responsiveness may not be as great as a touring tire, it still gets the job done nicely. Nonetheless, it is not something you're looking for in a tire of this category anyway, so I guess we can let it pass.
As for off-roading, it is obvious that all-terrain tires aren't always the best option if you seek the ultimate off-roading experience. AXT2 falls short in the most extreme conditions but still makes a decent tire for moderate ones.
Now, for the wet performance. I must say I expected better even though the tire is still usable and safe to drive in wet conditions. However, you can rest assured that AXT2 won't struggle too much when making corners, thanks to the biting edges around the blocks.
Though I didn't have high expectations for comfort, AXT2 seems to be very much refined. The tire can smooth out some harsher bumps and rocks, though it won't be as good as touring tires. 
The biggest downside to these all-terrain tires is their performance over snow. As an M+S rated tire, the traction was disappointing compared with other competitors of the same league. You can, however, drive over unpacked snow with decent levels of traction and short braking distances.
Who Should Choose Mastercraft Courser AXT2?
To sum up, I think the Mastercraft Courser AXT2 would make an excellent choice for drivers who want a new tire set of daily drivers for occasional camping trips at weekends on light terrains.
From our reviews, you can see that the tires ride well in sand, grass, dirt, and even light mud. Light snow is also acceptable if you're not too skeptical about its snow performance. You couldn't ask for better middle-class tires if you look at the price alone.
| | |
| --- | --- |
| Treadlife Warranty: | 55,000 Miles |
| Manufacturer's Road Hazard Warranty: | None |
| 15 | | 16 | |
| --- | --- | --- | --- |
| 235/75R15 | LT 32X11.50R15 | 215/70R16 | LT 245/75R16 |
| LT 30X9.50R15 | LT 33X12.50R15 | LT 215/85R16 | 255/70R16 |
| LT 31X10.50R15 | | 225/70R16 | 265/70R16 |
| | | 225/75R16 | LT 265/70R16 |
| | | LT 225/75R16 | 265/75R16 |
| | | 235/70R16 | LT 265/75R16 |
| | | LT 235/85R16 | LT 285/75R16 |
| | | 245/70R16 | LT 305/70R16 |
| | | 245/75R16 | LT 315/75R16 |
| 17 | | 18 | |
| --- | --- | --- | --- |
| 235/65R17 | 255/70R17 | 255/70R18 | 275/65R18 |
| 235/70R17 | 255/75R17 | 265/60R18 | LT 275/65R18 |
| 235/75R17 | 265/65R17 | 265/65R18 | LT 275/70R18 |
| LT 235/80R17 | 265/70R17 | 265/70R18 | LT 285/65R18 |
| 245/65R17 | LT 265/70R17 | LT 265/70R18 | |
| 245/70R17 | LT 275/70R17 | | |
| LT 245/75R17 | LT 285/70R17 | | |
| 255/65R17 | P 285/70R17 | | |
| 18 | | 20 | |
| --- | --- | --- | --- |
| 255/70R18 | 275/65R18 | LT 265/60R20 | LT 275/65R20 |
| 265/60R18 | LT 275/65R18 | 275/55R20 | LT 285/55R20 |
| 265/65R18 | LT 275/70R18 | 275/60R20 | LT 305/55R20 |
| 265/70R18 | LT 285/65R18 | | |
| LT 265/70R18 | | | |
‎Mastercraft Courser AXT2 prices range approximately from $141.96 to $370.98 (Simple Tire)
prices range approximately from
Mastercraft Courser AXT2 – Compare Prices
We found 2 online tire retailers selling Mastercraft Courser AXT2. Refer to the details below to get the best price
Mastercraft Courser AXT2
PRICE
SOLD BY
 

Offers




Offers



Mastercraft Courser AXT2 Ratings By Consumer