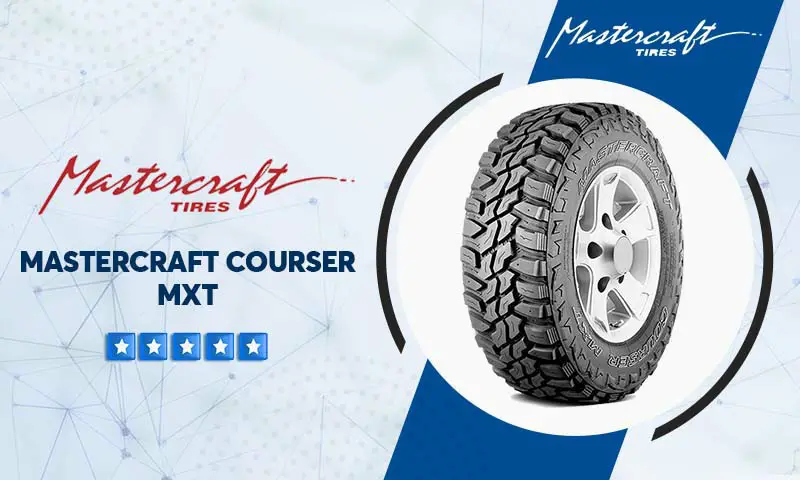 Introduction
The Mastercraft Courser MXT is a mud-off-road tire designed for light truck owners and extreme off-roaders who want strong off-road traction and excellent highway handling. 
So, what are its advantages and disadvantages? Or how does it perform in terms of design and performance? Our reviews will tell you everything you need to know.
About Mastercraft
Mastercraft, founded in 1909, is a subsidiary of Cooper Tire and Rubber Company. Their goal is to manufacture low-cost but high-performance tires. 
The Courser MXT is an excellent example of this, and they will help your light truck, SUV, or 4×4 perform admirably on the road.
Features: Mastercraft Courser Tires Review 
Tread
The tread pattern has an optimized void-to-rubber ratio, which means the tire's contact area has been specifically designed to improve grip and response on the road.
Furthermore, the tire's sidewalls are quite deep, bringing great traction in uncertain terrain and preventing sidewall wear, common on the highway. Scalloped shoulders and grip ridges are also larger than on standard tires, assisting in pushing mud onto any surface for extra traction.
These tires range from 15 to 20 inches and have a limited tires life warranty.
Noise
The tread grooves perfectly blend in with the roughened surfaces to create a quiet ride, making this product best suited to off-road tracks.
However, all off-road tires on the market will make some noise because of their tread pattern.
Handling
Dry And Wet
On dry paved roads, tires can provide a smooth and comfortable driving experience with excellent traction and stability. 
You are unable to avoid driving on wet roads. Fortunately, thanks to its deep grooves, the Mastercraft Courser MXT can provide a great grip on wet roads.
There isn't much information available about the tire's braking distance on wet roads, but if the tires can provide good grip, they should provide a reliable braking distance.
Snow
This tire has a traditional winter compound rated M/S, so it must have some flexibility to withstand snow conditions. Yet, because it is not a specialized winter tire, there may be some issues when using it in heavy snow.
In detail, the number of treads on the tire may be insufficient to withstand heavy snowfall. So, if you don't drive in the snow regularly, these tires will suffice for your light snow needs.
Pros & Cons
Personal Opinion
Feature analysis
The Mastercraft Courser MXT isn't ideal for muddy terrain, but it's a good option for most off-road enthusiasts. This tire is more affordable than tires of the same type. 
After we used this tire, we were impressed with its exceptional performance in rocky terrain, dirt, gravel, and other rough terrains. However, it is not as well regarded in climbing ability as other specialized tires.
Moreover, these tires can bring a little sluggish feeling when driving on the highway. What may surprise you is how little road noise it makes. Although this product will be noisier than an AT tire, it has reduced much annoying noise compared to other types.
Why did you choose this tire?
This tire is designed for people who enjoy the outdoors and the terrain. It doesn't have world-class performance, but it performs well on mud, gravel, and dirt and outperforms other tires in snow performance. 
Thus, the Mastercraft Courser MXT is a good option if you want a tire with these features. Now, we will summarize some significant features of this product: 
Its amount of rubber has been optimized to provide excellent off-road grip and increased driving enjoyment.
The strong upper baffle design improves traction and resistance to sidewall wear.
Drag ridges on opposite shoulder elements are combined with bite ridges to improve lateral grip.
The Mastercraft Courser MXTs are easy to clean, thanks to the wide shoulder grooves between the outer spike blocks.
Even when the tire is half worn, 80 percent of the suction cups on the MXT remain active, resulting in more consistent performance throughout the tire's life.
Competitors & Alternatives
This tire is not covered by a manufacturer's treadlife warranty.
| 15 | | 16 | |
| --- | --- | --- | --- |
| LT 31X10.50R15 | LT 33X12.50R15 | LT 235/85R16 | LT 285/75R16 |
| LT 32X11.50R15 | LT 35X12.50R15 | LT 245/75R16 | LT 305/70R16 |
| | | LT 265/75R16 | LT 315/75R16 |
| 17 | | 18 | |
| --- | --- | --- | --- |
| LT 235/80R17 | LT 305/65R17 | LT 275/65R18 | LT 305/60R18 |
| LT 245/75R17 | LT 315/70R17 | LT 275/70R18 | LT 305/70R18 |
| LT 265/70R17 | LT 35X12.50R17 | LT 295/70R18 | |
| LT 285/70R17 | LT 37X12.50R17 | | |
| LT 295/70R17 | | | |
| 20 | | | |
| --- | --- | --- | --- |
| LT 305/55R20 | LT 37X13.50R20 | | |
| LT 35X12.50R20 | | | |
Courser MXT prices range approximately from $183.97 to $455.96 (Simple Tire)
prices range approximately from
Mastercraft Courser MXT – Compare Prices
We found 2 online tire retailers selling Mastercraft Courser MXT. Refer to the details below to get the best price
Mastercraft Courser MXT
PRICE
SOLD BY
 

Offers




Offers



Mastercraft Courser MXT Ratings By Consumer