When it comes to good tires for your family vehicle, Michelin tires will be the most secure option regardless of automobile type. Let's take a look at the comparison of two of the best options of Michelin tires: Crossclimate 2 and Primacy Tour A/S.
Michelin has a great reputation for manufacturing excellent car tires at a reasonable price. The majority of its products are used for medium-sized cars, such as SUVs, sedans, crossovers, etc. The brand is dedicated to bringing its consumer the most secure and comfortable experience.
Before comparing the two tires, we will go through the most highlighted characteristics of Crossclimate 2 and Primacy Tour A/S. Time to find out
Michelin Crossclimate 2
The first product to analyze is Michelin Crossclimate 2. As the name implies, the standout feature of this tire is the ability to adapt to multiple environments. Let's check out some of its characteristics.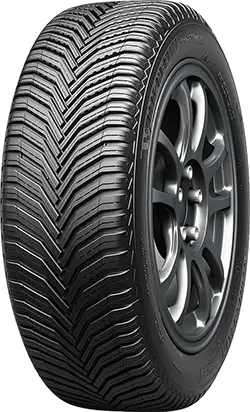 Key Feature
Exceptional traction in severe snow conditions
Directional tread pattern
V-Formation tread design
3D SipeLock technology
Tire Size
16″, 17″, 18″, 19″ and 20″.
Price Range
$147.99 to $278.99
Ratings
Features
Crossclimate 2 comes in various sizes for different types of cars. It is capable of providing a comfortable driving experience in all weather: dry, light snow, wet, etc.
The product's treads are designed with V-structures that line up infinitely, which helps balance while driving in different conditions. Thanks to the patterns that follow Michelin's Noise reduction module PIANO perfectly, you can expect a significant drop in noise during traveling.
The manufacturer had added a sophisticated series of aligned blocks at the center of the tread. This structure enhances the ability to accelerate and decelerate the car. It also improves the traction pressure off the brake when doing hard turns or handbrakes.
There are integrated lines of blocks on the shoulder to support handling and increase traction in bad weather. These blocks are specifically designed with 3D SipeLock technology, the latest tire modeling technology designed by Michelin.
Moreover, grooveless patterns on both sides of the tire help balance the wheel and contribute to the traction force. This is extremely helpful during winter under light snow.
Coming inside of the tire are polyester plies with two steel belts. The entire reinforcement is included to increase maximum speed and performance.
Weaknesses
Crossclimate 2 is not doing great under too heavy snow despite working well in many weather conditions. Moreover, it tends to wear out after approximately 15000 miles, and the treadwear is not that impressive either.
Primacy Tour A/S
Primacy Tour A/S is also a Michelin all-season tire. Though bearing some similarities, it is well engineered to conquer difficult terrains and become a powerful contender in the battle of Michelin Primacy Tour A/S vs Crossclimate 2!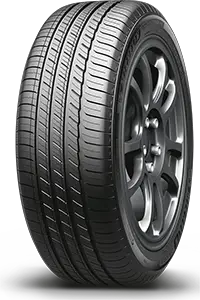 Specifications

Category: All Season
Warranty: 55,000 miles
Max Speed: 168 mph (W Rated)
Load Range: SL
Load Index: 94 (1477 lbs)
Sizes Available: 17″, 18″, 19″, 20″, 21″, 22″

Ratings
Features
Like Crossclimate 2, Primacy Tour A/S is designed for personal and family vehicles, guaranteed to boost the driving experience with all-season capability. It is capable of handling almost all-terrain under any type of weather.
The tire features some similar enhancements to Crossclimate 2, including PIANO Noise reduction. The module comes with smooth bands to further cut down noises. Circular patterns are present on the tire tread to support water drainage and prevent hydroplaning.
The highlight of this product is its reinforced layer of silica. It strengthens the durability of the tire and boosts its traction in heavy weather. The silica helps extend its useful life, making it last longer on the road.
One of the most noticeable traits of Michelin Primacy Tour A/S is its zig-zag sipes. The sipes significantly assists the ability to maneuver under snowy weather, adding more traction to hold steadily while driving under such conditions.
The internal design of Primacy Tour A/S is quite impressive, with polyester cords and two steel belts to stabilize the tread. It comes with a polyamide structure to reinforce handling and improve balance while driving.
Weaknesses
There are some flaws coming along with its great performance. The price of Primacy Tour A/S is slightly higher than most tires of the same type. Some dirt or gravel paths can be difficult to travel on, as the traction pressure of this tire is not powerful enough to balance.
Pros and Con
Michelin Crossclimate 2
Pros
Great performance
Good traction and braking ability
Less noise
Cons
Less durable
Weak maneuvering under heavy snow
Primacy Tour A/S
Pros
More durable
Balance under snow and rain
Great noise suppression
Cons
Weak on dirt paths
More expensive
In-Depth Comparison of Michelin Crossclimate 2 vs Primacy Tour A/S
Now, we will compare the different characteristics of the two amazing tires.
Durability
Both of the tires are extremely durable against different environmental conditions, thanks to technologies developed by Michelin. However, Primacy Tour A/S has proven stronger with the silica layer, which promotes its lifespan and durability.
Therefore, the winner of this round is Primacy Tour A/S. There are good reviews from actual drivers praising the outstanding performance of this product.
Efficiency
Crossclimate 2 is very dependable for drivers under most weather conditions unless it gets extreme (heavy snow). Primacy Tour A/S, on the other hand, possesses a creative design that can protect the driver from not just bad weather but also bad roads.
From those measures, we are certain that Primary Tour A/S is more efficient than Crossclimate 2. It won this round again!
Internal support
The internal design of these tires is very creative and not so different from each other. The support bars, though, are there for distinctive purposes. Crossclimate 2's bars are designed to boost the speed and performance, whereas Primary Tour A/S ensures the stability of the wheels.
Weakness Comparison
Crossclimate 2 is less durable than other tires, as it often wears down after 15000 miles. In addition, it is not capable of withstanding extreme weather and road conditions, so this might be a flaw in its performance.
Primacy Tour A/S, on the other hand, does not perform great on the dirt road and off-road paths since it may deteriorate the treads of the tire. It is a bit more expensive than most tires of the same type, with similar functions.
Based on these weaknesses, Primacy Tour A/S has an edge over the Crossclimate. Sure it can be slightly more pricey; however, the quality of the tire is undeniable.
Final Verdicts
In conclusion, the winner is Primacy Tour A/S. With outstanding performance and durability, it has proven itself an excellent option for medium-sized vehicle drivers.
Still, Crossclimate 2 is a well-suited choice for those with a decent budget. It will bring you the best driving experience like never before while protecting your wheels from all harm. You will not be disappointed by its amazing performance.