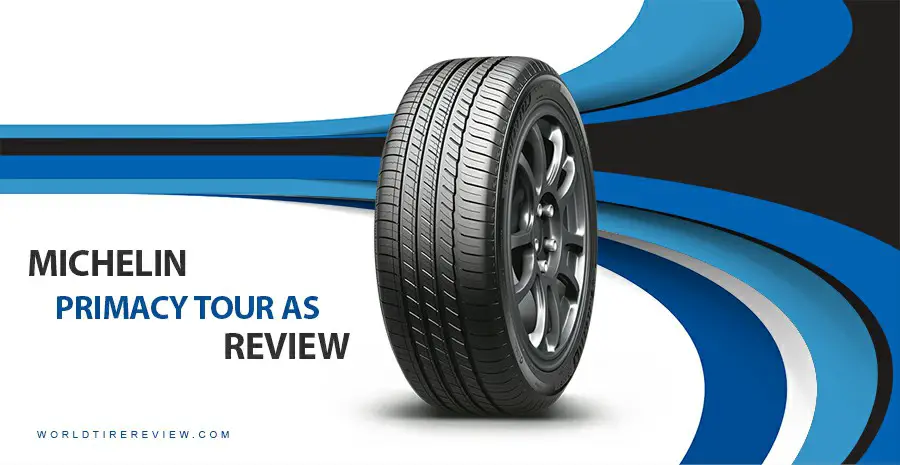 About Michelin 
Everyone wishes to purchase a new set of tires with the greatest features at a reasonable price. However, this task is easier said than done, especially with so many tire options on the market. This review will inform you if this premium option is right for you.
Michelin has long been a favorite and trustworthy name when it comes to tires. Founded in 1889, it is a well-known brand that offers reliable products in over 170 countries. The tire manufacturer is dedicated to providing you with the most secure and relevant tires possible.
Michelin tires are designed to provide precise premium performance as well as a pleasant ride. Michelin Primacy Tour A/S has always been one of them. This model is ideal for vans, family sedans, and SUVs. You will love it if you are someone who prioritizes comfort when driving.
Michelin Primacy Tour A/S Review
The Michelin Primacy Tour A/S is an all-season model that delivers superior riding relaxation. It brings accurate performance and steering response. It indicates that there should be a decent mix of convenience, durability, and efficiency.
Naturally, the Primacy Tour A/S is one of the top choices among popular manufacturers. Even when you compare it to other high-end products, it's still a strong competitor.
Michelin experts used an innovative tread compound reinforced with silica. It's meant to obtain the superior quality they boast about. The tread pattern performs well in hot weather while maintaining traction and flexibility in cold weather.
Moreover, the tread pattern is not only essential for performance.  It also adds to comfort, particularly noise reduction. 
The brand named its technology "PIANO Noise Reduction Tuning".  With shoulder grooves that are competent in canceling the tire's sound intensity. Additionally, the tire's chamfers come with smoother bands to reduce engine noise even more.
Aside from that, the Michelin Primacy Tour A/S will bring you 17% greater snow traction than its forerunner, a significant improvement. 
The tire's horizontal chamfer curves can dig into the snow to maintain superior snow traction. The tread pattern utilizes its circular grooves. It helps to assist water drainage and decrease hydroplaning.
Conversely, the Michelin Primacy Tour A/S has zig-zag sipes. They are good aides in handling hard winter situations like driving on icy roads or slippery snow.
The brand also introduced the Primacy Tour A/S as one of the best grand-touring tires in dry conditions. The tire boasts excellent on-road handling that will not fail any user due to the responsive steering.
As a final bonus, Michelin used the Total Performance package on the Primacy Tour A/S to ensure its lifespan. The package's purpose is to deliver solid performance until after your tires have worn down.
Along with that is the MaxTouch Construction. It unifies the tread's level and the biting edges so your tires will wear down gradually and maintain good traction throughout their lifetime.
Pros & Cons
Tire Drive Test
We all know how difficult it is to purchase a new set of tires online. It's why we have taken care of the grunt work for you and come to some conclusions after testing the Michelin Primacy Tour A/S for quite a long time.
To begin, this model can be described as the typical all-season tire, especially for sedans and SUVs. We can confidently say that it is one of the quietest and smoothest tires we have ever experienced. Even when driving on the highway, the noises are almost little to none.
With the unique tread compound, the tire can bite onto the road and deliver greater traction. The steering is also very responsive and easy to handle.
We didn't have much chance to try the tires in winter condition, so we can't say much about their performance on ice and snow. But from our experiences on rainy days, the chamfer's grooves won't disappoint you on slippery roads.
Another great thing about the Michelin Primacy Tour A/S is that it comes with the  Total Performance package. If you are someone who stays on the road a lot like us, you will love this feature.
The brand makes sure that your tires will provide excellent performance from the moment you start using them till when you replace them again. To sum up, we believe this product is well worth your consideration. The Primacy Tour A/S is a strong competitor in terms of quality and price range with upgraded features.
Competitors & Alternatives
| | |
| --- | --- |
| Treadlife Warranty: | 6 Years / 80,000 Miles  Half mileage for rear if different size than front |
| Uniformity Warranty: | 1 Year / first 2/32″ of wear |
| Workmanship & Materials Warranty: | 6 Years / Free replacement first year, 2/32″ or 25% of wear, then prorated until 2/32″ remaining depth |
| Manufacturer's Road Hazard Warranty: | None |
| Manufacturer Special Warranty: | 60-day satisfaction (1), 3-yr flat changing |
| Additional Information: | (1) Exchange for Michelin, BFGoodrich, or Uniroyal |
warranty summary for replacement tires purchased on or after 06/01/19 at
| 17 | | 18 | |
| --- | --- | --- | --- |
| 215/55R17 | 245/40R17 | 225/45R18 | 235/60R18 |
| 225/50R17 | 245/45R17 | 225/55R18 | 235/65R18 |
| 235/45R17 | 245/65R17 | 225/60R18 | 245/45R18 |
| 235/55R17 | | 235/40R18 | 245/50R18 |
| | | 235/45R18 | 245/60R18 |
| | | 235/50R18 | 255/55R18 |
| 19 | | 20 | |
| --- | --- | --- | --- |
| 225/40R19 | 245/45R19 | 235/55R20 | 255/45R20 |
| 225/45R19 | 255/35R19 | 245/40R20 | 255/50R20 |
| 225/55R19 | 255/40R19 | 245/45R20 | 265/50R20 |
| 235/50R19 | 255/50R19 | 245/50R20 | 275/50R20 |
| 235/55R19 | 275/40R19 | | |
| 245/40R19 | | | |
| 21 | | 22 | |
| --- | --- | --- | --- |
| 255/40R21 | 315/40R21 | 265/40R22 | |
| 275/45R21 | | | |
Primacy Tour A/S prices range approximately from $187.99 to $350.43 (Tire Rack)
prices range approximately from
Michelin Primacy Tour A/S – Compare Prices
We found 6 online tire retailers selling Michelin Primacy Tour A/S . Refer to the details below to get the best price
Michelin Primacy Tour A/S
PRICE
SOLD BY

Offers

Offers

Offers

Offers

Offers

Offers
Michelin Primacy Tour A/S Ratings By Consumer