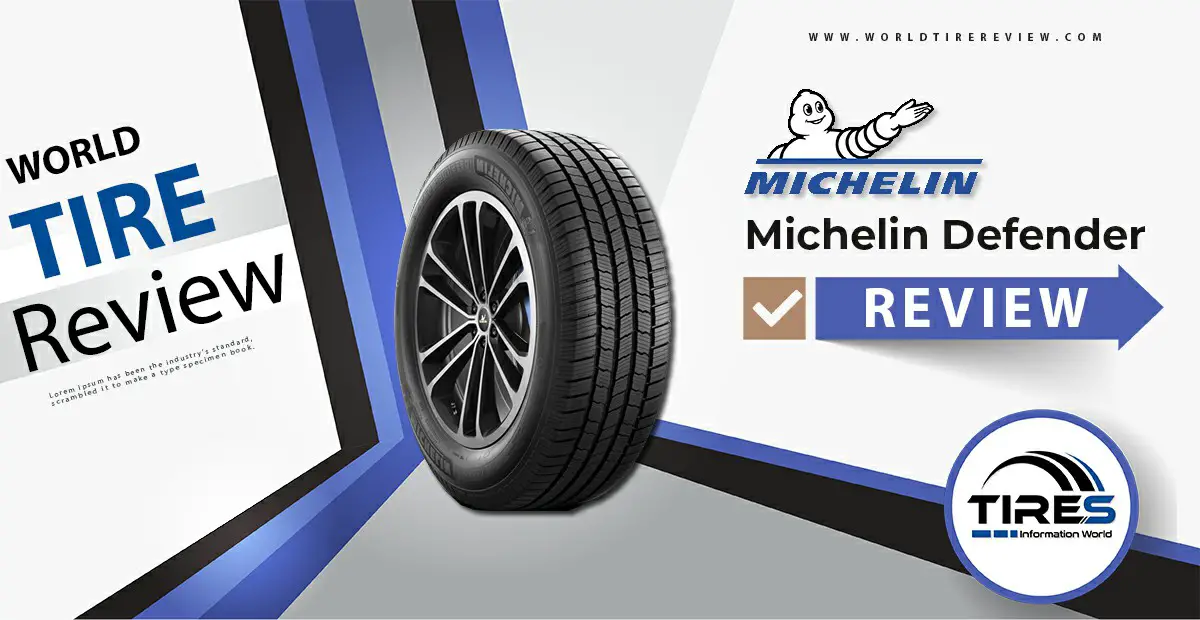 Those looking for an excellent all season tire should go through this review. As Michelin is a leading brand of the worldwide tire industry, you will definitely be satisfied with their products. 
Michelin's tires are available for all seasons and possible to provide drivers of family sedans, minivans, coupes, etc. Among them, the Defender is the latest regular tire of Michelin.
Michelin Defender has 2 models: Michelin Defender LTX M/S, an all-season truck tire and the Michelin Defender T + H (Passenger All-season).
In near identical 17-inch tire sizes, the Defender LTX M/S achieves an LT specification and 116 load index while the Defender T + H is rated at just 102. This translates to a load capacity difference of almost 900 lbs. per tire.
Thanks to the combination of Michelin's IntelliSipe technology and silica tread, Defender's traction is remarkably boosted. As a result, it enhances the number of sipes and advances braking and handling performance. 
Also, those sipes add extra biting edges so that the tire can get a more excellent grip on snowy or wet roads. 
Even better, the Green X and IntelliSipe technology create a particular action of interlocking. It enables a more rigid tread block and a lower resistance to rolling. Hence, the fuel costs will be saved. 
Another outstanding feature is the polyester cord and the steel belts inside this tire. These components and the MaxTouch construction will go together to strengthen the sturdiness at any speed. 
They also boost the tread life, allowing you to use the tire longer. The tread warranty for this brilliant tire is 90,000 miles.
Pros And Cons
Below are some advantages and disadvantages of Michelin Defender tires. Let's go through them!
Tire Drive Test
Generally, we have a great impression of this excellent Defender tire. It has appeared with expected features like the brilliant traction suitable for any season in the year. 
Not only that, but it also offers comfort and quiet sound whenever we drive. As we usually drive long distances, this aspect is what we need. 
The steering also attracts our attention when deciding to buy this tire because it is responsive and crisp. It provides a lower resistance to rolling as well, giving smoother rides. 
Besides those positive points, Defender also has a few aspects that are expected to be improved in the future. 
The tread life somehow makes us a little disappointed. It has a tread guarantee of longer than 90,000 miles. But in reality, we find that it has fewer miles than the warranty. 
Despite that, we heard from almost all drivers that they were impressed with the tread wear and satisfied with the warranty.  So, the tread life may need to be advanced more, but it is still acceptable. 
Another element that we are looking for improvement in is the cornering performance. It would be better if the cornering grip can have more impressive performance at higher speeds. 
In summary, this is one of the most impressive all-season tires we have ever used. Despite some small cons, Defender remains a worth buying tire. With all positive things mentioned above, we highly recommend tires from Michelin. 
If you are drivers of minivans, coupes, family sedans, crossovers, etc, this Michelin Defender tire is definitely for you.
| | |
| --- | --- |
| Treadlife Warranty: | 6 Years / 90,000 Miles Half mileage for rear if different size than front |
| Uniformity Warranty: | First 1/32″ of wear |
| Workmanship & Materials Warranty: | 6 Years / Free replacement first year, 2/32″ or 25% of wear, then prorated until 2/32″ remaining depth |
| Manufacturer's Road Hazard Warranty: | None |
| Manufacturer Special Warranty: | 60-day satisfaction (1), 3-yr flat changing |
| Additional Information: | (1) Exchange for Michelin, BFGoodrich, or Uniroyal |
Defender warranty summary for replacement tires purchased on or after 06/01/19 at Tire Rack
| 13″ | | 14″ | |
| --- | --- | --- | --- |
| 175/70R13 | | 175/65R14 | 185/70R14 |
| | | 175/70R14 | 195/70R14 |
| | | 185/65R14 | P 205/70R14 |
| 15″ | | 16″ | |
| --- | --- | --- | --- |
| 185/60R15 | 205/65R15 | 205/55R16 | 225/60R16 |
| 185/65R15 | 205/70R15 | 205/60R16 | 225/65R16 |
| 195/60R15 | 215/60R15 | 215/60R16 | 235/60R16 |
| 195/65R15 | 215/65R15 | 215/65R16 | 235/65R16 |
| 205/60R15 | 215/70R15 | | |
| 17″ | | 18″ | |
| --- | --- | --- | --- |
| 215/55R17 | 225/60R17 | 215/55R18 | 225/55R18 |
| 215/60R17 | 225/65R17 | 225/50R18 | |
| 215/65R17 | 235/50R17 | | |
| 225/50R17 | 235/55R17 | | |
| 225/55R17 | | | |
Defender prices range approximately from $184.99 – $364.75
Michelin Defender – Compare Prices
We found 6 online tire retailers selling Michelin Defender. Refer to the details below to get the best price:
Michelin Defender
PRICE
SOLD BY
 

Offers

Offers

$109.99

Offers

$110

Offers
Defender Ratings By Consumer