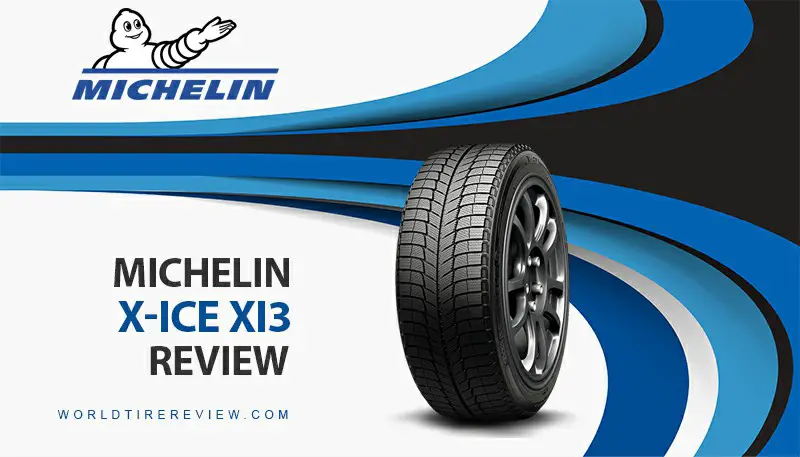 When mentioning tire brands, it would be a big mistake if you forget about Michelin. Michelin is an international tire-manufacturing company established in 1889, France. This company deserves to be the largest tire brand globally, as Bridgestone, Continental, and Goodyear can't compare.
This article will give you a close look at this spectacular tire for snowy weather. In case you have to drive on roads fully covered by snow, this product can still keep you safe.
According to Michelin's affirmation, this X-Ice Xi3 can stop 10% faster than other brands' tires. To achieve this amazing feature, the manufacturer has applied various up-to-date technologies in the tire-making industry for this item, which include: FleX-Ice Compound, Micro-Pumps, Optimized Tread Block Technology, Cross Z Sipes, and Block Edges. 
These technologies function appropriately together to make sure that you can have the safest and most pleasant journey with X-Ice Xi3 due to its spectacular quietness and grip of the tire. 
Moreover, Michelin has opted for the Michelin Max Touch Construction to ensure that the X-Ice Xi3 tire's tread will receive the same amount of pressure when braking, acceleration, and cornering. As a result, the tread can last for longer with great stability.
Pros & Cons
View more: Michelin Primacy MXM4 Tire Reviews
Tire Drive Test
After a few driving tests on the freezing roads, we want to share with you some experiences below:
We will first discuss the handling ability of this tire model. Thanks to the Cross Z Sipes and Block Edges, the X-Ice Xi3 can firmly stop whenever you brake, even on wet or dry surfaces with outstanding grip. Furthermore, to assist drivers in braking effortlessly on snow and ice, Michelin applies the rubber-silica FleX-Ice Compound so the tire will stick on the surface. 
Another great feature of this Michelin tire is the Micro-Pumps technology. When the tire rotates on the wet surfaces, Micro-Pumps can absorb water and push it out to keep the tire from slipping. For this reason, this winter tire can provide drivers with remarkable traction for the utmost safety.
Furthermore, Michelin marks this X-Ice Xi3 with the Green X standard to indicate that this model is one of the most fuel-efficient products among many winter tires.
The manufacturer also guarantees customers that this tire model can perform well after running 60,000 kilometers with a 2-year warranty. With such an affirmation, we can see how wonderful this X-Ice Xi3's quality is.
Bottom Lines
We hope that you can find the necessary features of the winter tire you are looking for. Michelin made billions of dollars from its tires, and this model will show you the reason why. The traction, grip, stability, long-lasting, and quietness can satisfy even the most picky customers.
Competitors & Alternatives
| | |
| --- | --- |
| Treadlife Warranty: | 6 Years / 40,000 Miles (when worn to 2/32″ depth) Half mileage for rear if different size than front Must be used during winter months only 9/1 to 4/30 |
| Uniformity Warranty: | 1 Year / first 2/32″ of wear |
| Workmanship & Materials Warranty: | 6 Years / Free replacement first year, 2/32″ or 25% of wear, then prorated until 2/32″ remaining depth |
| Manufacturer's Road Hazard Warranty: | None |
| Manufacturer Special Warranty: | 60-day satisfaction (1), 3-yr flat changing |
| Additional Information: | We advise removing winter tires at 5/32″(1) Exchange for Michelin, BFGoodrich, or Uniroyal |
X-Ice Xi3 warranty summary for replacement tires purchased on or after 06/01/19 at Tire Rack
| 14″ | | 15″ | |
| --- | --- | --- | --- |
| 175/65R14 | 185/65R14 | 175/65R15 | 195/65R15 |
| 175/70R14 | 185/70R14 | 185/55R15 | 205/60R15 |
| 185/60R14 | | 185/60R15 | 205/65R15 |
| | | 185/65R15 | 205/70R15 |
| | | 195/55R15 | 215/70R15 |
| | | 195/60R15 | |
| 16″ | | 17″ | |
| --- | --- | --- | --- |
| 185/55R16 | 205/65R16 | 205/50R17 | 225/45R17 |
| 195/55R16 | 215/55R16 | 215/45R17 | 225/50R17 |
| 195/60R16 | 215/60R16 | 215/50R17 | 225/55R17 |
| 205/50R16 | 215/65R16 | 215/55R17 | 225/60R17 |
| 205/55R16 | 225/55R16 | 215/60R17 | 235/45R17 |
| 205/60R16 | 225/60R16 | 215/65R17 | 235/55R17 |
| | 225/65R16 | | 245/45R17 |
| | 235/60R16 | | |
| 18″ | | | 19″ |
| --- | --- | --- | --- |
| 215/45R18 | 225/50R18 | 235/45R18 | 245/40R19 |
| 215/55R18 | 225/55R18 | 235/50R18 | 245/45R19 |
| 225/40R18 | 225/60R18 | 245/40R18 | |
| 225/45R18 | 235/40R18 | 245/45R18 | |
| | | 245/50R18 | |
| | | 255/45R18 | |
X-Ice Xi3 prices range approximately from $56.82 – $235.91 – Tirebuyer
BFGoodrich gForce Winter 2
Yokohama BluEarth Winter V905
Michelin Primacy Alpin PA3
Nexen Winguard Snow G3
Nokian Hakkapeliitta 8
Michelin Alpin 6
Michelin X-Ice Xi3 – Compare Prices
We found 6 online tire retailers selling Michelin X-Ice Xi3. Refer to the details below to get the best price:
Michelin X-Ice Xi3
PRICE
SOLD BY
 

Offers

$111.96

Offers

Offers

Offers

Offers
X-Ice Xi3 Ratings By Consumer