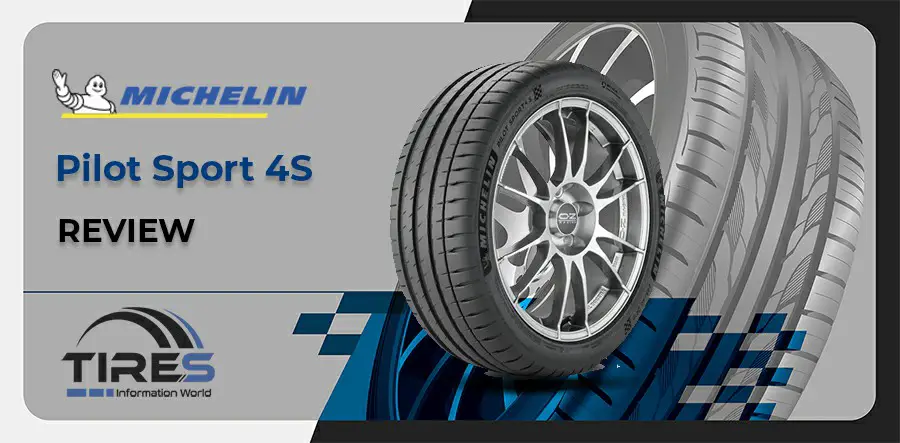 Michelin Pilot Sport 4S Introduction 
Before breaking down the key features that make this tire outstanding in the all-inclusive Michelin Pilot Sport 4S, you need to have an overall look at its producer.
Michelin Overview
The Michelin company started its business in 1889 in Clermont-Ferrand, France. This group is one of the most leading tire brands in the world, with 69 production departments. Currently, it has become the global tire supplier across 170 countries. 
Michelle Group did not stop at tire production and expanded their range of merchandise, including vehicles. It is incredibly well-known for top standards, innovation, etc., in the auto industry.
Michelin's North American office is in Greenville, South Carolina, at the moment. The company constantly promotes safety, fuel economy, durability, and more efficiency for the products.  
Michelin Pilot Sport 4S Features
The great Pilot Sport 4S is a great combination of Michelin Max Performance Summer tires with the strictest manufacturers in the world. Its popularity is also thanks to the essential technologies invented during Le Mans' 24-hour competition.
The tire works well in wet and dry conditions with excellent braking. That's because its multi-compound structure contains a distinctive hybrid elastomer, which has gone through demanding standards tests.It also gets an A rank in traction testing. Micheline is responsible for the warranty of its treadwear. Besides, you may be surprised at its noise reduction ability when running. We will present several other specialties in the Michelin Pilot Sport 4S below.
Pros & Cons
Here is a quick breakdown to reveal its advantages and drawbacks that you should take a look at.
Michelin Pilot Sport 4S Experience 
Without further ado, here are our reliable and informative Michelin Pilot Sport 4S tires reviews after driving this max-performance summertime tire. 
The Pilot's tread comes with an asymmetric pattern and silica upgraded hybrid, which undergoes rigorous races like Le Mans' 24-hour. That's why it is much greater in handling and braking than its predecessors.
This Michelin max-performance tire got an A rating in traction, as mentioned above. Hence, it boasts the title standard dry and humid traction.
Pilot Sport 4S impresses us with its running capacity on damp and slippery surfaces due to the superlatively sticky wet composite. As a max-performance summer tire, it does a great job of bringing the amazing feeling with the best efficiency when experiencing dry roads.
Since this tire is a summer variant, it's not perfect for operating in winter weather, on ice, or in snow as one of its disadvantages.
When it comes to noise pollution, the tire possesses Acoustic Technology with a sound-absorbing foam so one can feel peaceful while driving on the road. 
This model overcame its siblings to be the unique max-performance summer tire equipped with a 30,000-mile treadwear guarantee to satisfy the concerns of treadwear.
The temperature resistance is better in warm, dry tarmac. When running in cold weather or freezing surfaces, the grip level of the tires tends to degrade.
It's stable at high speeds and confidently handles even the toughest corners. No warm-up time to start the engine on dry roadways is needed.
Braking is one of the proudest characteristics of this Michelle tire category, as enthusiastic drivers experienced. It can achieve the shortest distance in dry and wet braking and the greatest wet lap moment.
Although the fuel economy isn't the best,  Pilot Sport 4S definitely won't disappoint the customers despite the issue.
Michelin Group particularly equips this summer tire with Dynamic Response technology, a fabulous amalgamation between an aramid hybrid belt and nylon. It will provide optimal handling performance better than ever.
Likewise, the on-road experience becomes more comfortable thanks to softer sidewalls since the company focuses on the customers' ultimate satisfaction.
Should You Buy A Michelin Pilot Sport 4S Tire?
The answer is always yes. Pilot Sport 4S is more advanced and developed in the same tire category with notable performance in almost assessable classification. 
It comes with the first-class tread, exceptional running capacity on dry and wet roads, great braking, and a comfortable sensation when on the road particularly. 
Some drivers may hesitate to buy it because it is relatively big-budget. Still, it is worth the investment because of its excellent quality along with Michelle's solid distance warranty. If you seek a sports car to get the most out of its performance, you should consider the Pilot Sport 4S.
Competitors & Alternatives
| | |
| --- | --- |
| Treadlife Warranty: | 6 Years / 30,000 Miles  Half mileage for rear if different size than front  |
| Uniformity Warranty: | 1 Year / first 2/32″ of wear |
| Workmanship & Materials Warranty: | 6 Years / Free replacement first year, 2/32″ or 25% of wear, then prorated until 2/32″ remaining depth |
| Manufacturer's Road Hazard Warranty: | None |
| Manufacturer Special Warranty: | 60-day satisfaction (1), 3-yr flat changing |
| Additional Information: | (1) Exchange for Michelin, BFGoodrich, or Uniroyal |
Warranty summary for replacement tires purchased on or after 06/01/19
| 17 | | 18 | |
| --- | --- | --- | --- |
| 215/45ZR17 | 245/40ZR17 | 215/35ZR18 | 245/45ZR18 |
| 225/45ZR17 | 245/45ZR17 | 225/40ZR18 | 255/35ZR18 |
| 225/50ZR17 | 265/40ZR17 | 225/45ZR18 | 255/40ZR18 |
| 235/45ZR17 | | 225/50ZR18 | 255/45ZR18 |
| | | 235/40ZR18 | 265/35ZR18 |
| | | 235/45ZR18 | 265/40ZR18 |
| | | 235/50ZR18 | 275/35ZR18 |
| | | 245/35ZR18 | 285/35ZR18 |
| | | 245/40ZR18 | 285/40ZR18 |
| 19 | | 20 | |
| --- | --- | --- | --- |
| 225/35ZR19 | 265/30ZR19 | 225/35ZR20 | 255/35ZR20 |
| 225/40ZR19 | 265/35ZR19 | 235/30ZR20 | 255/40ZR20 |
| 225/45ZR19 | 265/40ZR19 | 235/35ZR20 | 255/45ZR20 |
| 235/35ZR19 | 275/30ZR19 | 235/40ZR20 | 265/30ZR20 |
| 235/40ZR19 | 275/35ZR19 | 235/45ZR20 | 265/35ZR20 |
| 245/30ZR19 | 275/40ZR19 | 245/30ZR20 | 265/40ZR20 |
| 245/35ZR19 | 285/30ZR19 | 245/35ZR20 | 275/30ZR20 |
| 245/40ZR19 | 285/35ZR19 | 245/40ZR20 | 275/35ZR20 |
| 255/30ZR19 | 295/30ZR19 | 245/45ZR20 | 275/40ZR20 |
| 255/35ZR19 | 295/35ZR19 | 255/30ZR20 | |
| 255/40ZR19 | 305/30ZR19 | | |
| | 325/30ZR19 | | |
| 20 | | 21 | |
| --- | --- | --- | --- |
| 285/25ZR20 | 305/30ZR20 | 245/30ZR21 | 285/30ZR21 |
| 285/30ZR20 | 305/35ZR20 | 245/35ZR21 | 295/25ZR21 |
| 285/35ZR20 | 315/30ZR20 | 255/30ZR21 | 295/30ZR21 |
| 295/25ZR20 | 315/35ZR20 | 255/35ZR21 | 295/35ZR21 |
| 295/30ZR20 | 325/25ZR20 | 255/40ZR21 | 305/25ZR21 |
| 295/35ZR20 | 345/30ZR20 | 265/30ZR21 | 315/30ZR21 |
| 305/25ZR20 | | 265/35ZR21 | 325/25ZR21 |
| | | 265/40ZR21 | 325/30ZR21 |
| | | 275/30ZR21 | 355/25ZR21 |
| | | 275/35ZR21 | |
| 22 | | 23 | |
| --- | --- | --- | --- |
| 255/30ZR22 | 285/35ZR22 | 285/40ZR23 | 325/35ZR23 |
| 265/35R22 | 285/40ZR22 | | |
| 265/40ZR22 | 295/25ZR22 | | |
| 275/40ZR22 | 315/30ZR22 | | |
| 285/25ZR22 | 325/35ZR22 | | |
| 285/30ZR22 | 335/25ZR22 | | |
| 285/35ZR22 | | | |
| 285/40ZR22 | | | |
| 295/25ZR22 | | | |
| 315/30ZR22 | | | |
Pilot Sport 4S prices range approximately from $209.99 to $981.99 (Tire Rack)
Michelin Pilot Sport 4S – Compare Prices
We found 6 online tire retailers selling Michelin Pilot Sport 4S. Refer to the details below to get the best price:
Michelin Pilot Sport 4S
PRICE
SOLD BY
 

$209.99

Offers

Offers

Offers

$210

Offers
Pilot Sport 4S Ratings By Consumer