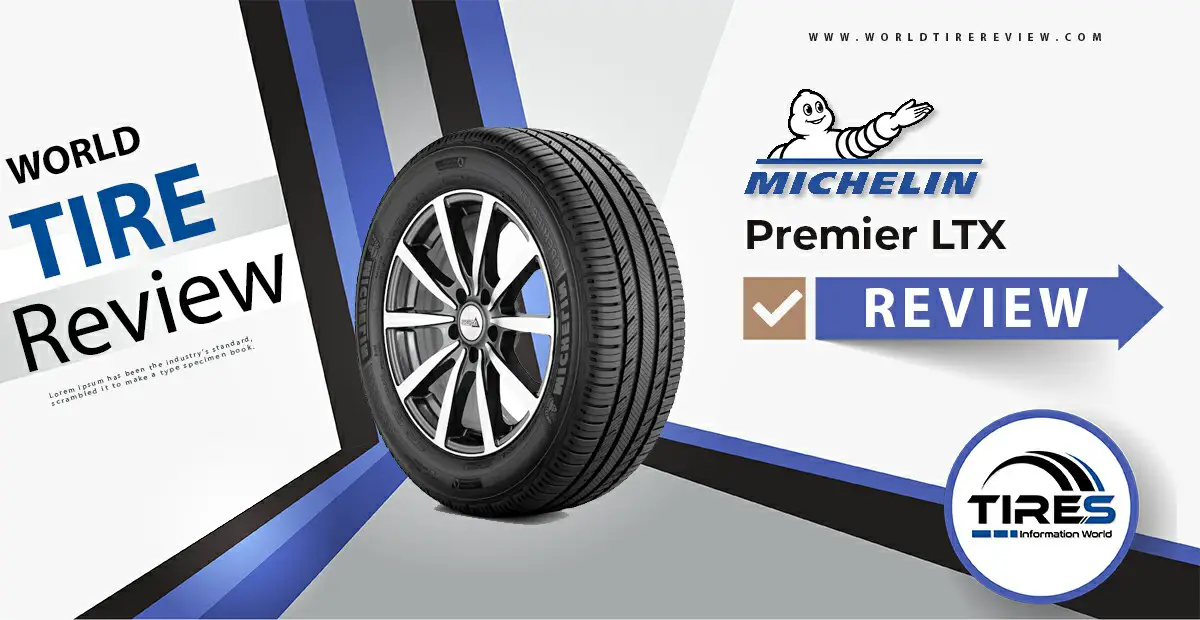 Michelin Premier LTX is the company's newest touring all-season product, introduced in 2015. It's designed for drivers of all sorts of pickup trucks, light duty vans, crossovers, and SUVs who want greater all-season grip, ride comfort, and a longer tread life.
For the truck/SUV touring all-season class, EverGrip technology is revolutionary. EverGrip expands the tread grooves and allows new grooves to open when the rubber wears down, using the same technology as their Premier A/S for vehicles. 
As a consequence, when worn, dry/wet traction is equivalent to that of brand new tires. The new Premier LTX offers more than just traction and braking performance. 
This model's comfort and noise level are outstanding. Unlike other tires in this class, you won't have to choose between grip and riding comfort with this tire.
The twin steel belts, which are strengthened with spirally wrapped polyamide thread and lie beneath a polyester casing layer, account for a large part of this. 
Michelin first offered 34 sizes ranging from 16 to 22 inches, with H and V speed ratings. There's also a tread warranty of 60,000 miles.
To sum up our reviews, this tire delivers strength, durability, and comfort that you'd expect from Michelin.
Michelin Premier LTX Tire Reviews: Pros And Cons
Tire Drive Test
"Safe when new," Michelin says of the Premier LTX. When worn, it's safe, and it's a good fit for this tire. On the Premier A/S, we praised the EverGrip technology, so it was only logical for the manufacturer to extend it to their LTX range. 
This tire provides outstanding performance on wet roads and highways for anybody who drives. It's designed to keep you and your family safe, and it succeeds.
Aside from that, this tire rides well on all surfaces, even the toughest. It drives well, and there is no annoying or excessive road noise. Treadlife appears to be above average in its class and comes with a 60,000-mile warranty.
When it comes to some of the tire's more unfavorable aspects, the price tag is the first thing that comes to mind. They are rather expensive when compared to some of the current regular versions, and may be beyond of reach for many automobile aficionados.
Second, they do not allow extensive off-road treading. These tires may work well over little bricks and uneven patches, but they fall short when it comes to larger boulders and rocks.
We hope you find our review helpful in choosing the right tire for a safe and smooth ride.
Competitors & Alternatives
| | |
| --- | --- |
| Treadlife Warranty: | 6 Years / 60,000 Miles  Half mileage for rear if different size than front |
| Uniformity Warranty: | 1 Year / first 2/32″ of wear |
| Workmanship & Materials Warranty: | 6 Years / Free replacement first year, 2/32″ or 25% of wear, then prorated until 2/32″ remaining depth |
| Manufacturer's Road Hazard Warranty: | None |
| Manufacturer Special Warranty: | 60-day satisfaction (1), 3-yr flat changing |
| Additional Information: | (1) Exchange for Michelin, BFGoodrich, or Uniroyal |
Premier LTX warranty summary for replacement tires purchased on or after 06/01/19 at Tire Rack
| 16″ | | 17″ | |
| --- | --- | --- | --- |
| 215/65R16 | 225/70R16 | 225/60R17 | 245/65R17 |
| 215/70R16 | 235/70R16 | 225/65R17 | 255/60R17 |
| | | 235/60R17 | 265/65R17 |
| | | 235/65R17 | 275/55R17 |
| 18″ | | 19″ | |
| --- | --- | --- | --- |
| 225/60R18 | 245/60R18 | 225/55R19 | 255/50R19 |
| 235/50R18 | 255/55R18 | 235/45R19 | 255/55R19 |
| 235/55R18 | 255/65R18 | 235/50R19 | 255/60R19 |
| 235/60R18 | 265/60R18 | 235/55R19 | 275/55R19 |
| 235/65R18 | | 245/55R19 | |
| 20″ | | 21″ | |
| --- | --- | --- | --- |
| 235/45R20 | 255/55R20 | 265/40R21 | 275/40R21 |
| 235/55R20 | 265/50R20 | | |
| 245/50R20 | 275/45R20 | | |
| 245/60R20 | 275/50R20 | | |
| 255/45R20 | 275/55R20 | | |
| 255/50R20 | 275/60R20 | | |
| 22″ | | " | |
| --- | --- | --- | --- |
| 265/40R22 | 275/50R22 | | |
| 275/45R22 | 285/45R22 | | |
Premier LTX prices range approximately from $165.99 – $292.99 – Tirebuyer
Goodyear Vector 4Seasons SUV
Goodyear Vector 4 Seasons Gen 2 SUV
Yokohama Geolander AT G015
Dunlop Grandtrek ST20
Continental ContiCrossContact LX 2
Nokian WeatherProof SUV
Michelin Premier LTX – Compare Prices
We found 6 online tire retailers selling Michelin Premier LTX. Refer to the details below to get the best price:
Michelin Premier LTX
PRICE
SOLD BY
 

Offers

$162.97

Offers

Offers

Offers

Offers
Premier LTX Ratings By Consumer