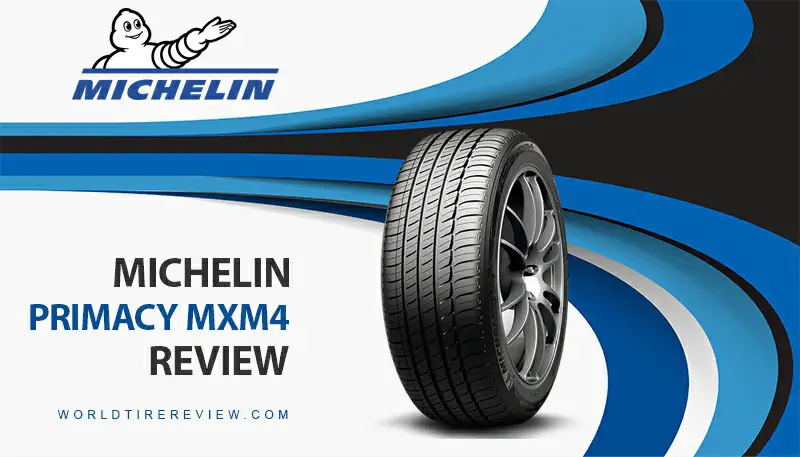 Michelin is a famous tire manufacturing company from France. With a slogan of "A better way forward," Michelin continuously innovates its technology to make every movement of people safer, more convenient, and more responsible.
The brand develops a Grand Touring All-Season tire and names this tire as Primacy MXM4. The car tire can handle all kinds of weather with a low noise level, which will give you a comfortable driving experience. 
Environment-Friendly With Green X
Michelin has a Green X standard, which can reduce vehicle fuel consumption and emission of CO2 gases by low rolling resistance and eco-focused manufacturing. Due to this factor, Primacy MXM4 can provide you a comfortable driving with responsive handling and also help you to enhance fuel efficiency in all-season weather. 
All-Season Driving
Primacy MXM4 tires apply the best and latest tire technology that brings the best driving experience for luxurious sedans and coupes' drivers. 
Primacy MXM4 tires are covered with sunflower oil Helio compound so that there is increased traction and a reduction in braking distance. According to the company's given information, MXM4 tires can stop up to 19 feet shorter than other tires. The tires show their best performance in dry traction and cornering ability, combining asymmetric tread patterns and outside round shoulders. Besides, MXM4 tires can easily deal with wet roads due to their circumferential grooves and 3D variable sipes, which allow the tires to grip the road or bite in the snow better.
No More Noise
The next strong point of Primacy MXM4 tires is their noise-controlling capacity. The brand applies the Comfort Control Technology on the tire, enabling it to eliminate the vibration and noise to provide the most comfortable experience while driving.

Quick Rundown of Primacy MXM4 Tires
See more: Michelin X-Ice Xi3 Tire Reviews
Is Michelin Primacy MXM4 Worth Buying?
If you are a coupe or sedan owner, do not hesitate to pick these Primacy MXM4 tires. More specifically, the car tire has excellent traction and handling in all-season weather regardless of the weather. 
We notice that while using Primacy MXM4 tires, noise and uncomforting will no longer be your concern since the tires got the Michelin's Control Comfort Technology. It supremely reduces the distraction from road vibration and gives you the best driving experience. 
The only downside of MXM4 is its poor performance in off-road driving. If you drive for a long period on rough roads, the tires will likely get damaged. 
Last Words
Overall, we still highly suggest the Primacy MXM4 based on its wonderful traction features, noise level, and short braking distance. Although the price is a little bit high, it is still worthy.
We believe that Primacy MXM4 tires will bring you the best driving experience.  Thank you for spending time reading this post.
Competitors & Alternatives
| | |
| --- | --- |
| Treadlife Warranty: | 6 Years / 55,000 Miles (H- & V-Speed Rated) 6 Years / 45,000 Miles (W-, Y-, & Z-Speed Rated) Half mileage for rear if different size than front |
| Uniformity Warranty: | 1 Year / first 2/32″ of wear |
| Workmanship & Materials Warranty: | 6 Years / Free replacement first year, 2/32″ or 25% of wear, then prorated until 2/32″ remaining depth |
| Manufacturer's Road Hazard Warranty: | None |
| Manufacturer Special Warranty: | 60-day satisfaction (1), 3-yr flat changing |
| Additional Information: | (1) Exchange for Michelin, BFGoodrich, or Uniroyal |
Primacy MXM4 warranty summary for replacement tires purchased on or after 06/01/19 at Tire Rack
| 16″ | | 17″ | |
| --- | --- | --- | --- |
| 205/55R16 | 215/55R16 | 215/45R17 | 225/55R17 |
| | | P 215/45R17 | 235/45R17 |
| | | 215/50R17 | 245/40R17 |
| | | P 215/50R17 | 245/45R17 |
| | | 215/55R17 | P 245/50R17 |
| | | 225/45R17 | 245/55R17 |
| | | P 225/45R17 | 255/40R17 |
| | | 225/50R17 | |
| 18″ | | 19″ | 20″ |
| --- | --- | --- | --- |
| 225/40R18 | 235/45R18 | 235/40R19 | P 245/45R20 |
| 225/45R18 | P 235/50R18 | 235/50R19 | |
| 225/50R18 | 235/55R18 | 235/55R19 | |
| 225/60R18 | P 235/60R18 | 245/40R19 | |
| 235/40R18 | 245/45R18 | 245/45R19 | |
| | 245/50R18 | 255/45R19 | |
| | P 245/50R18 | 275/40ZR19 | |
| | 255/35R18 | | |
Primacy MXM4 prices range approximately from $130.99 – $342.99 – Tirebuyer
Falken EUROALL SEASON AS210
Goodyear Vector 4Seasons Gen 3
BFGoodrich g Grip All Season 2
Bridgestone Weather Control A005 EVO
Continental AllSeasonContact
Nokian WeatherProof
Michelin Primacy MXM4 Ratings By Consumer
Michelin Primacy MXM4 – Compare Prices
We found 7 online tire retailers selling Michelin Primacy MXM4. Refer to the details below to get the best price:
Michelin Primacy MXM4
PRICE
SOLD BY
 

Offers

Offers

Offers

Offers

$172

Offers

Offers