If you are shopping for A/T tires for your four-wheel vehicle, the Nitto Ridge Grappler and BFG KO2 will be your top choice. However, considering the right tires is never an easy task for newbies.
So, which product is worth choosing? If the differences between Nitto Ridge Grappler and BF Goodrich KO2 confuses you, scroll down for a more comprehensive look
Detailed Comparison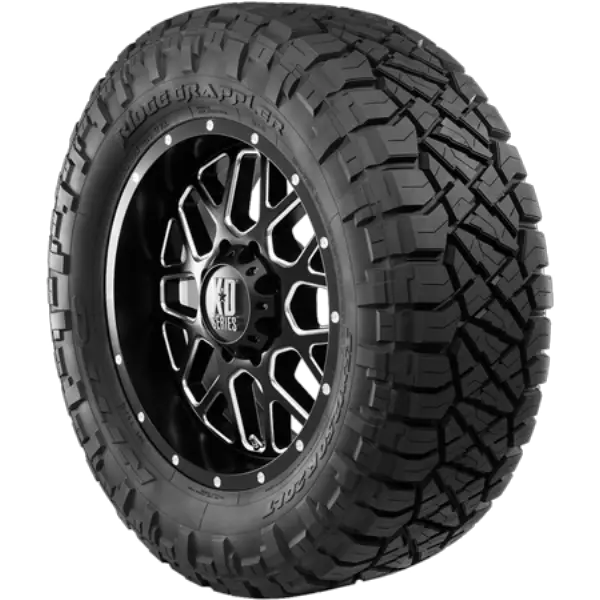 Key Feature
Excellent traction in both dry and wet conditions
Smooth and quiet on the highway
Tire Size
15″, 16″, 17″, 18″, 19″, 20″ and 22″.
Price Range
$95.52 – $227.00
Ratings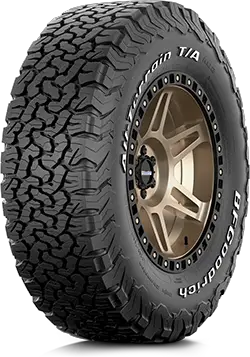 Key Feature
Excellent traction, cornering performance
Wear balance rate
Superior traction on wet
Tire Size
15″, 16″, 17″, 18″, 20″ and 22″.
Price Range
$158.99 – $531.99
Ratings
Moveability
The mobility of the above tire products is determined based on their performance in three environments: winter, dry and wet. Let's discover which the winner is under these conditions!
Dry Performance
You need to pay attention to three aspects of dry performance – angular stability, dry traction, and steering feedback.
When cornering, BFGoodrich KO2 has an advantage when it can maintain the stability of your vehicle. It also scores in dry traction thanks to its heavy-duty design. Finally, the sturdy sidewall also gives it the edge in terms of steering response.
Our conclusion is that BFGoodrich KO2 has better performance than the competition in dry conditions.
Wet Performance
The BFGoodrich KO2 has perfect wet performance for the first 20,000 miles. At the same time, a Ridge Grappler tire can maintain this capacity for the rest of its life.
However, the KO2 might have a slightly better performance, thanks to its dual-layer compound design on its spikes. This design makes the product resistant and waterproof, providing a superior experience in wet conditions.
Winter Performance
Nitto Ridge Grappler is only suitable if traveling in light ice/snow conditions. Overall, this product does not receive high praise in the winter performance.
Meanwhile, the BF Goodrich KO2 can perform well no matter how harsh winter weather is. Thus, the KO2 will always be the dominant choice over its opponent when it comes to winter performance.
Traction
According to information from the manufacturer, both Ridge Grappler and BFGoodrich KO2 products have advantages in traction, handling, and grip. But specifically, which tire will win the opponent in terms of traction?
The Nitto Ridge Grappler has the advantages of both A/T and M/T tires and can work well in any terrain.
This product offers excellent traction in muddy environments because of its zig-zag tread design and alternating shoulder grooves. It brings more biting edges, so the ability to grip the road is also greatly improved.
This design also helps the product easily drain and wash away the mud quickly. That is why drivers often choose these tires when they need to move through muddy ground.
In addition, the Nitto Ridge Grappler also scores more points than the KO2 when operating extremely well on terrain. With the step block edges, staggered shoulder lugs, alternate shoulder ridges, it can easily adapt to rough terrain and limit failures.
What about BF Goodrich KO2's traction?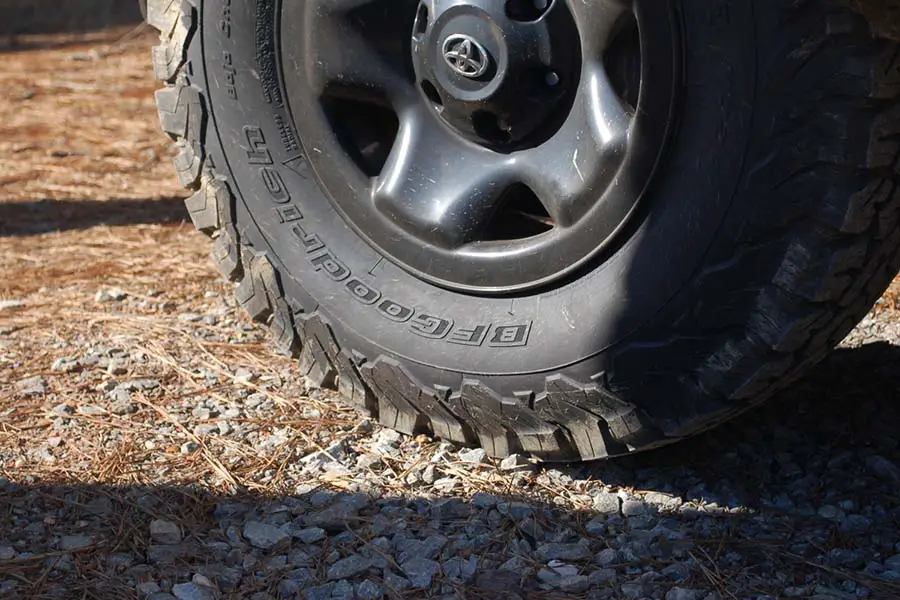 This is not a real mud tire, but its ability to move on the mud makes anyone admire it. Although the tire performs great on mud with its "mud phobic bars", its traction is not ideal on standing water.
But if you want to move in ice and snow conditions, you should choose the KO2 instead of the Grappler. Because these tires feature a zig-zag Z-groove design, they can easily handle snow and assist the tire with a better grip on ice than its rivals.
In addition, the 3D slideways allow this product to deal with frozen snow while creating additional adhesive options. This remarkable ability has earned the title "Three-Peak Mountain Snowflake" of the BF Goodrich KO2 tires.
Comfort
If you have a lot of exposure to various tires, you will realize that the M/T type offers more smoothness and comfort to the driver than the A/T.
The design of the A/T tire is suitable for vehicles in the direction of off-road travel, which reduces comfort. Meanwhile, M/T tires are less aggressive and often appear on less bumpy roads, providing a better comfort experience.
The makers of Grappler have taken this into account and added an innovative possibility to their product – the pitch trad block is adjustable. 
In addition, the boundary blocks with a zig-zag design and reinforced block also help it maintain more stability on the road surface and avoid swaying.
The BFGoodrich KO2 tire also works very well in this regard- It scores points for giving the driver an extremely smooth experience throughout their journey while ensuring quietness.
However, we realized that KO2 only plays to its strengths when traveling on flatter road surfaces. And if you want a product that brings comfort to offroad surfaces, Grappler will certainly serve you better than expected.
Offroad Performance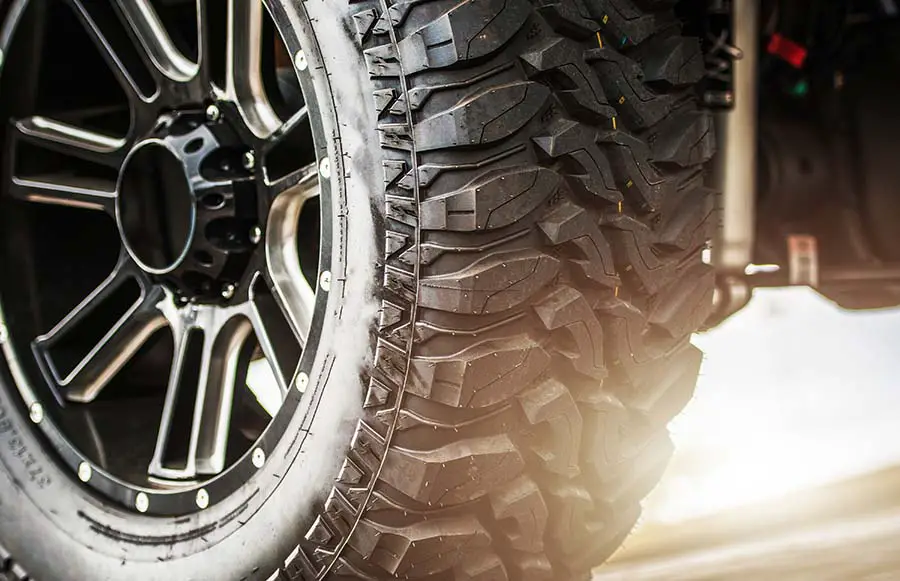 The Nitto Ridge Grappler performed outstanding performance in all bumpy environments. However, many people worry about whether a product with both A/T characteristics like it will be suitable for highways.
Of course, the manufacturer took this into account and solved it by designing zig-zag grooves on both the length and width of the shoulder groove. This design helps it increase road visibility for on-road use. 
In terms of offroad, it has additional step stoppers and alternate taper edges, giving it an ideal performance in any off road terrain.
In terms of on-road, KO2 is more profitable than its rival Grappler. To cope with off road terrain, the manufacturer has also designed a system of uneven treads to increase the product's performance, helping it grip the road better on bumpy road surfaces.
Regarding offroad performance, Grappler should get your priority. And if you are looking for a tire that can serve both on and off road, our advice is to choose the KO2 and enjoy its great performance.
For more: Best 7 Off Road Tires & Review Of 2022
Treadwear And Durability
Treadwear of Nitto Ridge Grappler and KO2 is an issue that always gets the driver's attention, as it determines how long the tire's life will last.
Faced with this problem, the manufacturers of both products have integrated many technologies that can limit tire wear and improve their durability.
The sidewalls of the BFGoodrich KO2 are already 20% sturdier than its predecessor (the BFG KO). CoreGuard technology helps the tire resist external forces from the terrain. 
In addition, Tri-Guard technology and reinforcement of the double steel belt and sidewalls add strength to the product for outstanding longevity.
The interwoven tread design also plays the role of evenly distributing the impact on the entire tire, making the wear more uniform.
Besides the outstanding performance, the durability of the Grappler is also a formidable advantage of it. Their stone ejectors prevent pavement damage from reaching the product surface, helping to prolong its service life.
The reinforced blocks maintain rigidity and prevent tire deformation from any aspect.
In short, both products are outstanding in durability and worthy of your choice. But if you look closely, the durability of the Grappler is still slightly better than its opponent.
Road Noise
Ridge Grappler performs very well in reducing noise when operating on both on and offroad terrain. 
Meanwhile, the BFG KO2 is weaker because it cannot control the noise when moving on offroad terrain. So, while we compare KO2 Vs Ridge Grappler in this respect, there is no denying that the Grappler tire is definitely the winner.
Quick Rundown Of Nitto Ridge Grappler
Pros
Perfect offroad performance
Outstanding performance on muddy terrain
Resistant to seaplanes
Good traction ability
Cons
No warranty included
Poor performance in harsh winter conditions
Quick Rundown Of BF Goodrich KO2
Pros
Perfect performance in dry and winter conditions
Long lifespan
Smooth and comfortable experience
Comes with a warranty
Cons
No advantage on offroad
Noticeable noise level
Final Verdict
Choosing the right tire is the key to getting the best experience on your journey. Therefore, while comparing Nitto Ridge Grappler and BF Goodrich KO2, you need to consider all aspects to make the most reasonable decision carefully.
If you are still undecided, our advice is the Nitto Ridge Grappler. With its all-terrain suitability on and offroad, we're sure you'll be pleased with its performance.
For more: Goodyear Vs Michelin Tires: Choose The Best Tire For Your Journey