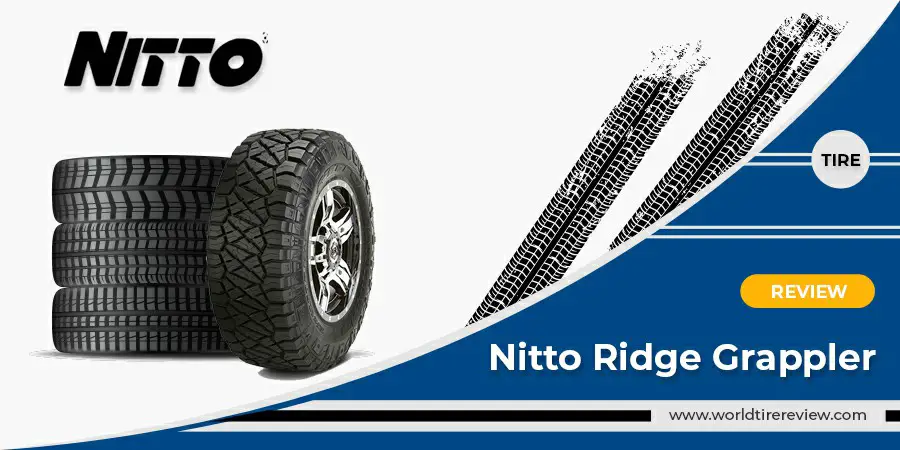 Nitto Ridge Grappler Introduction
Let's wait no more but dig into our review for a detailed examination of its brand and many features. 
About Nitto Tires
Many people might not know that, though the Nitto Tires brand is popular in the US market, the homeland of this brand is in Japan.
In 1949, Nitto Tire was established in Japan. During this time, many different tire brands dominated the international market. Therefore Nitto Tire had to face numerous challenges. The owners of Toyo Tire moved forward to purchase the brand Nitto Tire in 1979, but still, the situation had not improved significantly.
Even though Nitto Tire could not compete in the home market, this brand embarked on a new chapter when it entered the US market. The company's sales condition has substantially improved and progressively established a solid foundation in the US market to this day.
Nitto Ridge Grappler: Features
Overall, the Nitto Ridge Grappler is an excellent set of tires that can handle a wide range of circumstances. All of the metrics are excellent under the manufacturer's test settings. 
With a faultless performance index of more than 85%, Nitto Ridge Grappler will be a product you can trust, allowing you to experience off-road, dry, and wet roads.
Furthermore, for a set of aggressive all-terrain tires that are exhilarating, such as the Nitto Ridge Grappler, it can yet perform very smoothly without being too noisy, unlike many other products in the same class currently on the market.
The manufacturer also equipped the tire with several advanced technologies like Variable Pitch Tread Pattern, Shoulder & Lateral Z Grooves, or Dual Sidewall to make your driving experience better than ever. 
Pros & Cons
Nitto Ridge Grappler – Tire Drive Test
When it comes to user experience, most Japanese component manufacturers pay special attention to the smallest details and go to great lengths to improve them. The Nitto Ridge Grappler is no exception, as it provides a superb balance of exhilarating off-road tires and reliable urban tires.
It's finally time for some review on our experience with this amazing tire!
Great Off-road Ability
In our review, we must mention that this product is a fantastic choice for a trip across high mountain terrain with several hazards.
This tire consists of a tough rubber that is long-lasting and has a high load capacity. The Reinforced Block Foundation also reduces flex, making each movement more smooth and stable.
In addition, the manufacturer has developed a high tire drum with Shoulder & Lateral Z Grooves technology and Staggered Shoulder Lugs to maximize traction.
Take a closer look, and you'll notice alternating tapered edges and spikes on the tread pattern's surface, which help the tire avoid sticking to dirt, hence boosting operational stability. You won't have to worry about abrupt terrain changes or sharp turns.
Despite being categorized as an aggressive off-road tire, the Nitto Ridge Grappler is designed with Variable Pitch Tread Pattern technology to limit noise as much as possible, providing the driver with a complete driving experience.
Amazing Performance In City Condition
The Ridge Grappler performs admirably in urban environments. 
This set of Nitto Tires tires stands out from many other traditional tire goods on the market because of its seamless operation, strong grip, and smoothness. All thanks to the traction-enhancing Staggered Shoulder Lugs technology and the noise-reducing Variable Pitch Tread Pattern technology.
Because it is designed as an off-road tire, it will have exceptional traction even in wet or snowy situations. The ability to corner from there will also be excellent and versatile, making it ideal for densely populated metropolitan areas.
Generally, this is a great product for men, especially young ones. On weekdays, gentlemen can use this set of tires to commute to work, drive around the city, and enjoy long journeys on weekends.
Nitto Ridge Grappler – Compare Prices
We found 6 online tire retailers selling Nitto Ridge Grappler. Refer to the details below to get the best price:
Nitto Ridge Grappler
PRICE
SOLD BY
 

$213

$213

Offers

$213

Offers
Competitors & Alternatives
| | |
| --- | --- |
| Treadlife Warranty: | Nitto provides a limited tread warranty on the Ridge Grappler. |
| Workmanship & Materials Warranty: | First 1/32" Worn: Nitto® will replace, free of charge, any |
| 16 | | 17 | |
| --- | --- | --- | --- |
| 265/70R16 | LT 285/75R16 | LT 255/80R17 | LT 295/70R17 |
| 265/75R16 | LT 305/70R16 | 265/65R17 | LT 305/70R17 |
| LT 265/75R16 | LT 315/75R16 | 265/70R17 | LT 315/70R17 |
| | | LT 265/70R17 | LT 33X12.50R17 |
| | | 285/70R17 | LT 35X12.50R17 |
| | | LT 285/70R17 | LT 37X12.50R17 |
| | | LT 285/75R17 | LT 37X13.50R17 |
| 18 | | 18 | |
| --- | --- | --- | --- |
| 255/55R18 | 275/65R18 | LT 285/70R18 | LT 325/65R18 |
| 255/70R18 | LT 275/65R18 | LT 285/75R18 | LT 33X12.50R18 |
| 265/60R18 | LT 275/70R18 | LT 295/70R18 | LT 35X12.50R18 |
| 265/65R18 | 285/60R18 | 305/60R18 | LT 37X11.50R18 |
| LT 265/65R18 | LT 285/60R18 | LT 305/65R18 | LT 37X12.50R18 |
| 265/70R18 | LT 285/65R18 | LT 325/60R18 | LT 37X13.50R18 |
| LT 265/70R18 | | | |
| 20 | | 20 | |
| --- | --- | --- | --- |
| 265/50R20 | LT 285/55R20 | 305/55R20 | LT 35X12.50R20 |
| LT 265/60R20 | LT 285/60R20 | LT 305/55R20 | LT 35X13.50R20 |
| 275/55R20 | LT 285/65R20 | LT 325/60R20 | LT 37X11.50R20 |
| LT 275/55R20 | LT 295/55R20 | LT 33X11.50R20 | LT 37X12.50R20 |
| 275/60R20 | LT 295/60R20 | LT 33X12.50R20 | LT 37X13.50R20 |
| LT 275/60R20 | LT 295/65R20 | LT 35X11.50R20 | LT 38X13.50R20 |
| LT 275/65R20 | 305/50R20 | | |
| 285/50R20 | | | |
| 22 | | 24 | |
| --- | --- | --- | --- |
| 285/45R22 | LT 325/50R22 | LT 315/45R24 | LT 37X13.50R24 |
| LT 285/50R22 | LT 33X12.50R22 | LT 315/50R24 | LT 38X13.50R24 |
| LT 285/55R22 | LT 35X12.50R22 | | |
| LT 295/50R22 | LT 37X12.50R22 | | |
| LT 295/55R22 | LT 37X13.50R22 | | |
| 305/45R22 | LT 38X13.50R22 | | |
Ridge Grappler prices range approximately from ‎$213.00 to $787.00 (Discount Tire)
View more some Ridge Grappler tires comparison:
Ridge Grappler Ratings By Consumer