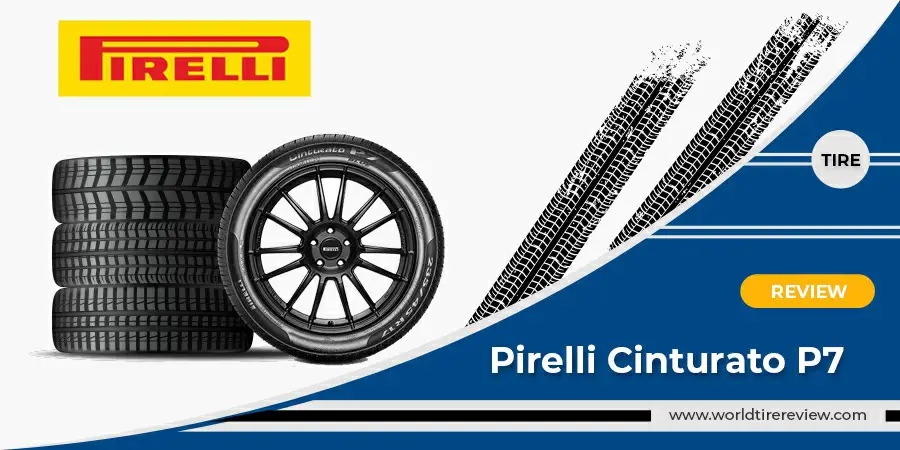 There are many different kinds of tires out there. But it is not easy choosing the most suitable tire for your car. 
Pirelli Cinturato P7 All Season Plus will be worth your consideration. You don't have to go through many reviews to see why because we're here to help you.
Pirelli Cinturato P7 review
Pirelli Company 
Pirelli is the leading tire manufacturer worldwide and its main headquarter is in Italy. Their premium and high-quality tires suit both average customers and driving enthusiasts. 
Pirelli tires are available in 160 countries, with 19 commercial manufacturing sites distributed all over the world. As an exclusive supplier for the Formula 1 championship, Pirelli no wonder demonstrates the reliability of its tires. But what are the most outstanding features of Pirelli Cinturato P7 All Season Plus recognized in Pirelli Cinturato P7 reviews? Please stay tuned with us to find out!
Features And Performance of Pirelli Cinturato P7 All Season Plus 
First, the tire comprises a silica-based tread compound and unique polymers to maximize treadwear and lower the rolling resistance. The brand also uses optimized wider shoulder blocks and a 5-rib tread pattern to improve the tire's cornering grip and traction. 
Inside the tire, you will see two steel belts that add up more strength and ensure the tire's durability. The Pirelli tire can fit various types of cars with sizes ranging from 16 to 20 inches. 
As its name suggests – Pirelli Cinturato P7 All Season Plus, the manufacturer has attempted to make the P7 Plus tire well-adapted to different situations.  
The brand affirms that P7 Plus prevents potential dangers and operates well on wet roads. Particularly, it can lower the risk of hydroplaning with four wider circumferential grooves. 
Traction in snow or ice of the tire is said to outperform any other tire. Multiple siping around the tread results in better biting edges that can enhance traction ability under snowy weather. 
Another plus point of the product is ride comfort. The tire promises quiet and smooth travel since it has the latest material with a special tread design and a polyester cord body.
Pros & Cons
Our Pirelli Cinturato P7 tire review focuses on analyzing these pros and cons:
Pirelli Cinturato P7 All Season Plus Drive Test  
Any reviews can never be believable without a driving test. 
These are the results of our experiment with Cinturato P7 All Season Plus tires under different conditions.
Dry Performance
On dry pavements, the tires perform admirably. Even if there is sand scattering over roads, the tires remain good performance. 
Handling and cornering ability may not be the same for all cars. In case that your car has dull steering, handling will not be smooth when confronting tight corners. 
Wet Performance 
The tires can operate well on wet surfaces. They amazingly minimize accidents in this situation. 
The support from wide circumferential grooves enables Cinturato P7 All Season Plus to actively disperse water to keep constant contact with the road. 
Thanks to the mechanism, the tires prevent hydroplaning, which may be a major cause of some harmful accidents. 
Snow Traction
Although better biting edges are advancements of P7 Plus, the tires only ensure drivers' safety in light snow. For colder climates or extreme wintry weather, drivers had better use snow tires. 
Comfort And Noise Level 
Cinturato P7 All Season Plus tires meet the demands for comfort standards. 
The noise level may be prominent at high speed or in rough patches of asphalt or tarmac. Otherwise, the tires are relatively quiet. 
Long Treadwear 
The advanced technology in manufacturing Cinturato P7 All Season Plus produces more long-lasting tires than ever before. 
However, their lifespan also depends on each person's driving style. For example, those who often drive aggressively will soon have the tires worn off. 
Suggested Vehicles For The Pirelli Cinturato P7 All Season Plus
We highly recommend Cinturato P7 All Season Plus tire for these vehicles:
Acura TSX, Acura RDX
Audi TT, Audi A4, Audi A3
BMW 128i, BMW X1, BMW X3, BMW X5
Lincoln MKZ
Kia Soul, Kia Forte
Ford Fusion, Ford Focus
Nissan Maxima, Nissan Altima
The tire fits many types of cars but especially these above. Both driving experience and safety are highly optimized with the help of Cinturato P7 All Season Plus. With all the pros and cons, it is becoming a favorite tire for many drivers. We believe that you have made your own mind now. Let's get yourself a reliable tire like the Pirelli Cinturato P7 All Season Plus!
Competitors & Alternatives
| | |
| --- | --- |
| Treadlife Warranty: | Unlimited Time / 70,000 Miles  Half mileage for rear if different size than front |
| Uniformity Warranty: | 1 Year / first 2/32″ of wear |
| Workmanship & Materials Warranty: | Unlimited Time / Free replacement first year or 2/32″ wear, then prorated until 2/32″ remaining depth |
| Manufacturer's Road Hazard Warranty: | None |
| Manufacturer Special Warranty: | 30 Day Trial (1) |
warranty summary for replacement tires purchased on or after 06/01/19 at
| 16 | | 17 | |
| --- | --- | --- | --- |
| 195/55R16 | 215/55R16 | 205/50R17 | 225/60R17 |
| 205/50R16 | 215/60R16 | 215/45R17 | 225/65R17 |
| 205/55R16 | 225/55R16 | 215/50R17 | 235/45R17 |
| 205/60R16 | 225/60R16 | 215/55R17 | 235/50R17 |
| | | 225/45R17 | 235/55R17 |
| | | 225/50R17 | 245/45R17 |
| | | 225/55R17 | 245/50R17 |
| 18 | | 19 | |
| --- | --- | --- | --- |
| 215/50R18 | 235/45R18 | 225/55R19 | 245/45R19 |
| 215/55R18 | 235/50R18 | 235/40R19 | 255/40R19 |
| 225/45R18 | 245/45R18 | 245/40R19 | 255/45R19 |
| 225/55R18 | 245/50R18 | | |
| 225/60R18 | | | |
Cinturato P7 All Season Plus prices range approximately from $107.00 to $321.00 Discount Tire
Pirelli Cinturato P7 All Season Plus – Compare Prices
We found 5 online tire retailers selling Pirelli Cinturato P7 All Season Plus. Refer to the details below to get the best price:
Pirelli Cinturato P7 All Season Plus
PRICE
SOLD BY
 

Offers

$116.97

Offers

$107

Offers
Cinturato P7 All Season Plus Ratings By Consumer