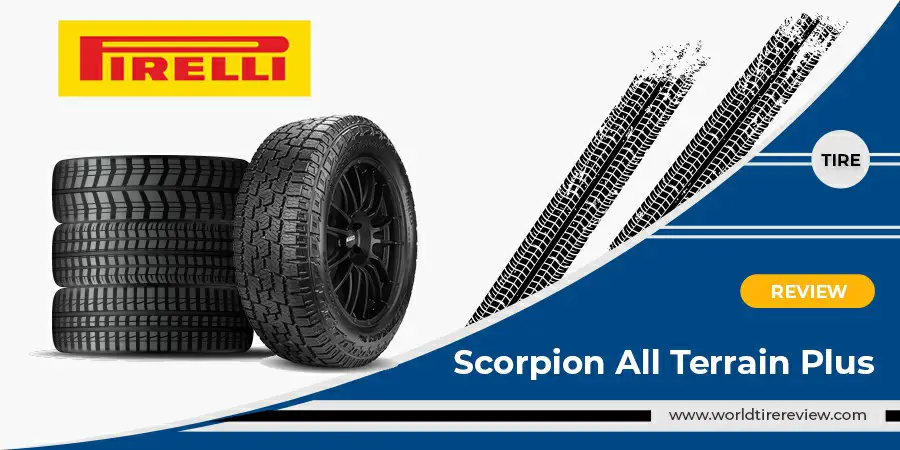 The Scorpion All Terrain Plus, considered a successor to the Scorpion ATR, is the most recent addition to Pirelli's all-terrain tire collection. On a variety of surfaces, this rookie promises substantially superior on- and off-road traction.
In comparison to the ATR, the All-Terrain Plus tire is much more purposeful and has a chunkier appearance. Pirelli also says that this type is well worth purchasing due to its outstanding impact resistance.
For the oncoming news of this new tire, let's check out our Pirelli Scorpion All Terrain Plus.
Pirelli Scorpion All Terrain Plus: Introduction
Pirelli Tire North America, established in 1872, has its headquarters in Milan, Italy. This business specializes in high-end, elegant, and premium tires. Pirelli is now present in over 160 countries worldwide, with 19 manufacturing sites in 12 countries.
After the Scorpions' first show at SEMA2016, Pirelli launched Scorpion All Terrain Plus to the public. Soon, many truck and SUV owners noticed this newcomer.
The Scorpion All Terrain Plus focuses on wear resistance, durability, cutting-edge snow traction. Impressively, the tire features the three-peak mountain snowflake (3PMSF) symbol – which means it meets the required performance criteria in severe snow testing.
The tire also offers a high-void and symmetric pattern and exceptional chip and cut resistance. Many people praised its quiet and smooth on-road functioning and its strong off-road traction and aggressive appearance.
Beyond that, the clawing action, aided by independent tread blocks and deep grooves, helps push small rocks out of the tread and prevent punctures effectively.
The advanced compound combines varied in-block sipes and block edges to provide sure-footed performances in snow and slippery conditions.
Getting inside, a polyester casing that brings ride comfort may notice you first. The footprint can also optimize the high-speed capacity and overall durability.
Pirelli Scorpion All Terrain Plus – Pros & Cons 
We've shared some notable features of the Pirelli Scorpion All Terrain Plus tire. Now, have a glimpse of its downsides and upsides:
Real Driving Experience
Our Experience With Pirelli Scorpion All-terrain Plus
We've been driving this Pirelli Scorpion All-terrain (A/T) tire for a couple of months. Overall, its innovative technology, qualified compound, good durability, and aggressive style are all excellent. It excels and performs well in a variety of off-road and on-road settings.
At any product launch, the driving experience is a top concern. We are sure Scorpion All Terrain Plus will not let you down owing to its outstanding advantages. The first impression is the smoothness, quiet but sure demeanor, and the ability to handle well in many weather conditions.
Regarding its performance in winter and cold weather, the tire features a bold tread pattern, an upper sidewall, high-density lateral sipes, and large tread blocks. As a result, it could confidently hold onto on wet and snowy surfaces. In addition, a new tread composition (silica) was employed to enhance wet traction without sacrificing mileage.
We also highly appreciate the ability to conquer the terrain of this tire. Thanks to professional navigation, it can climb slopes at up to 19%, helping the car overcome all rocky terrain or loosely limiting traction. Besides, the tire treads deeply penetrate the surface and aids your vehicle in overcoming all terrains without much effort.
Users also value the acceleration and efficiency of the car's brakes. The tire can ensure the vehicle's stability effectively, regardless of the driving modes you switch while driving.
Regarding its flaws, the Pirelli Scorpion All Terrain Plus can be pretty noisy when traversing rough terrain. Its performance in mud conditions isn't much valued, either.
Who Should Consider This Type Of Tire?
Overall, its aggressive tread pattern design aids in long-distance travel without sacrificing comfort or safety. Because of its stable sidewalls and block design, it's also ideal for both off- and on-road use.
Last but not least, the Pirelli lineup caters to practically all crossovers, pickup trucks, SUVs, and anyone looking for a mix of on-road comfort and off-road prowess. Hopefully, our review can help you somehow to choose a suitable tire. Surely you'll never get disappointed when driving in diverse terrain with these tires!
Competitors & Alternatives
| | |
| --- | --- |
| Treadlife Warranty: | Unlimited Time / 50,000 miles  Half mileage for rear if different size than front |
| Uniformity Warranty: | 1 Year / First 2/32″ of wear |
| Workmanship & Materials Warranty: | Unlimited Time / Free replacement first year or 2/32″ wear, then prorated until 2/32″ remaining depth |
| Manufacturer's Road Hazard Warranty: | None |
| Manufacturer Special Warranty: | 30 Day Trial (1) |
Warranty summary for replacement tires purchased on or after 02/13/20
| 16 | | 17 | |
| --- | --- | --- | --- |
| 235/70R16 | 265/70R16 | 225/65R17 | 265/70R17 |
| 245/70R16 | 265/75R16 | LT 235/80R17 | LT 265/70R17 |
| LT 245/75R16 | LT 265/75R16 | 245/65R17 | LT 285/70R17 |
| 255/70R16 | | 245/70R17 | LT 315/70R17 |
| 18 | | 20 | |
| --- | --- | --- | --- |
| 265/60R18 | 275/65R18 | 275/55R20 | LT 275/65R20 |
| 265/65R18 | LT 275/70R18 | 275/60R20 | LT 285/55R20 |
Scorpion All Terrain Plus prices range approximately from $150.50 to $327.50 (Tire Rack)
Firestone Destination A/T2
Cooper Discoverer AT3 4S
BFGoodrich All-Terrain T/A KO2
Continental TerrainContact A/T
Bridgestone Dueler A/T Revo 3
Pirelli Scorpion All Terrain Plus – Compare Prices
We found 6 online tire retailers selling Pirelli Scorpion All Terrain Plus. Refer to the details below to get the best price:
Pirelli Scorpion All Terrain Plus
PRICE
SOLD BY
 

$150.5

Offers

Offers

Offers

Offers

Offers
Scorpion All Terrain Plus Ratings By Consumer