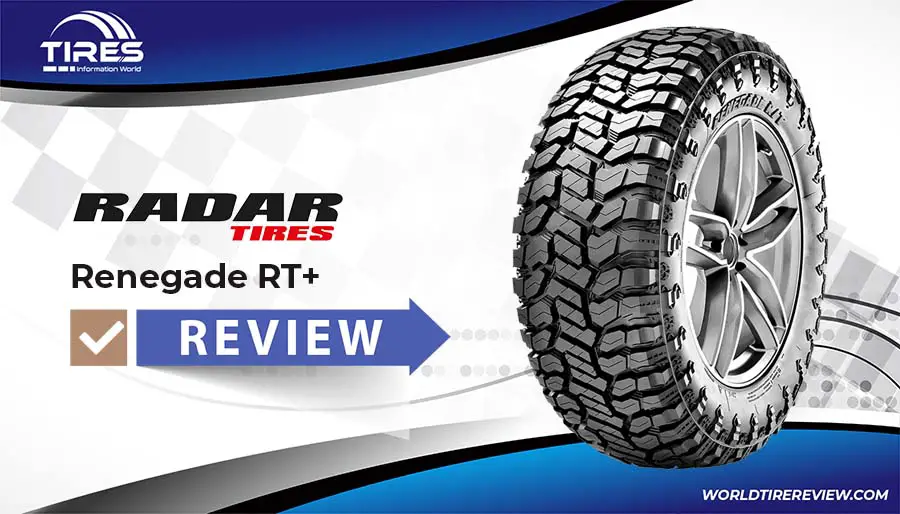 Introduction
Radar Tyres
The Radar Tires brand is owned by Omni United – a Singapore-based tire manufacturer established in 2006. Passenger vehicles, trucks, wagons, and industrial tires are all available. 
Radar Tyres provides all customers with safety and durability on all roads. It features developed and constructed fitments with a one-of-a-kind blend of innovation and preservation.
Radar Tyres, sold in over 50 countries, has a huge range of designs, accessories, and functional properties. It offers each driver numerous options for their vehicle and driving demands.
An important principle of the brand is the sustainability of the products. Carbon neutral tires have been produced since 2013 by the Radar. It positively contributes to tackling climate change problems while pushing other people to do the same.
Radar Renegade RT+ Review
Radar Renegade RT+ is a new rugged terrain tire line that provides great off-road performance while also delivering convenience and refinement on the road.
The Dual Baffle is the fundamental pattern for every Renegade RT+ model and size. It gives riders two border options: mud-piercing with knife-shaped ridges or a devil design with crescent grooves. These grooves add traction and preserve the sidewalls.
The optimized tire size also contributes to excellent all-terrain traction. Furthermore, the tough three-layer construction decreases the chance of tire breakdown and assures proper functioning under all conditions.
The broad, moderate shape blocks can support weight distribution. It also guarantees that the surface wears properly. The cutting-edge stone ejection technique helps to prevent stones from penetrating the surface. Also, it removes rocks and soil stuck in the tire.
The model has been created to be a hybrid of an All-Terrain and Mud-Terrain tire, striking the right balance between the two lines. It has both a powerful and harsh appearance and superb on and off-road handling.
Pros & Cons
Personal Opinion
Feature Estimation
What We Like
The Radar Renegade RT+ has truly impressed us. We checked them when we'd accumulated more than 36,000 miles, and the tread depth doesn't display many changes, so they're fairly durable.
We've driven them in the snow, mud, as well as over the harsh gulf terrain. To be honest, they perform admirably for us in almost any circumstance. They perform the function of a true shock absorber. We felt more at ease when driving on rocky roads than we had imagined.
Because of the tread design, this tire's capacity to grip the road is undeniable. The place of a broader center groove block keeps the tire in touch with the road, improving steering response and driving consistency. 
Therefore, the steering responds to the driver's orders quicker and more precisely. It guarantees the driver maintains continual control of the vehicle during operation, enhancing driving safety.
The self-cleaning feature of the tread is really useful. It prevents stone and dirt retention by protecting the tire from boulders sticking into the tread region. We didn't notice much dirt or rocks clinging to the tires after a long ride in the mountains.
As we've observed when using it for a long time, the tread ejects pebbles caught between the components before they cause damage to the tire's shell.
What Need Improvement
Although the tires are designed with good durability, the noise is very obvious when going through too rough and bumpy roads or when going down. However, it still ensures durability and good shock absorption on all terrains.
Despite mud-terrain and all-terrain combinations, sometimes it may lose balance. When it rains and snows heavily, you need to drive firmly.
Target Customers
The Radar Renegade RT+ is suitable for those who appreciate adventure and discovery in challenging terrain. Because of its durability, continuous long-distance trips are not a problem. People who work in hazardous regions find these models useful as well.
This pick is a fantastic off-road tire. We've owned these models for a long time and will continue to use them in the future. We're delighted with their overall operation in short trips and challenging terrain, particularly bumpy roads.
Overall, this tire will please you with its durability and excellent traction. Although the noise on bumpy roads will be noticable, you will not feel discomfort thanks to its effective damping. In short, if you are looking for a tire for your off-road vehicle, the Radar Renegade RT+ will fill the bill.
| | |
| --- | --- |
| Treadlife Warranty: | 40,000 Miles |
| Manufacturer's Road Hazard Warranty: | None |
| 16 | | 17 | |
| --- | --- | --- | --- |
| LT265/65R17 | LT265/75R16 | LT265/65R17 | 35×12.5R17 |
| LT265/70R16 | LT285/75R16 | LT265/70R17 | 37×12.50R17 |
| | | LT285/70R17 | |
| 18 | | 20 | |
| --- | --- | --- | --- |
| LT265/60R18 | LT285/65R18 | LT265/50R20 | LT305/55R20 |
| LT265/65R18 | 33×12.50R18LT | LT275/55R20 | 33×12.50R20LT |
| LT285/60R18 | | LT285/50R20 | 35×12.50R20LT |
| | | LT285/55R20 | |
Radar Renegade RT+ prices range approximately from $232.97 to $463.96 (Simple Tire)
Radar Renegade RT+ – Compare Prices
We found 3 online tire retailers selling Radar Renegade RT+. Refer to the details below to get the best price
Radar Renegade RT+
PRICE
SOLD BY
 

Offers




Offers




Offers



Renegade RT+ Ratings By Consumer