We all know that tires play an important role in vehicle performance. Choosing the suitable one may bring you a more favorable experience. Yet, it often requires lots of time and effort to make the right decision. 
Therefore, this blog aims to support you in picking the right one between the two most prominent tires, Toyo Open Country AT3 vs Nitto Ridge Grappler.
Although both are introduced as all-terrain tires, they have differences that make us hesitate to choose. Let's see in detail their contrast through our overview and comparison below.
Brief Overview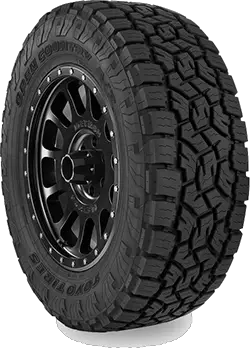 Key Feature
Perfect for snowy or icy conditions
Smooth ride quality
Tire Size
15″, 16″, 17″, 18″, 19″, 20″ and 22″.
Price Range
$139.99 – $548.99
Ratings
Toyo Open Country AT3, a product of Toyo Tires Corp, was released in March of 2020. 
According to the manufacturer, this tire has 134 sizes with different specifications, such as load, sidewall, etc., for 15 to 22 inches wheel diameters. The Toyo Country AT3 is built for light trucks and SUV/CUVs and was introduced as an all-terrain tire.
With the success of Toyo Open Country AT2, the inheritor AT3 keeps gaining popularity thanks to the advance in tread compound and design, 3D sipes, and more. 
Besides, the tire is marked with a Mountain Snowflake icon as a certificate for working well in snow weather. Moreover, the Toyo manufacturer offers a free trial of 500 miles or 45 days for this tire.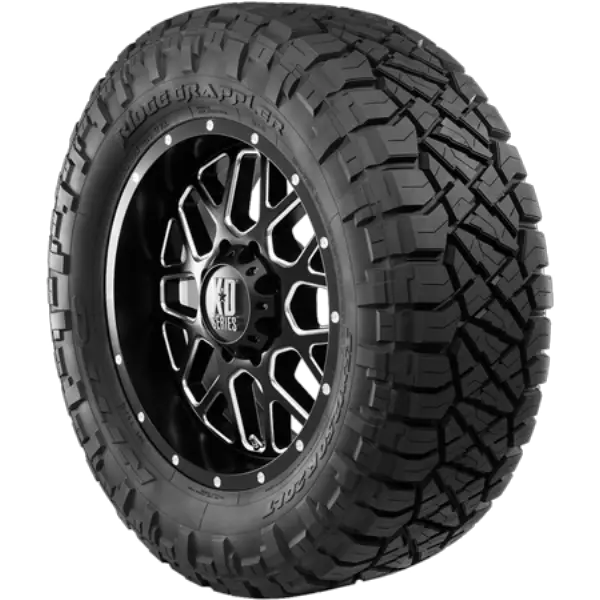 Key Feature
Excellent traction in both dry and wet conditions
Smooth and quiet on the highway
Tire Size
15″, 16″, 17″, 18″, 19″, 20″ and 22″.
Price Range
$95.52 – $227.00
Ratings
Like the Toyo Open Country AT3, the Nitto Ridge Grappler was introduced as an all-terrain tire. This product has a hybrid tread pattern design, available in 94 sizes ranging from 16 to 24 inches with different specifications for higher compatibility.
Like other Grapplers, Ridge Grappler is a dual-sidewall model tire, contributing to expressing personality and uniqueness. According to Nitto, the manufacturer, the traction and temperature are ranked in A and B, respectively.
This light truck tire seems well-received based on the review information on Nitto's official website.
Toyo Open Country AT3 Vs Nitto Ridge Grappler
Tread
Toyo Open Country AT3 is made of chip-and-cut resistant compounds. Its pattern is symmetric, and all the voids are uniformly distributed. 
In addition, the voids are bigger and higher than the rival. All the elements of this tread design aim to increase the off-road traction ability and rigidity of the tread blocks for increased handling stability. 
Besides, the lateral grooves are increased and equipped with stone-ejecting blocks to remove stones or rubbles from grooves in rugged terrain.
Coming to the Ridge Grappler, this tire tread is designed in a dynamic hybrid pattern, which the Nitto manufacturer describes. 
The tread includes a variable pitch model with tire shoulder grooves resulting in the zig-zag appearance, which provides a quiet and smooth-riding experience. Moreover, that zig-zag pattern creates edges to improve traction.
Nitto enhances the rigidity of tread blocks to decrease the flex level and make the Ridge Grappler perform better in rugged terrain. Like Toyo AT3, there are stones ejectors in the area of voids, which avoid stones from sticking and rubber damage.
On-road Performance
Dry Conditions
The Nitto Ridge Grappler holds the game better in dry weather because this product is designed with treads tightly packed around the center, creating narrow voids. As a result, those voids offer a larger contact area with the road, enhancing the grip and the on-road tire traction.
On the other hand, the tread blocks of Togo Open Country AT3 are bigger and larger, resulting in great voids which limit the ability to approach roads. Therefore, AT3 is not good as Ridge Grappler in terms of dry-condition traction.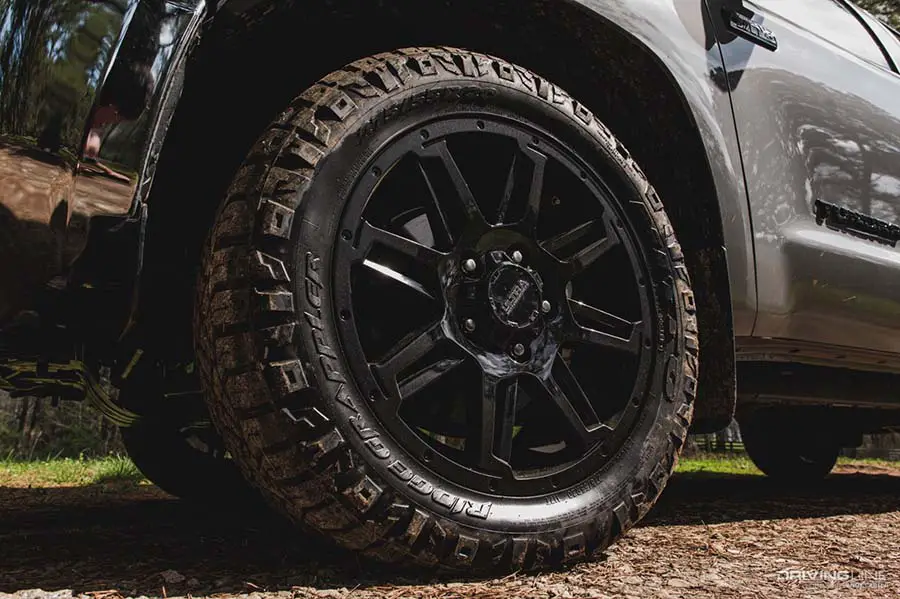 Wet Conditions
In reverse, Toyo Open Country AT3 performs better in wet conditions. As the tread blocks are analyzed above, the larger voids and grooves boost the progress of drainage. 
In other words, those voids let the water under the tire out easily and quickly, which avoids hydroplaning, increases the grip, and keeps you safe in wet weather.
The narrow voids of Ridge Grappler, in this case, may not be an ideal choice.
Off-road Performance
Mud
The AT3 has broad and big grooves that let mud quickly escape through those gaps. Thus, the tires can continue going over difficult terrain. 
Additionally, the bigger shoulder studs also aid in speedier groove cleaning by enabling mud to flow freely. In mud terrain, this AT3 tire is the ideal choice.
Ridge Grappler's narrow grooves and compact shoulder studs can't support a good grip in the mud because of its incapacity to effectively move out mud via the narrow grooves. Those narrow gaps may become clogged with mud slob, resulting in a sticky and miry tire.
Rock
Open Country AT3 is well-liked on the rocky surface because of its strong shoulder construction and powerful stone ejectors. The advance in stone ejectors keeps stones and rubbles away from the grooves. 
This way, the grip on rocks is reinforced. Besides, they also provide excellent traction from different angles.
On the other hand, the rock traction of Ridge Grappler is limited due to the lack of powerful ejectors. Its ejectors are small and placed in deep voids. 
This tire can not resist harsh rocky terrain well because the shoulder construction is not highly impressive, and the design isn't optimal enough.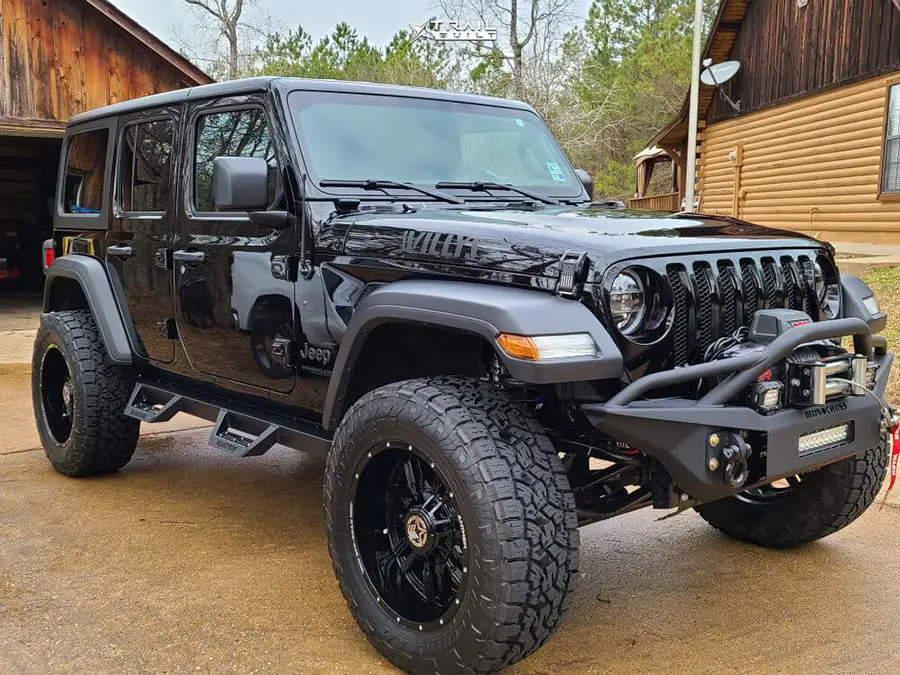 Snow
In this respect, we suppose AT3 is the winner. AT3 owns the three-peak Mountain Snowflake logo, proving its quality to run well on snow. In addition, its tread blocks with a smaller size than the rival make it have better grip when riding on snow.
Ridge Grappler's soft snow traction is not impressive due to its narrow grooves. In other words, those lower voids limit snow removal, causing poorer traction and grip. However, Ridge Grappler can still perform at an average level on snow weather performance.
Durability
While comparing Toyo AT3 and Nitto Ridge Grappler about durability, we think AT3 is better. While the Nitto tread block's rigidity is increased by construction design, the AT3's blocks are produced with more solid and cut-and-chip resistant compounds.
In short, it's hard to distinguish these two features clearly at first. In the case of relatively easy terrain, both can be used well in the long run. However, if users overcome many challenging off-road conditions, AT3 seems better.
Noise & Comfort
The AT3's noise level is slightly louder in the Nitto Ridge Grappler vs Toyo AT3 fight, but we don't think it's a big deal. Both basically provide a pretty good experience in terms of comfort. They are not much different. 
Particularly, Ridge Grappler offers a better and more comfortable experience on-road. In contrast, the Toyo AT3, with an enhanced block rigidity, can handle rough and challenging surfaces more smoothly.
Warranty
Toyo Open Country AT 3 is offered a tread warranty of 65000 miles. In contrast, Nitto Ridge Grappler is not covered in any warranty.
Quick Summary – Toyo Open Country AT3 Vs Ridge Grappler
| | | |
| --- | --- | --- |
| Criteria | Toyo Open Country AT 3 | Nitto Ridge Grappler |
| On-road performance | Good. Perform well in wet weather | Good. Perform better in dry weather. |
| Off-road performance | Excellent in all off-road conditions, including snow, rock, or mud terrains. | Although it cannot perform impressively as the AT3, Ridge Grappler is still an all-terrain product. So, it can do well in friendly off-road conditions. |
| Tread | Stiff compound symmetric patternBigger and higher voidsIncreased lateral groovesStone-ejecting blocks | Dynamic hybrid patternVariable pitch designZig-zag appearanceStones ejectors |
| Durability | Good. Maybe more durable on harsh surfaces, thanks to the compounds. | Good. The rigidity is added thanks to the design construction. |
| Noise & Comfort | A bit louderMore comfortable than the rival when on rugged surfaces. | A variable pitch model helps reduce noise, more quiet and smooth.Better comfort on the road. |
| Warranty | Yes. A tread warranty of 65000 miles | No |
| Conclusion | Works better when off-road compared to the otherLouder soundsWarranty included | Drive smoother on road conditionsHandles off-road conditions wellQuieterWarranty uncovered |
Conclusion
Although there are certain differences between Ridge Grappler vs Toyo AT3, we believe that both are outstanding in their ways. As a result, you should choose based on your purposes. 
The AT3 may catch your attention if you look for a more productive off-road performance tire. Meanwhile, Ridge Grappler will provide better on-road performance and a more impressive appearance. 
Besides, durability, comfort, personal taste, living weather conditions, and more should be considered to get yourself the most suitable option. Lastly, we hope you eliminate your hesitation after reading through our comparison.
For more all-terrain tire options you can check out our article: The 12 Best All Terrain Tires: Top Picks For 2022