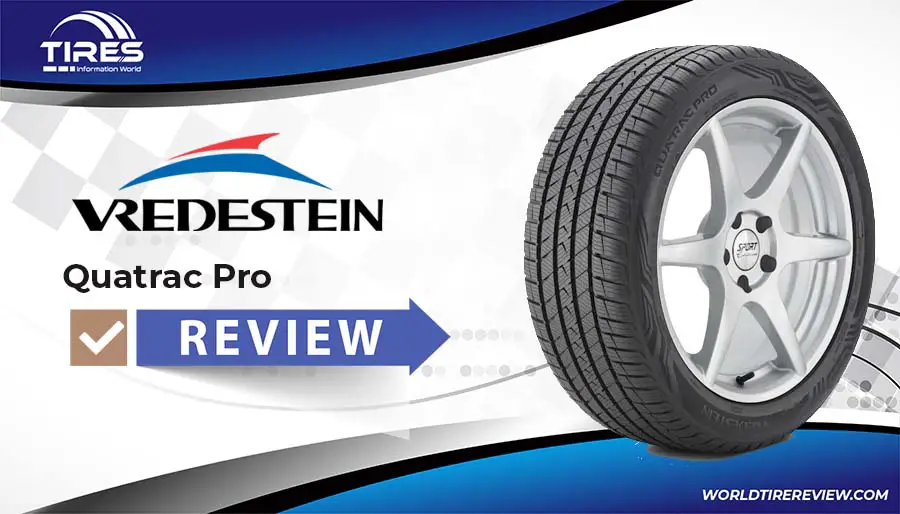 About Vredestein Brand
The brand Vredestein started its career in 1909. And after experiencing over a century, this Netherland-based tire producer revolutionized the tire market.
The firm was sold to Apollo Tyres Ltd in 2009, a corporation with a long history, experience, high-quality expertise, and modern technology. Thanks to the two firms' collaboration, Vredestein Quatrac Pro was released in 2019.
Vredestein Quatrac Pro is an ultra-high performance all-season tire especially built for SUVs, sedans, crossovers, and coupes. Being designed with the cooperation of Italdesign Giugiaro, this tire is a potential successor to Quatrac 5 – a globally renowned tire.
Vredestein Quatrac Pro Tire Review
Although Vredestein Quatrac Pro was only published for three years, it stood in impressively high rank in the list of 18 all-season ultra-high-performance tires – the 6th position.
To have such an achievement like this and gain so much love from global drivers, this tire must have outstanding characteristics that meet almost all users' needs, even the most strict consumers.
The first strength of Quatrac Pro is its short braking distance and the amazing handling on wet surfaces. The manufacturer claimed that this tire gained some improvements compared to its predecessors, especially with a more than 10% wet grip and a 5% improvement in the ability to handle snow surfaces.
Quatrac Pro tire was produced with an asymmetric design featuring winter and summer sides. Each side is in charge of driving safety in different weather conditions. Meanwhile, the symbiosis of these two sides ensures its high performance in all seasons.
Another bonus points of this tire are the good handling at high speed and great rolling and wear resistance. 
The core drainage grooves combine with the diverging lamellas of the tire shoulder to boost the water evacuation from the contact region. Hence, the hydroplaning resistance of the Quatrac Pro tire is improved, and high-speed performance is more stable.
The extensive center ribs enhance the tire's crisp steering response and controllability. Moreover, the multidirectional sipes in the center part of the tread are designed to support an equal pressure distribution in the contact part. Thus, it results in longer tread life.
Pros & Cons
Personal Opinion
Real Experience
Vredestein Quatrac Pro tire is built with top-tier characteristics. So it can secure the greatest comfort for drivers and accurate handling in wet and dry conditions. Even in ice terrain, it still performs well because of its strong traction capabilities.
Hence, if you use this tire for your car, you will experience a comfortable and safe journey in all four seasons. 
Moreover, the rib inside the tire shoulder is designed to make adjacent notches and circumferential channels. Hence, it can remove any mud, lush, and water from the contact area.
Vredestein Quatrac Pro possesses great elasticity, which can maintain balance for a long time.
A layer of the sophisticated compound with high silica that helps two steel belts. Additionally, this material can decrease wear and tear at high speed and secure optimal performance on any surface.
When accelerating the vehicle, you will hear a loud noise from the tire. However, it is still acceptable. It is an issue that most kinds of tires from different brands face, and many producers are trying to improve the situation.
Why Should You Buy The Quatrac Pro Tire?
The Quatrac Pro is suitable for users who do not want to replace tires many times yearly or when the new season starts. 
And, we found that this tire is extremely fit with the weather in Europe and America. Because the weather in this area can have unpredictable shifts, using an all-season tire like Quatrac Pro is an excellent choice.
Its convenience and the affordable price are also key factors in making you want to buy it. If you are lucky, you may have a chance to get many discounts to sweeten your deal.
| | |
| --- | --- |
| Treadlife Warranty: | 8 Years from date of production / 50,000 Miles  |
| Uniformity Warranty: | 1 Year / First 2/32″ of wear |
| Workmanship & Materials Warranty: | 8 Years from date of production / Free replacement first year or 2/32″ wear, then prorated until 2/32″ remaining depth |
| Manufacturer's Road Hazard Warranty: | 1 Year / first 2/32″ of wear |
| Manufacturer Special Warranty: | 30-day trial period (1) |
| Additional Information: | (1) Must purchase four, full refund or exchange |
Warranty summary for replacement tires purchased on or after 01/01/21
at Tire Rack
| 17 | | 18 | |
| --- | --- | --- | --- |
| 215/50R1892W | 225/55R17101Y | 215/50R1892W | 235/65R18110H |
| 225/45R1794Y | 235/55R17103Y | 225/40R1892Y | 245/40R1897Y |
| 225/50R1798Y | 245/45R1799Y | 225/45R1895Y | 245/45R18100Y |
| | | 225/55R18102V | 255/55R18109W |
| | | 235/60R18107W | |
| 19 | | 20 | |
| --- | --- | --- | --- |
| 225/45R1996W | 255/50R19107W | 235/45R20100W | 255/55R20110Y |
| 235/50R1999V | 255/55R19111W | 245/35R2095Y | 275/30R2097Y |
| 235/55R19105W | 275/35R19100Y | 245/40R2099Y | 275/40R20106Y |
| 245/45R19102Y | | 255/40R20101Y | 315/35R20110Y |
| 21 | | | |
| --- | --- | --- | --- |
| 245/35R2196Y | 275/45R21110Y | | |
| 275/40R21107Y | 285/40R21109Y | | |
Vredestein Quatrac Pro prices range from $151.99 to $378.99 (Simple Tire)
prices range approximately from
Vredestein Quatrac Pro – Compare Prices
We found 3 online tire retailers selling Vredestein Quatrac Pro. Refer to the details below to get the best price
Vredestein Quatrac Pro
PRICE
SOLD BY

Offers

Offers

Offers
Quatrac Pro Ratings By Consumer