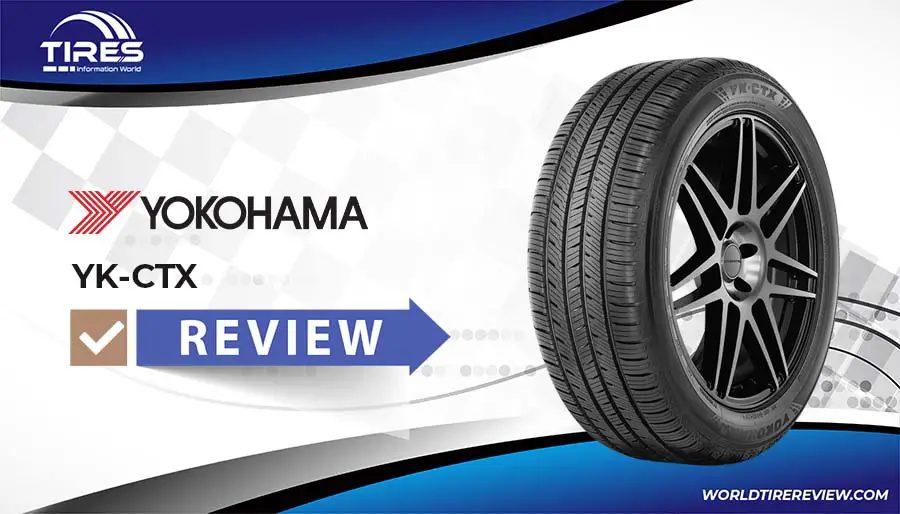 Yokohama YK-CTX Review
About Yokohama Brand
Yokohama is a Japanese tire producer that was established in 1917. They focused on designing and manufacturing tires for over 100 years. Until now, their innovative, high-quality tires have gained a good reputation worldwide.
According to the Tire Business Global Tire Company Rankings in 2019, Yokohama gained the eighth position in the list of the largest tire producers in the world.
The brand is well-known, thanks to its long-lasting and comfortable tires. Their most beloved lineup products are high-quality models such as all-season, all-terrain, and winter tires.
One of the well-favored products from this brand is YK-CTX. Although it was published a few years ago, it has received a lot of praise from global drivers. Let's find the reasons behind the good reputation of this tire.
Yokohama YK-CTX Tire Review
The YK-CTX is a high-quality all-season tire designed for CUV drivers. It possesses a creative technology that provides great grip, accurate handling, reliable mileage, and a comfortable and quiet ride.
Being an all-season tire, it is obvious that YK-CTX can handle all weather conditions. The manufacturers have invested much effort in designing procedures to have this ability.
And three outstanding features of this tire are excellent wet traction, competitive snow traction, and long tread life.
In terms of the great wet traction, the grooves of the tire force water to pass through the inside tire shoulder while running for more confident road-gripping.
Moreover, the design of four wide circumferential grooves can clear the water from the tread area to enhance wet braking and resist hydroplaning.
YK-CTX is built with 2D/3D sipping in terms of superior snow traction characteristics, which provides biting edges and hard tread blocks on the central ribs. This feature can increase stability in winter weather.
To make the YK-CTX a tire with a long life tread, Yokohama uses micro silica compound to produce it. This material features a unique polymer mixture that stays flexible in many terrain or weather conditions.
In addition, the flat and wide contour can distribute stress among the contact area.
Another promise from Yokohama for this great tire is the quiet, comfortable ride it brings to drivers. The variation in pitch block can decrease resonant peaks and eliminate cycle hum when the tire rolls at high speed.
Pros & Cons
Personal Opinion
Real Experience
After listening to numerous feedback from our customers and readers and spending a few weeks to have practical experience with YK-CTX, we can claim that this tire is worth buying.
Firstly, Yokohama YK-CTX can be considered one of the greatest all-season tires in the market due to its handling in any terrain. The circumferential grooves and 2D/3D sipping design makes the tire perform well on wet and snow surfaces.
The road-gripping is strong so that if you have to drive in severe weather conditions, you will not have to worry when using this Yokohama tire.
Moreover, thanks to micro silica compounds. It will lengthen the tread life of the tire. The YK-CTX will be a great choice for users who do not want to replace tires regularly.  
However, the only minus point of this tire is the noise. We consider this tire is not quiet and smooth enough when you use it on the highways. This tire will create loud noise, not similar to what Yokohama claimed on their website about the quiet ride.
Why Should You Buy Yokohama YK-CTX Tire?
To sum up, you should accept that its benefits outweigh the drawbacks. So, should you have a chance, it would be great if you chose Yokohama YK-CTX for your beloved car.
Because it belongs to the all-season type and has an economical price, this tire will be the best choice for customers with a limited budget or those who do not want to substitute tires once the new season comes.
| | |
| --- | --- |
| Treadlife Warranty: | 60,000 Miles |
| Uniformity Warranty: | 1 Year / first 3/32″ of wear |
| Manufacturer's Road Hazard Warranty: | None |
warranty summary for replacement tires purchased on or after 06/01/19 at
| 17 | | 18 | |
| --- | --- | --- | --- |
|   225/60/R18 |   235/65/R17 |   225/60/R18 |   245/60/R18 |
|   225/65/R17 |   225/60/R17 |   225/55/R18 |   235/60/R18 |
| | |   255/65/R18 |   235/55/R18 |
| 19 | | 20 | |
| --- | --- | --- | --- |
|   245/55/R19 |   235/55/R19 |   255/55/R20 |   255/50/R20 |
|   225/55/R19 | |   235/55/R20 |   245/50/R20 |
| | |   265/50/R20 | |
Yokohama YK-CTX prices range approximately from $155.00 to $216.00 (Discount Tire)
Yokohama YK-CTX – Compare Prices
We found 1 online tire retailer selling Yokohama YK-CTX. Refer to the details below to get the best price
Yokohama YK-CTX
PRICE
SOLD BY
 

Offers



YK-CTX Ratings By Consumer