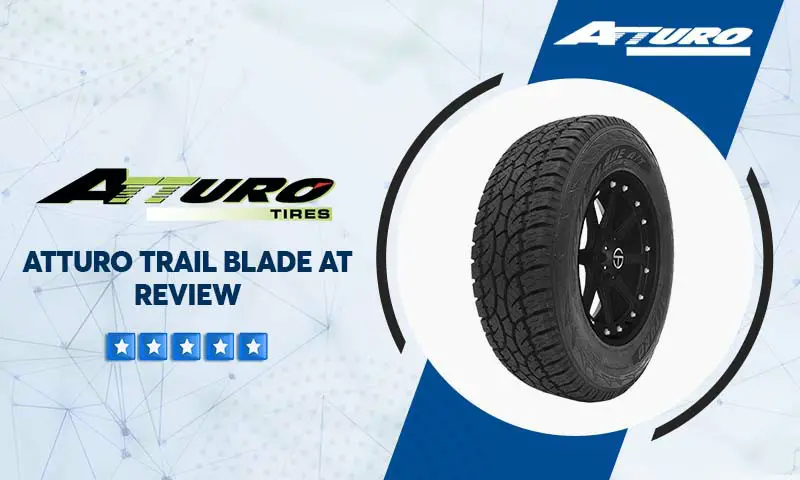 In recent years, there has been an evident increase in tire car brands on the market. When it comes to value-for-money tires with good performance, nothing beats the Atturo Trail Blade AT.
This tire now combines a modern style with extraordinary features, which explains why many automobile fans choose it. Let's take a look at our Atturo Trail Blade AT tire review below to know more details!
Overview Of Atturo
Atturo is an American tire brand that produces high-quality tires at competitive costs, making them a strong competitor in the tire industry. The Atturo Trail Blade A/T, released in 2013, has rapidly become one of the best-selling all-terrain tires on the market. 
This model has developed a complete line of tires for today's trucks, SUVs, and crossovers, ranging from high-performance road tires to tough, sludge ready to take on any challenge. The Trail Blade A/T is best suited for light off-roading and normal street riding.
Atturo Trail Blade AT Reviews
Traction
The Atturo Trail Blade AT is designed for all-terrain performance and offers outstanding traction in all seasons. A rating of traction provides signature performance, which improves a vehicle image.
Tread Design
The Trail Blade AT has a deep tread depth of 12mm on all surfaces and extended tread life. The massive shoulder blocks improve overall steering control and handling. Additionally, a three-ply sidewall has also been built for further protection from pebbles and other debris.
Atturo also built the tread area with four deep gouges and many sipes in the tread blocks for great wet traction and effectiveness in snow and muck.
Treadwear
The tread blocks and sipes are strategically designed to retain the footprint and guarantee uniform pressure distribution, preventing uneven treadwear. The stronger compound reduces overall wear rates, making the product more usable. 
The Atturo Trail Blade A/T has a 50,000-mile treadwear warranty as a result of this, making it a cost-effective tire. Its treadwear received approximately 540 ratings. It will last 5.4 times longer than a normal rated 100.
Temperature
The Trail Blade AT's temperature rating is B, signifying the tire's average heat generation and dissipation qualities. 
This property proves that tire materials can sustain medium to high temperatures without deterioration. That being said, one thing to keep in mind is that this wheel may not endure extreme heat, which could lead to tire rupture.
Speed & Noise Level
All terrains benefit from deeper and more high-density sipes around the tread. Larger shoulder blocks in the tire boost handling and balance at freeway speeds, and noise is quite low on all but the hardest-shaped surfaces.
Unlike other all-terrain tires, this model avoids noise from reaching the vehicle cabin, ensuring that road disruptions do not detract from the passenger's ride comfort.
Fuel Consumption
The model is good for conserving gasoline. The lower the cost of transportation and the less damaging carbon dioxide released into the atmosphere, the better the fuel efficiency. 
If you choose these A-rated tires over G-rated tires, you might save 7.5 percent on gas.
Pros and Cons of Atturo Trail Blade AT
Our Thoughts 
During our Atturo Trail Blade A/T tire reviews, you can find that this tire may be utilized on various surfaces thanks to its outstanding features, including both on- and off-road surfaces. That makes the tire ideal for cars that travel over diverse terrain.
On- And Off-road Performance
Because of the jagged patterns and strong, biting edges, these tires practically work their way through off-road terrain, which gives us a sense of stability and assurance when driving.
In simple words, the Atturo Trail Blade AT offers superior aesthetics, exceptional durability, everyday usage, and efficient off-road performance in all types of terrain at a cost that no other tire of its quality can beat.
All-season Terrance
Four large channels spanning the perimeter of the tire function in tandem with the lateral sipes to remove water, snow, and slush from beneath the contact patch. 
You can feel the smooth movement of your wheel, which is unaffected by snow or sludge. This ensures that the Trail Blade A/T will connect in any weather.
When driving the three-peak mountain snowflake, you'll notice the winter weather credentials, which suggest that the tire has more snow traction than ordinary all-season tires.
And, the wheel will be suitable for those who are looking for a durable all-terrain tire for their automatic.
That said, we found its performance in deep mud conditions is not as expected. Atturo claimed that this tire will get rid of snow and mud stuck in the tread patterns, thanks to its deep grooves. But we don't think that it works with mud.
Competitors & Alternatives
| | |
| --- | --- |
| Treadlife Warranty: | 5 Years / 50,000 Miles |
| Uniformity Warranty: | 1 Year / first 2/32″ of wear |
| Manufacturer's Road Hazard Warranty: | None |
| 15 | | 16 | |
| --- | --- | --- | --- |
| LT 235/75R15 | LT 31X10.50R15 | LT 215/85R16 | LT 245/75R16 |
| LT 30X9.50R15 | | LT 225/75R16 | 255/70R16 |
| | | 235/70R16 | 265/70R16 |
| | | LT 235/85R16 | LT 265/75R16 |
| | | 245/70R16 | LT 285/75R16 |
| | | 245/75R16 | |
| 17 | | 18 | |
| --- | --- | --- | --- |
| LT 235/80R17 | 265/65R17 | 265/60R18 | 275/65R18 |
| 245/65R17 | 265/70R17 | 265/70R18 | |
| LT 245/75R17 | LT 265/70R17 | | |
| 20 | | | |
| --- | --- | --- | --- |
| 275/55R20 | 285/55R20 | | |
| 275/60R20 | | | |
Trail Blade A/T prices range approximately from $166.97 to $386.97
prices range approximately from
Atturo Trail Blade A/T – Compare Prices
We found 4 online tire retailers selling Atturo Trail Blade A/T. Refer to the details below to get the best price
Atturo Trail Blade A/T
PRICE
SOLD BY
 

Offers




Offers




Offers



Atturo Ratings By Consumer