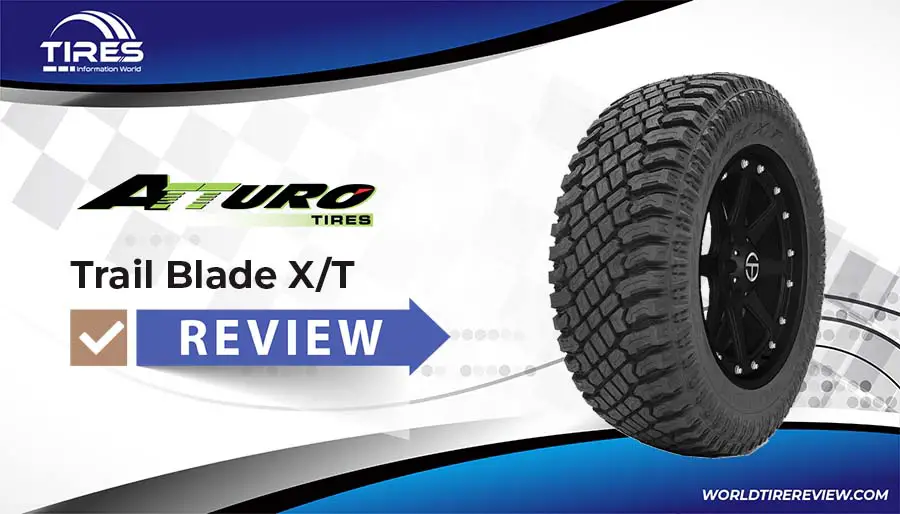 Atturo Trail Blade X/T Review
Atturo is the leading tire brand that produces hybrid design products. Their trail blade X/T is the combination of AT and MT series dedicated to crossovers, SUVs, pickups, and other light trucks (4×4). It has a stylish, cutting-edge design that meets the requirement of all-terrain tires.
The manufacturer collaborates with QuarterMaster Knives Co. to design the tread patterns. The Thailand company is in charge of outsourcing the material and sending it to Texas for further development. Therefore, this product has a "knife blade" appearance, which guarantees its high capability to tackle different hard terrains. 
The sidewall supports the drivers to improve the traction on rough conditions such as mud, sand, dirt, etc. It's especially suitable for rocky surfaces since the "knife blade" feature protects the tire from being punctured. The LT size has a three-ply sidewall, giving it better protection against tears, cuts, etc.
The brand also offers the users more snow and rain traction, handling and riding quality by adding small sipes around. Furthermore, the rim protector is added, preventing the tire from being damaged by some obstacles such as curbs. Thus, it can satisfy both on-road and off-road criteria.
The series is available in different sizes from 17 – 24 inches and additional sizes of 33, 35 and 37 inches, which can fit both light and heavy-duty cars. All come with a tread warranty of 45000 miles.
Although it's not a hardcore product for off-road, its decent features and versatility are worth trying. Our review also shares hands-on experience after the drive test. Keep reading to learn more about this amazing combination of all-terrain and mud-terrain tires.
Pros & Cons
Personal Opinion
Tread Design
As mentioned above, the model has a unique tread design that increases the protection of the sidewall. No debris or other sharp objects can come through. According to some comments, most off-road drivers highly appreciate the traction that the tire can maintain in different conditions and temperatures. They also agree that its aggressive appearance makes their SUVs even more sturdy. 
Dry Roads
The tire performs quite well on dry surfaces due to its small center blocks. Those elements are connected, giving the model concrete structure to be stable. Its dry traction is proved through testing. It's not easy to stumble, especially at corner grip, and it stops quite nicely at a reasonable distance. 
The LT-metric size also works well with heavy loads. Although the model is not the best, its performance is appreciated compared to the price. 
Wet Roads
The design is built with small sipes and a large void gap, giving it the absolute hydroplaning resistance. You can drive your vehicle through the puddles with stability. However, we must admit that it doesn't perform so admirably when gripping corners and the acceleration traction is medium. If you are not so strict with these criteria, trail blade X/T still deserves a try for its safety in rainy weather.
Performance On Snow 
Through testing, we realize the product only shows its strength on unpacked snow with the help of tread patterns and sipes. It gives some traction on the packed snow but much lower and, thus, is difficult to control.
Drivers have difficulty keeping traction on the packed snow. Therefore, if you live in harsh cold conditions, it's recommended to go for a set of winter tires.
Durability 
Usually, you need to spend time driving and observe the changes in the appearance and quality of the tire to see whether it's durable. In general, the model receives positive feedback about this issue. Users experience almost no maintenance, proving its trustworthy durability. 
The three-ply sidewall enhances durability and strength. Plus, the brand offers a tread warranty of 45000 miles, which makes the model an ideal choice.
Comfort, Noise & Handling
The biggest minus of this product is its noise on the road. Even though it's designed to reduce noise, the humming sound is noticeable, even louder than the wind and engine. It can not compare with other mud-terrain tires in this field. 
Besides, some drivers also complain that they feel somehow hard to balance on this tire. However, we can't deny it feels responsive behind the steering wheel.
Who Should Choose This Model?
We hope this review can benefit you in choosing your proper tires. Despite the noise and vibration the tire makes while driving, this product with an aggressive appearance attracts many rough-terrain enthusiasts. Its safe handling and affordable price make it ideal for most off-road drivers, especially newbies.
Competitors & Alternatives
| | |
| --- | --- |
| Treadlife Warranty: | 45,000 Miles |
| Uniformity Warranty: | 1 Year / first 3/32″ of wear |
| Manufacturer's Road Hazard Warranty: | None |
warranty summary for replacement tires purchased at Discount TIre
| | | | |
| --- | --- | --- | --- |
| 235/65R17 | LT 285/70R17 | 235/60R18 | LT 285/65R18 |
| LT 255/75R17 | LT 35X12.50R17 | LT 255/70R18 | LT 295/70R18 |
| | | LT 275/70R18 | LT 33X12.50R18 |
| | | 285/60R18 | LT 35X12.50R18 |
| | | | |
| --- | --- | --- | --- |
| LT 265/60R20 | LT 295/60R20 | 275/45R22 | LT 325/50R22 |
| 275/45R20 | LT 305/55R20 | 305/45R22 | |
| 275/55R20 | LT 33X12.50R20 | | |
| LT 275/65R20 | LT 35X12.50R20 | | |
| LT 285/55R20 | | | |
| | | | |
| --- | --- | --- | --- |
| 285/40R24 | LT 345/50R24 | | |
| LT 325/45R24 | | | |
Atturo Trail Blade X/T prices range approximately from $168.00 to $371.00 (Discount Tire)
prices range approximately from
Atturo Trail Blade X/T – Compare Prices
We found 4 online tire retailers selling Atturo Trail Blade X/T. Refer to the details below to get the best price
Atturo Trail Blade X/T
PRICE
SOLD BY
 

Offers




Offers




Offers




Offers



Trail Blade X/T Ratings By Consumer