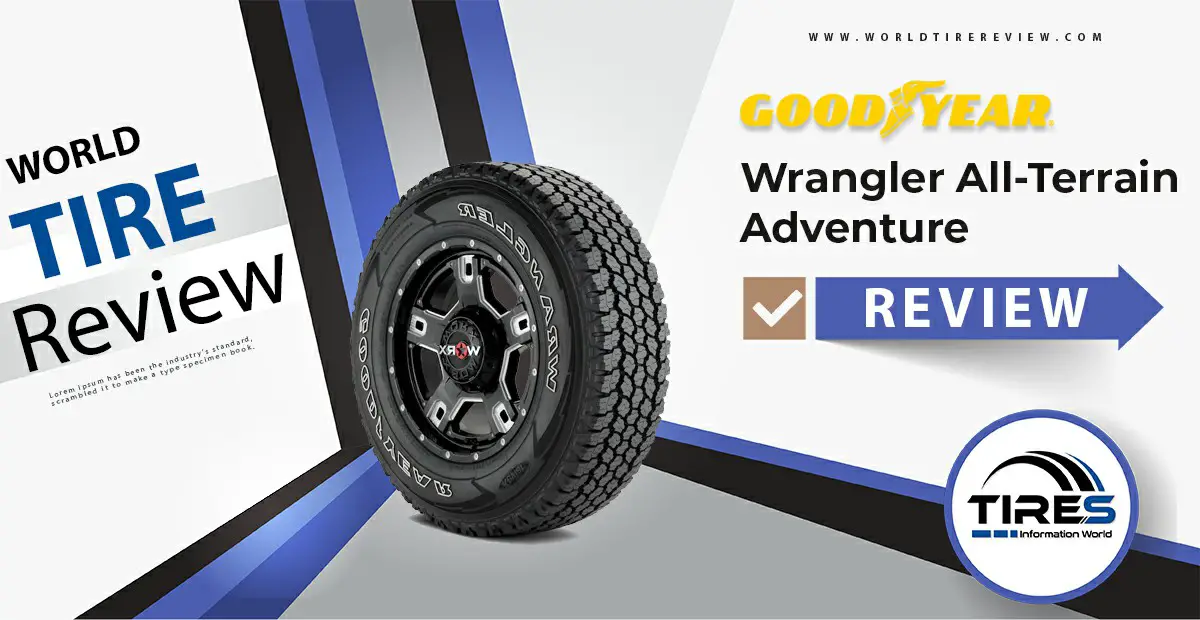 Goodyear is one of the world's largest tire manufacturers. The brand's tires are famous for high durability and performance in all road and weather conditions. 
Recently, the company added Goodyear Wrangler All-Terrain Adventure to their all-terrain lineup. The tire is specifically engineered for drivers of vans, trucks, and SUVs. It inherits many great features from its predecessors and also enjoys some improvements in design as a latecomer.
First is the addition of a Kevlar layer which significantly increases the tire's durability by providing resistance to cuts and punctures. With this new feature, this tire is dependable for off-road driving. 
Besides, Goodyear uses Durawall technology to provide the tire's sidewalls extra toughness, making it even more durable, just like with other tires made by the company.  
Besides, the LT sizes of the Goodyear Wrangler AT Adventure tire are designed with 30% more high-tensile steel and two layers of Kevlar, making it an ideal tire for snow weather. 
Another enhancement that Goodyear did with this tire is the more complicated symmetric tread pattern, providing better grip when driving on wet surfaces. It also helps improve traction on various road conditions such as rock, sand, and light mud.
Pros & Cons
Tire Drive Test
It seems that Goodyear has put a lot of effort into the making of this Wrangler All-Terrain Adventure tire. Having bought and used this tire for off-road trips, I think this tire is one of the best all-terrain tires in its price range. With the Kevlar layers, you will feel comfortable and safe to drive on rocky road surfaces. 
There is no need to worry that the tire would be cracked or punctured. Additionally, Goodyear offers a 60,000-mile warranty for this tire. 
There is a small drawback, that is, the tire does produce noise at high-speed drive. But it is completely acceptable since it is not particularly designed for high-speed performance.
Its traction, handling, and braking are very good on light terrains such as sand, dirt, grass, and shallow mud. That makes it a trusted companion for those who choose to go for a getaway to campsites, fishing spots by the lake, or even low mountain areas on a nice day off. 
I have used this tire to drive in snowy weather, and it amazed me by how responsive its braking and handling were, even when I accidentally drove on black ice. 
Although  its handling can be slightly shaky when facing deep mud or heavy snow, this tire has an impressive performance during rain.  And you should remember that this is an all-terrain tire designed for various surfaces, not a specialty tire made solely for one type of road condition.
In conclusion, Goodyear Wrangler All-Terrain Adventure is a very well-made tire. It is easily one of the best all-terrain tires, especially for off-road driving. Its ruggedness, durability, handling, and comfort make it a bargain for its price.
Competitors & Alternatives
| | |
| --- | --- |
| Treadlife Warranty: | 6 Years / 60,000 Miles Half mileage for rear if different size than front |
| Uniformity Warranty: | First 1/32″ of wear |
| Workmanship & Materials Warranty: | 6 Years / Free replacement first year, 2/32″ or 25% of wear, then prorated until 2/32″ remaining depth |
| Manufacturer's Road Hazard Warranty: | None |
| Manufacturer Special Warranty: | None |
| Additional Information: | (1) Exchange for a different Goodyear brand tire |
| 15″ | | 16″ | |
| --- | --- | --- | --- |
| LT 31X10.50R15 | | LT 215/85R16 | LT 245/75R16 |
| | | LT 225/75R16 | 255/70R16 |
| | | 235/70R16 | 265/70R16 |
| | | LT 235/85R16 | 265/75R16 |
| | | 245/70R16 | LT 265/75R16 |
| | | 245/75R16 | LT 285/75R16 |
| 17″ | | 18″ | |
| --- | --- | --- | --- |
| 235/70R17 | LT 245/75R17 | 255/65R18 | LT 265/70R18 |
| 235/75R17 | 255/65R17 | 255/70R18 | 275/65R18 |
| LT 235/80R17 | 255/70R17 | 265/60R18 | LT 275/65R18 |
| 245/65R17 | 265/65R17 | 265/65R18 | LT 275/70R18 |
| 245/70R17 | 265/70R17 | 265/70R18 | LT 285/65R18 |
| LT 245/70R17 | LT 265/70R17 | | |
| 245/75R17 | LT 285/70R17 | | |
| 19″ | | 20″ | |
| --- | --- | --- | --- |
| 255/60R19 | | 265/50R20 | LT 275/65R20 |
| | | LT 265/60R20 | LT 285/55R20 |
| | | 275/55R20 | LT 285/60R20 |
| | | 275/60R20 | LT 305/55R20 |
Wrangler All-Terrain Adventure prices range approximately from $240.99 to $276.99 – Tire Rack
Avon AX7
Pirelli Scorpion ATR
Goodyear Wrangler AT SA Plus
Pirelli Scorpion All Terrain Plus
Hankook DynaPro ATM RF10
Goodyear Wrangler DuraTrac
Goodyear Wrangler All-Terrain Adventure – Compare Prices
We found 4 online tire retailers selling Goodyear Wrangler All-Terrain Adventure. Refer to the details below to get the best price:
Goodyear Wrangler All-Terrain Adventure
PRICE
SOLD BY
 

Offers

$142.96

Offers

Offers
Wrangler All-Terrain Adventure Ratings By Consumer