Sometimes, it is an exquisite delight listening to the sound of your forceful engine roaring up and down through the winds. Sometimes, it's not. 
In case what you are putting up with is merely irritating noises rather than those expected above, this top-notch list of the best quietest tires in 2022 is undoubtedly where you should land on. 
Wait for no more but jump right in for further helpful clues!
The 8 Best Quietest Tires In 2023
1. Michelin Premier LTX
Best For SUV And Truck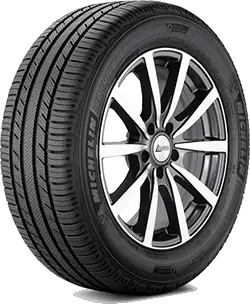 Specifications

Sizes Available: 15" to 20"
Speed Rating: R, S, Q, T
Mileage Warranty: 50000 mile
Rim Width Range: 5.5" to 11"
Overall Diameter: 27" to 36.5"
Revs Per Mile: 569 to 751
Max Load Capacity: 2,755 lbs
Tread Depth: 15/32"
Max Inflation Pressure: 50 psi

Ratings
The Michelin Premier LTX is ideal for truck and SUV drivers who want an ultra-smooth, cloudless ride. In general, you would barely get down coming to these quietest Michelin SUV tires for excellent steering control, handling, and traction. 
There is a reason it has been called out whenever it comes to the quietest tires on the market.
Thanks to employing sunflower oil and silica, the manufacturer has done a fruitful job in improving tire traction on the road. This triggers a less struggling attempt for the car to run smoothly and generate less fretful sounds.
It is not to mention such a Michelin model's braking performance, which has grown much better since the last version came out. 
You must be so glad as well hearing that what you can gain are also matchless resilience and tread life. Well, fresh circumferential grooves appearing on the surface as the tires wear down really did something gainful for the game.
The Premier LTX is perhaps the greatest model in Michelin's whole truck/SUV collection, boasting Michelin's signature enjoyable and constant non-noisy ride.
2. Bridgestone Turanza Serenity Plus
Best Exceptional Traction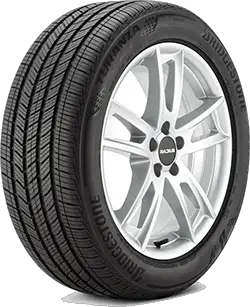 Specifications

Category: All Season
Warranty: 70,000
Max Speed: 130 mph (H Rated)
Load Range: SL
Load Index: 91 (1356 lbs)
Sizes Available: 15″, 16″, 17″, 18″, 20″

Ratings
Bridgestone Turanza Serenity Plus radial tires are made with unique compounds like silica and other polymers to improve traction and grip on the road. 
These tires function efficiently in all types of weather, notably wet and snowy roads. They will look great with your vehicle as one of the quietest tires for SUV and other premium vehicles. 
The tires are also engineered to have a lower rolling resistance to decrease frictional forces between the road and the tires. Yet amazingly, this also cuts down on gasoline usage. 
These Bridgestone tires are meant to deliver a quiet and calm trip, as their name indicates. To minimize noise, Bridgestone incorporates "Resonance Noise Attenuated Silencer Grooves" in these tires. 
Sounds like an all-around item in one, but despite their exceptional performance, the price of them is indeed what gains you a bargain.
3. Michelin Energy Saver A/S
Best For All Seasons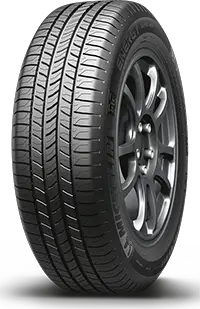 Specifications

Category: All Season
Warranty: 65,000 miles
Max Speed: 130 mph (H Rated)
Load Range: SL
Load Index: 84 (1102 lbs)
Sizes Available: 15″, 16″, 17″, 18″

Ratings
Michelin Energy Saver A/S combines high-tech with affordability to create an all-season tire that has been thoroughly tested. The brand actually yielded a superior tire that can be used on any terrain, even on light snow. 
It is because the manufacturer employs MaxTouch Construction. This function enhances the tire's touch with the road while equally distributing the forces of cornering, braking, and acceleration for longer wear to deal with tough conditions.
One more reason on top of that is due to the silica-based compound feature of the tire. Having such material in the tire built-up formula, allows the A/S to maximize its all-around traction and uncompromising braking.
Besides, you may also enjoy the tire's use of Green X functionality to save gasoline. 
Guess what? Not only does this tire provide great braking and moderate (but not outstanding) traction for tiny cars, but smooth and equally pleasant rides are something that you don't want to overlook.
4. Goodyear Assurance ComforTred Touring
Best Shocked Preventing Cushion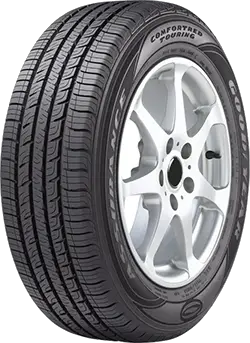 Specifications

Sizes Available: 15" to 18"
Speed Rating: T, H, V
Mileage Warranty: 80000 mile
Rim Width Range: 5" to 9"
Overall Diameter: 24.2" to 30.1"
Revs Per Mile: 685 to 863
Max Load Capacity: 1,477 lbs
Tread Depth: 11/32"
Max Inflation Pressure: 51 psi

Ratings
When it comes to the quietest tires, it is to say Goodyear takes a fairly unique approach.
To bestow a stable grip in dry driving situations, Goodyear employs shoulder blocks and asymmetric tire layouts instead of Silent Shoulder technology.
What's more, the introduction of a rubber membrane between the steel belts and the tread adds to the tires' quiet ride by cushioning vibrations while containing tire–road noise.
The sidewalls' durability for impact absorption and corner negotiating only adds to this best-selling product's attractiveness. Just don't anticipate great grip in the snow, as this isn't a feature of these tires.
5. Michelin Defender T+H
Best Endurance
Specifications

Category: All Season
Warranty: 80,000 miles
Max Speed: 130 mph (H rated)
Load Range: SL
Load Index: 84 (1074 lbs)
Available Sizes: 15″, 16″, 17″, 18″


Ratings
The Michelin Defender's tread contains a lot of silica, which improves its ascendant grip on wet roads. Biting edges and siping are also those that help enhance the traction on heavy snow and ice for your car. 
And needless to say, one of the most appealing features of this tire is how quiet it rides. The tread pattern has been fine-tuned by Michelin to maximize ride satisfaction and noisiness. You'll also enjoy the idea of the bundled 90,000-mile tread guarantee offered.
6. Bridgestone Turanza QuietTrack
Best For Winter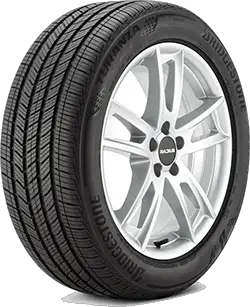 Specifications

Category: All Season
Warranty: 70,000
Max Speed: 130 mph (H Rated)
Load Range: SL
Load Index: 91 (1356 lbs)
Sizes Available: 15″, 16″, 17″, 18″, 20″

Ratings
Here's the newest and one of the quietest all terrain tires in addition to the big touring genre, the Bridgestone Turanza QuietTrack.
Thanks to ComfortCruise technology, this is a tire you can safely count on at highway speeds with almost no noise-causing at all. Quite impressive for a big-sized tire, isn't it?
Outstanding performance on the road in the winter is one of those highlights that will make the image of Tuzanra imprint in your mind. 
Speaking of snowy efficiency, the Turanza QuietTrack's tread pattern genuinely comes in handy. Thanks to this and not to neglect the zig-zag design of the 3D full-depth sipes, they aid wonderfully in increasing grip on snow.
Better yet, the Bridgestone also develops in this model longitudinal sipes and four circumferential grooves. Such improvements have resulted in the tire's more tremendous wet traction and significant resistance to aquaplaning.
7. Yokohama AVID Touring-S
Best Budget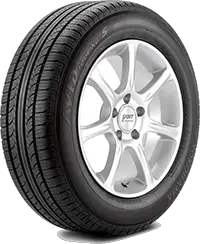 Specifications

Season: All Season
Warranty: 80,000 miles
Max Speed: 112 mph (S Rated)
Load Range: SL
Load Index 87 (1202 lbs)
Sizes Available: 14″, 15″, 16″, 17

Ratings
Our next destination is Yokohama, one of the quietest touring tires on the market today and also the most budget-friendly choice on our list. 
Believe it or not, this will definitely be the tire that you will not hesitate to use on highways, thanks to the symmetrical tread design and quiet shoulders that create the maximum noise reduction feature. 
Even running at high speed on the highway, the annoying sounds that you have to hear from your beloved car are vastly restricted.
Similar to other Yokohama belongings, the Triplex Tread Compound makes it extremely reactive to maneuver. 
Particularly for daring drivers who prefer a low-key performance in terms of operating sound, the grip, traction, and brakes of this tire model will be a choice that will hardly disappoint you.
The Tapered Rain Channels technology also helps with wet grip, but they don't assist much with snow traction.
8. Hankook Optimo H727
Best Stability
Specifications

Category: All Season
Warranty: 100,000 miles
Max Speed: 118 mph (T Rated)
Load Range: SL
Load Index: 100 (1764 lbs)
Sizes Available: 14″, 15″, 16″, 17″, 18″

Ratings
The Optimo H727 Standard Touring All-Season tire is a good fit for most vehicles, including sedans, minivans, and crossovers. This tire is made of a special all-season rubber that provides outstanding tread life and traction. 
Once paying a closer look, you'll behold hundreds of tapered grooves running along the central rib of the tread. These grooves help to prevent hydroplaning and, when combined with the tapered lateral slots, minimize utmostly unpredicted noises. 
Also, these circumferential grooves are precisely positioned to wick away water and ice, resulting in an excellent grip. This leads to an Optimo with better controllability, handles corners nicely, and comes with one of the finest warranties available, which is up to 100,000 miles.
What Causes Excessive Tire Noise?
Overall Size Of The Tire
As the size of the tire gets bigger, so does the surface area it has to contact with the road. This thus leads to the more likely possibility for you to suffer the noisy torture along every journey.
Smells like bad luck, doesn't it? Since so, there is a high chance you may wish to switch yours to a smaller kind. For example, let's say from 18-inch wheels to 16-inch ones. 
The substitute will foreseeably lower your car's look one way or another. Nevertheless, for those who are sick of sonorous disturbance, you surely don't want to miss such a great option.
"Isn't it even more boisterous when I replace mine with winter tires on more modest rims?" Many may ask. Your sense is not faulty, but a case like this happens simply because the tread goes with a distinctive functional design. 
Tire Tread
Trapped air in the grooves between the road and the tread blocks is another reason that triggers louder obtrusion of the car while running. 
Due to this, there will occur the phenomenon where the air gets compressed and generates noises once they have an opportunity to wriggle out. That explains why tires whose tread blocks are more spacious than each other are often louder than the others.
Moreover, whether the tread pattern is symmetrical or asymmetrical is also a decisive factor that tells if the tire is going to create more noise. As such, the former will be the one to avoid for those who prefer quietness.
Types Of Tires
As for winter tires, barely anyone can complain about their competence in dealing with obstacles like slush, snow, or ice. We have to admit those upsides but also point out the downside, which is their terrible handling of extensive sounds.
Don't even get us to talk about tires with studs and terrain tires. You must have captured hints just hearing their rocky name. 
Another one you may wish to step aside from is low-profile tires. Since their sidewalls are sort of rougher, these tend to produce more aggressive discords. 
Road Conditions
Your vehicle is not the target to blame all the time. Rather, road conditions are what should also take partial responsibility for such bothersome scenes.
The newer, smoother concrete or asphalt is, the less aloud the trip going on.
For example, grooved concrete is intendedly built to transfer moisture away from the surface. That is why it will produce a chaos of noise, akin to highways that have had their top layer removed. 
Also, the sound of fresh asphalt will result in a hollower than the drumming of cracked or gritty pavement.
Driving Speed And Smoothness
Speed is another one you should no way miss out on. As the tire rotates faster at a higher pace, it will lead to more and more air going across the tread pattern. Let them keep wreaking havoc, and you'll see merely tire-chamber air has the ability to reverberate like a drum.
To name a few, the load-bearing your vehicle is taking, whether you accelerate quickly, corner sharply, or brake hard, also cause the sound of your tires making changes as they struggle to hold the road.
Driving Conditions
The quantity and kind of wetness on the pavement play a great role in influencing the tune that your tires distribute in the passenger compartment.
Whether the pavement is hot, cold, or wet matters a lot when it comes to different sounds which your car can probably produce. Plus, you don't want to meet up with black ice since it typically leads to other unpleasant noises.
The Weather
Like it or not, the tire, which is specifically functional for rougher surfaces and severe temperatures, will leave you with a more disturbing experience in terms of loudness. 
As a result, summer tires with fewer safety features will tend to be noisier than those built for winter.
Does Tire Tread Affect Road Noise?
Yes, it does. As we've mentioned above, tire tread is one of the most dominant reasons that cause aggravating loud sounds.
Although it is impossible to manufacture a neatly quiet tire, the silence of those is not the primary concern when it comes to automobiles. 
Saying so means there are other vital factors you have to pay attention to, such as the tire's tolerance toward road surfaces, conditions, temperature, vehicle loads, and so on. Something has to be sacrificed to give your car an overall efficient performance.
Of course, there are still options for you when searching for a potential suggestion that makes the most of it. 
Seeing consumer demand, engineers and designers have undergone to reduce tire noise while balancing other component factors. One of the best solutions is to create treads that can generate the same noise as they do underwater. 
Accordingly, the continuous ribs are divided by straight grooves around the tire circumference to help release air to make the car smoother. 
Buying Guide To Choose The Best Quietest Car, Suv, And Truck Tires
Tire Types
For passenger vehicles:
Summer Touring: They are typically the quietest and are most enjoyable when the weather is mild, but not when it is chilly.
All-Season Touring: Another option that is not as tranquil as Summer Touring but goes with a more pleasant ride is All-Season Touring. 
Nevertheless, you may have to be ready to sacrifice some wet pavement traction for enhanced winter grip at this fair choice.
Performance tires: These tires are quieter at greater speeds while also providing a smoother ride on the road.
SUV Highway tires: They offer excellent traction, treadwear, and comfort, only that you will have to undergo more noise than using a touring or performance tire.
Winter and Studded Winter tires: They contain treads that perform better on snow and ice, as well as a more malleable rubber compound for cold conditions. 
Most other passenger tires are often louder than these seasonal tires. However, the downside is that they don't stop as quickly as an All-Season on dry pavement. 
For Trucks And SUVs:
Highway Touring: They usually are the quietest and even offer chances for you to turn your car into the most relaxing kind of transportation.
But putting them on the scale together with passenger car tires? In such a case, these ones will tend to be noisier due to the stronger and thicker features compared to passenger car tires.
All-Terrain tires: Since these kinds of tires feature more spaces between tread blocks, they will be louder than highway tires with fewer large voids.
Studless Winter tires: You may want to reach out to them at freezing temperatures because of their malleability, but be aware of the noisiness anyway. 
Mud Terrain: Along with more spaces between treads for traction, Mud Terrain also accompanies louder bother on rough surfaces. Well, there's a reason that it is not an easy deal to find the quietest mud tire which suits your needs.
Studded Winter tires: Last but not least, this is honestly not a choice that tranquility lovers should go for. 
Since it is under design for heavyweight and traction-favor vehicles, Studded Winter won't be of any use for your gratifying wandering excursion.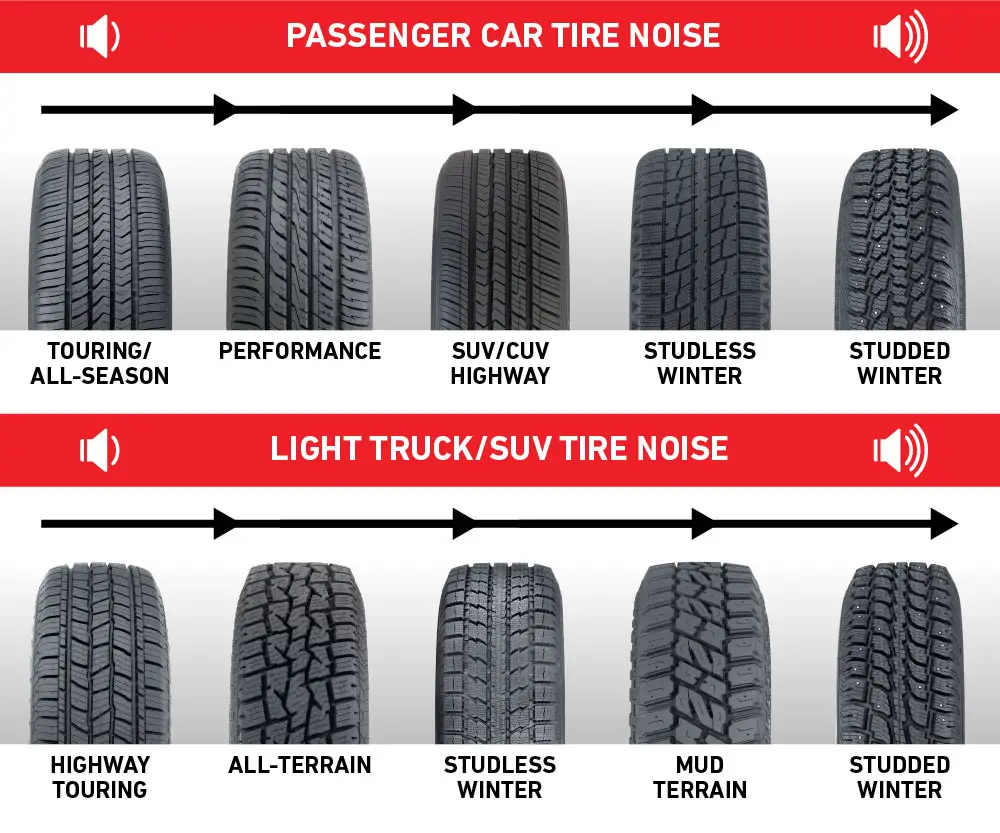 Treadwear
Another decisive consideration to take into account when opting for a quiet tire is to see whether its treadwear is excessive or not.
Of course, every tire gets worn out by time, and so does yours. Nonetheless, if its duration is not as qualified as the standard allows, it may happen to have some problems requiring an assessment.
Wheel Size
The rule of thumb is that the bigger the tire is, the more noise it will make. Just imagine driving a big-sized wheel over a road; needless to say, there will be more of its rubber striking stones and gravel. As a result, extensive noise is what's waiting ahead of your trip.
What is the solution, then? Simply switching from 18-inch tires to smaller ones, for example, you will soon notice a significant reduction in tire hum.
Tire Width
Likewise, tire noise can also be affected by wheel width while passing over stones and sticks on the road.
You'll see broad lines and thin lines while looking at tire width. Don't rush to an overpass, as this threshold really makes some sense. That is because the small tires make less contact with the road, and they will tend to produce less grating sound.
Tire Materials and Patterns
Tire rubber compositions and patterns are the ones not to make light of. 
Each manufacturer normally will have its own formula for building a tire. This leads to the situation where each tire will have a particular noise rating. 
Believe us; you certainly won't wish to reference those given by brands. It is not yet to calculate characterized traits of your local pavement which vastly impact the evaluation.
Besides, rubber with softer compounds may offer more silence, but they at hand have a detrimental effect on fuel economy and mobility.
Weight Specifications
The weight ratings also matter a lot. Bear in mind to choose those that go with the light load ratings. Otherwise, stubborn and tough tires will gain their opportunity to make your ride miserable, loud torture. 
Road Conditions
Different regions have different types of pavement. It is indeed a matter of fact. 
Based on the type of aggregate, the amount of sand utilized, and whether or not recycled blacktop was serviceable, asphalt surfaces can end up being smooth, bumpy, or pitted. 
What's more, high-volume roads will have different rides and tread harmonics than residential thoroughfares and smaller streets.
Weather Conditions
In comparison to others, tires built for adverse weather conditions are generally thicker and create more noise. That explains why winter tires sound louder than summer considering their additional safety features. 
Also, when shopping for tires, don't forget to note the typical weather conditions in the region where you will be driving. All-season tires are a fantastic investment as they can be fruitful in both winter and summer.
Best Quiet Tire Brands
As in every aspect, there are always some leading names that dominate the game. In the case of manufacturers who create the best quiet tires ever, these names go as follows:
FAQs
Can The Quietest Tires Get Louder Over Time?
Yes, they can. Tires tend to become louder as they age. The tread on the tire fades away, and the tire's changing pitch, which used to lessen noise, now adds to the noise.
Are Wider Tires Quieter?
No, actually. On the contrary, wider tires are typically noisier than narrow tires. Friction and vibration are reduced when there is less rubber on the road. Silica in the tread mix makes tires more flexible, especially in the cold, and hence quieter.
Verdict 
In terms of the best quietest tires ever, it is indeed a daunting task to pick one out of those brightest candidates. If we insistently have to opt, then the champion must be no one else but Michelin LTX.
These Michelin tires deliver cutting-edge technologies to reduce noise while also improving fuel economy and resistance. Not only are they all-terrain capable, but they are also appropriate for all seasons.
Of course, it is just our preference. Now that you know all the criteria to consider, we believe you can make the right choice.