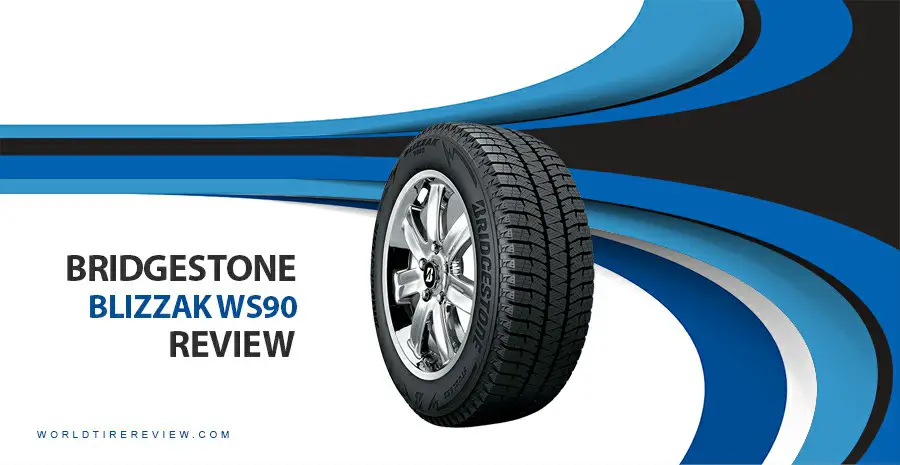 Bridgestone, a 90-year-old tiremaker, has officially become the biggest tire manufacturer in the world as of 2021. With about 180 factories and R&D facilities, this brand has always released high-quality products to the market.
And Blizzak, one of Bridgestone's most popular product lines, has been doing a great job in terms of winter tires. If you don't know how well these tires perform in harsh conditions, this article will give you a satisfying answer. 
The Japanese manufacturer has shown excellent results in producing and improving winter tires. In Blizzak WS90, there are more advanced materials, technologies, and features compared to the previous model WS80. With these highlights, it can surely compete with high-end products from other famous brands.
Outstanding Features Of Bridgestone Blizzak WS90
"A leader in control on ice" is what Bridgestone said about Blizzak WS90. And indeed, these products are designed to bring the best control in the most severe winter conditions.
Safety is always the priority, especially when driving in the winter due to the harsh conditions. The WS90 model will give you peace of mind thanks to its EdgePerformance Technology Package. 
The tread's contact area is greater, and the block edges are 15% more than in the WS80 to increase ice traction. You will have a shorter braking distance, bringing safer and more confident driving on ice and snow.
Bridgestone makes this product from their newest technology – Multi-Cell compound with bite particles. This material helps get rid of the thinnest layer of water developing between the tread pattern and icy surfaces. It, then, promises a better and firmer grip on ice and allows you to drive safely in slippery conditions.
There is also 30% more block stiffness added in the tread pattern of the Blizzak WS90, improving responsiveness and wear life. So you will get sturdy tires for comfortable steering in the winter and a long lifespan.
Pros & Cons
Tire Drive Test
In Wet Conditions
The Blizzak WS90 has performed greatly in wet and slippery conditions. We have driven under heavy rains and snow with much confidence, stability, and safety. 
The Multi-Cell compound has really shown its effectiveness in removing water layer on the tread patterns for firm driving. You will feel secure at every acceleration during the rain and through the puddles. There isn't any feeling of oversteering or understeering. 
What makes this product more reliable is the braking capacity, which is much better than other premium winter tires. It helps your vehicle stop at a shorter distance than average and thus, sets a new standard for rainy-weather tires. 
In Snowy Weather
As said, Bridgestone Blizzak WS90 is designed to conquer the roads under wintry conditions. The snowy or icy surface is not an issue. 
Most of us are afraid to drive out during the heavy snow as we might get stuck, but that doesn't happen with the Blizzak WS90. We can drive, accelerate, and brake easily on even a thick layer of snow, thanks to the tread patterns. The handling is so responsive and comfortable that we don't feel insecure about oversteering. 
What about the ice surface? The WS80's successor works incredibly in both braking and accelerating. 
If you notice, 15% more block edges and 30% more block stiffness have really brought an outstanding braking performance. We faced some sudden situations on the icy road, and we didn't slip over thanks to the braking capacity of the WS90.  
Meanwhile, the tread material helps increase ice traction and offers an excellent grip on ice. This enables you to accelerate smoothly and safely on the icy surface. 
Some reviews do not mention any problems while you drive, but we had some issues with the bends at a bit high speed. The Blizzak WS90 is, indeed, great on a long and straight highway. When it comes to the bends on an icy road, you should be careful and drive at a stable, medium speed.
Who Will Find This Tire Suitable?
Is there often snow and heavy rain in your area? If your answer is yes, then Bridgestone Blizzak WS90 is suitable for you. It's a winter tire that performs well in both dry and wet conditions. The tires are compatible with sedans, coupes, minivans, hatchbacks, and small-size crossovers.
You can rest assured that this model of Blizzak can even compete with premium winter tires, as it has exceptional performance at a more economical price. 
Conclusion
This post review has given you an overall look at this impressive winter tire. 
The Japanese manufacturer always knows how to make excellent, compact, and specific products on the market. This Blizzak WS90 has set new standards for a tire working under harsh, wintry conditions with outstanding features.
Competitors & Alternatives
| | |
| --- | --- |
| Treadlife Warranty: | None  |
| Uniformity Warranty: | 1 Year / first 2/32″ of wear |
| Workmanship & Materials Warranty: | 5 Years / Prorated until 2/32″ remaining depth. |
| Manufacturer's Road Hazard Warranty: | None |
| Manufacturer Special Warranty: | None |
Warranty summary for replacement tires purchased on or after 01/01/21 – Tire Rack
| 14 | | 15 | |
| --- | --- | --- | --- |
| 185/65R14 | | 175/65R15 | 195/60R15 |
| | | 185/55R15 | 195/65R15 |
| | | 185/60R15 | 205/65R15 |
| | | 185/65R15 | 215/70R15 |
| 16 | | 17 | |
| --- | --- | --- | --- |
| 185/55R16 | 215/60R16 | 205/40R17 | 225/50R17 |
| 195/55R16 | 215/65R16 | 205/50R17 | 225/55R17 |
| 195/60R16 | 225/60R16 | 215/45R17 | 225/65R17 |
| 205/55R16 | 225/65R16 | 215/50R17 | 235/45R17 |
| 205/60R16 | 235/60R16 | 215/55R17 | 235/55R17 |
| 205/65R16 | 235/65R16 | 215/60R17 | 235/60R17 |
| 215/55R16 | | 215/65R17 | 245/45R17 |
| | | 225/45R17 | P 245/50R17 |
| 18 | | 19 | |
| --- | --- | --- | --- |
| 215/55R18 | 235/45R18 | 235/50R19 | 245/45R19 |
| 225/40R18 | 235/50R18 | | |
| 225/45R18 | 245/40R18 | | |
| 225/50R18 | 245/45R18 | | |
| 225/55R18 | 245/50R18 | | |
| 235/40R18 | 255/35R18 | | |
Blizzak WS90 prices range approximately from $79.15 to $232.99 (Tire Rack)
Bridgestone Blizzak WS90 – Compare Prices
We found 5 online tire retailers selling Bridgestone Blizzak WS90 . Refer to the details below to get the best price
Bridgestone Blizzak WS90
PRICE
SOLD BY

Offers

Offers

Offers

Offers

Offers
prices range approximately from
Blizzak WS90 Ratings By Consumer