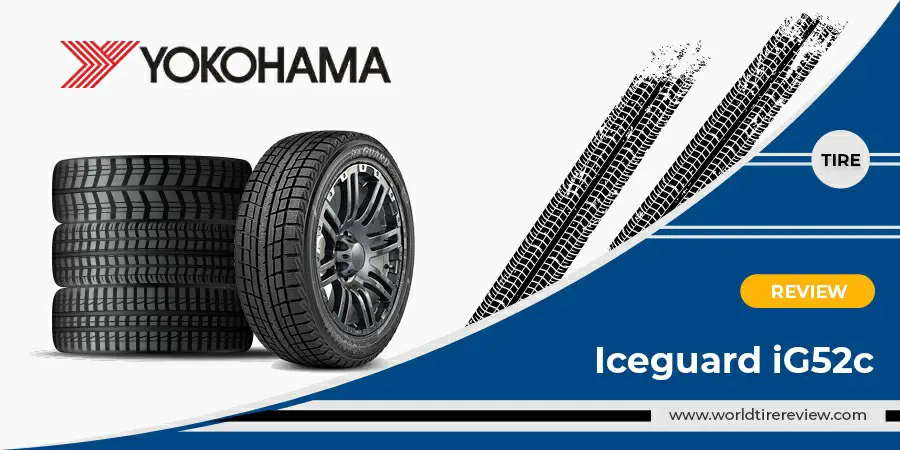 Are you seeking affordable, superior handling tires for your minivan in cold weather? If so, here comes the only best answer for you – the Iceguard iG52c. This post will provide you with a detailed Yokohama Iceguard iG52c to see if it is your economical winter tires. Jump into it now!
Overview Of Yokohama Iceguard iG52c
Yokohama Manufacturer Introduction
Yokohama is a leading Japanese manufacturer for a wide range of tires, was established in 1917. The company is famous for high-performance winter tires that have increased global brand recognition in the tire industry over the last 100 years.
In terms of performance in cold weather, the Iceguard iG52c was one of Yokohama's winter tire line up in 2014. It is a studless ice and snow model that is designed to fit in most sedans, minivans, and crossovers driving in several winter conditions.
Key Features of Yokohama Iceguard iG52c
What features make Yokohama Iceguard iG52c tires quickly catch public attention in such a competitive market? For your preference, we have listed down some key features of these winter tires in the section below:
Design with Yokohama's BluEarth branding, which delivers eco-friendly solutions for drivers and their vehicles.
Tripped 3D outer sipes maintain stability on both snowy and icy surfaces.
Its tread compound is rather high in density. It can also adapt to any season thanks to the combination of microbubbles coated in resin and silica. 
Two steel belts on top of a polyester cord positioned at the tire's interior maintain durability and strength with ride comfort.
Road contact is reduced thanks to a wider center rib and big control blocks.
Circumferential power and lateral slush grooves added to drain all muck, snow, and water from the tire's tread on slick roads.
Pros & Cons
Yokohama Iceguard iG52c – Tires Drive Test 
To see how well the Yokohama Iceguard iG52c's features perform, we have tested the tire with the used 2014 Mazda2 sedan in certain aspects. For more details, please refer to the evaluated elements below:
Winter Conditions Driving
Road conditions in winter weather are often unpredictable, but the iG52c tire performs as expected. A triple-action and tread compound feature help the cars get through the wet and cold conditions with ease.
Snow And Ice Traction
Like many drivers, you may probably wonder if this Yokohama tire works best in a snowy environment. Absolutely yes!
We measured the tire's acceleration traction using the vehicle's braking system to see how ice traction performs. Yokohama Iceguard iG52c did a good job of starting and stopping when driving on some inches of ice. 
We were able to get to a moderate incline by gently using our car's accelerator. Whether it is during braking or concerning, we're all assisted by its good bite onto the snow surface. However, you will catch up with some acceleration slips or lose grip when you push the tire beyond its limits.
What happens if the level of snow becomes deeper? Well, like other good winter tires, the Iceguard iG52c continues to maintain grip thanks to optimal traction of the tire's treads.
Slush And Muck Performance
If you want to use these tires for a small sedan, it requires some concentration while changing lanes, especially on a highway when there's a snowstorm and build-up of thick ice or ruts of slush. However, the Yokohama Iceguard iG52c tire never lost grip in this type of condition because of the stability control engagement all the time. In the mind of winter tires consumers, Yokohama is always the optimum selection brand. With superior handling and ride comfort – the Iceguard iG52c tire version will satisfy all your wants and needs in the winter months. We hope you can make a smart investment with the above information on the Yokohama Iceguard iG52c.
Competitors & Alternatives
| | |
| --- | --- |
| Treadlife Warranty: | None |
| Uniformity Warranty: | First 2/32″ of wear |
| Workmanship & Materials Warranty: | 5 Years / Free replacement first year or 2/32″ of wear, then prorated to 2/32″ remaining depth |
| Manufacturer's Road Hazard Warranty: | None |
| Manufacturer Special Warranty: | None |
Warranty summary for replacement tires purchased on or after 12/01/14
| 13 | | 14 | |
| --- | --- | --- | --- |
| 175/70R13 | | 175/65R14 | 185/65R14 |
| | | 175/70R14 | 185/70R14 |
| | | 185/60R14 | 195/60R14 |
| 15 | | 16 | |
| --- | --- | --- | --- |
| 175/65R15 | 195/60R15 | 195/50R16 | 215/60R16 |
| 185/55R15 | 195/65R15 | 195/60R16 | 225/50R16 |
| 185/60R15 | 205/60R15 | 205/50R16 | 225/55R16 |
| 185/65R15 | 205/65R15 | 205/55R16 | 225/60R16 |
| 195/50R15 | 215/65R15 | 205/60R16 | 225/65R16 |
| 195/55R15 | | 205/65R16 | 235/65R16 |
| | | 215/55R16 | |
| 17 | | 18 | |
| --- | --- | --- | --- |
| 205/45R17 | 225/50R17 | 215/50R18 | 245/40R18 |
| 205/50R17 | 225/55R17 | 225/40R18 | 245/45R18 |
| 215/45R17 | 235/45R17 | 225/45R18 | 255/40R18 |
| 215/50R17 | 235/55R17 | 235/40R18 | 255/45R18 |
| 215/55R17 | 245/40R17 | 235/50R18 | |
| 215/65R17 | 245/45R17 | | |
| 225/45R17 | 255/40R17 | | |
| 19 | | | |
| --- | --- | --- | --- |
| 225/40R19 | 255/35R19 | | |
| 235/50R19 | 255/40R19 | | |
| 245/40R19 | 255/45R19 | | |
| 255/35R19 | | | |
| 255/40R19 | | | |
Iceguard iG52c prices range approximately from $59.03 to $211.91 (Tire Rack)
Continental VikingContact 7
Firestone Winterforce 2
Michelin X-Ice Xi3
Bridgestone Blizzak WS90
Yokohama Iceguard iG52c – Compare Prices
We found 5 online tire retailers selling Yokohama Iceguard iG52c. Refer to the details below to get the best price:
Yokohama Iceguard iG52c
PRICE
SOLD BY
 

Offers

Offers

Offers

Offers

$89
Iceguard iG52c Ratings By Consumer