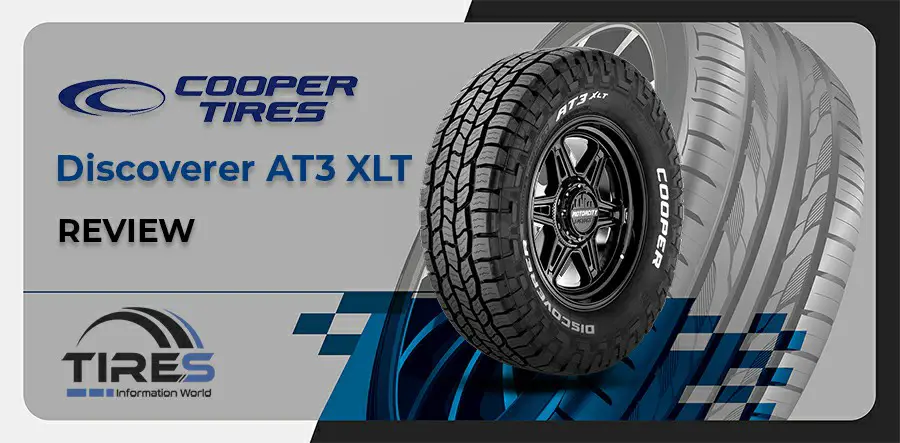 Cooper Discoverer AT3 XLT – A Brief Introduction 
To help you better grasp this product and the tire model, our Cooper Discoverer AT3 XLT below will cover every bit and piece.
The Company
Cooper Discoverer AT3 XLT comes from the Cooper Tire & Rubber Company. The M and M Manufacturing Company was the company's forerunner. 
It was formed in 1914 by Schaefer and Claude E. Hart in Akron, Ohio. Five years after that, there was the introduction of the Cooper Corporation, in 1919, by I. J. Cooper, a Cincinnati auto-parts merchant.
The Cooper Corporation, the M and M Company, and the Falls Rubber Company joined in 1930, giving birth to the Cooper Tire & Rubber Company.
Cooper Discoverer AT3 XLT: Features 
Cooper Discoverer AT3 XLT came out as an off-road, multi-terrain tire, hoping to excite the driver rather than just provide a standard experience. 
In general, this product line operates admirably in a wide range of situations. Cooper Tire provides us with an overview of the evaluation procedure, in which: the wet grip, dry grip, and winter grip criteria all being good, with a rating of more than 55%.
This AT3 XLT tire uses a silica tread compound primarily with Cooper Corporation's proprietary 5-rib technology to provide a stable and balanced driving sensation.
The manufacturer has equipped the tire with zigzag ribs and a deep central groove along its surface. By doing so, the tire minimizes the horizontal sliding resistance and the rolling resistance and aids driver control. 
As a result, even in slippery road conditions such as heavy rain, you can confidently believe in this product line.
Cooper Discoverer AT3 XLT reviews: Pros & Cons
Tire Drive Test 
At first sight, our Cooper Discoverer AT3-XLT tire is not the typical all-terrain one that you can find on most cars out there. It has a very aggressive rib which is more distinguished than the "ho-hum" ribs on many other products. 
Here are a few other notes from our experience with this Cooper Tires:
Wet And Rainy Condition 
Discoverer AT3 XLT tire's main drawback is that its traction on flat surfaces such as highways may not be as excellent as other popular tires.
However, this does not preclude it from driving on flat, wet roads. It has the best performance when compared to many rivals.
The manufacturer has applied modern technologies to improve and optimize the driving experience when travelling with Discoverer AT3 tires.
Among these, the most prominent are Durable-Tread Technology and Rugged Traction Shoulder. The two technologies assist the wheel in gripping the road surface more securely and give superior handling in various moving conditions. 
Changing directions on wet roads will no longer be a headache since the stopping distance helps you accelerate without the danger of skidding.
Off-Road Condition 
The AT3 XLT shines most when it comes to towing and hauling. Even while carrying very large and heavy trailers, the tire stays stable under tremendous load. So, if you plan on towing a trailer on your journey, these are some of the finest tires available on the market.
This product's grip and stability in off-road conditions are likewise exceptional. The SUV using these tires becomes very stable, in our opinion, especially when approaching areas with uneven road conditions and speeding.
Also, the traction created by the car is quite strong, so it does not cause the vehicle to be stuck. 
Snowy Condition 
We have done some experiments so far this winter on snowy, elegant roads. The vehicle holds the ground in deep snow and even heavy snow. Its rugged lug design and significant siping help grip it on slick surfaces.
We did have some examples of tires spinning on an icy hill, but they aren't ideal, coming from a dead stop. It is a bit more challenging for ice conditions, but overall the AT3 XLT Discoverer is still pretty good for snowy conditions.
All in all, Cooper Tire & Rubber Company is currently one of the world's most well-known rubber goods manufacturers. You can rely on this brand as it will be the ideal companion to your vehicle.
Competitors & Alternatives
| | |
| --- | --- |
| Treadlife Warranty: | 6 Years / Free replacement first 2/32″ of wear, then prorated until 2/32″ remaining dept |
| Uniformity Warranty: | First 2/32″ of wear |
| Workmanship & Materials Warranty: | 6 Years / Free replacement first 2/32″ of wear, then prorated until 2/32″ remaining depth |
| Manufacturer's Road Hazard Warranty: | None |
| Manufacturer Special Warranty: | 45 Day Road Test Guarantee (1) |
| Additional Information: | (1) Exchange for another Cooper brand tire |
warranty summary for replacement tires purchased on or after 06/01/19
| 15 | | 16 | |
| --- | --- | --- | --- |
| LT 31X10.50R15 | LT 33X12.50R15 | LT 285/75R16 | LT 305/70R16 |
| LT 32X11.50R15 | | LT 295/75R16 | LT 315/75R16 |
| 17 | | 18 | |
| --- | --- | --- | --- |
| LT 285/70R17 | LT 305/70R17 | LT 265/70R18 | LT 305/65R18 |
| LT 285/75R17 | LT 315/70R17 | LT 275/70R18 | LT 325/60R18 |
| LT 295/70R17 | LT 37X12.50R17 | LT 285/65R18 | LT 325/65R18 |
| | | LT 285/75R18 | LT 35X12.50R18 |
| | | LT 295/70R18 | |
| 20 | | | |
| --- | --- | --- | --- |
| LT 265/60R20 | LT 285/65R20 | | |
| LT 275/55R20 | LT 295/60R20 | | |
| LT 275/60R20 | LT 305/55R20 | | |
| LT 275/65R20 | LT 325/60R20 | | |
| LT 285/55R20 | LT 35X12.50R20 | | |
| LT 285/60R20 | | | |
Discoverer AT3 XLT prices range approximately from ‎$193.00 to $574.00 (Discount Tire)
Pirelli Scorpion All Terrain Plus
BFGoodrich All-Terrain T/A KO2
Continental TerrainContact A/T
Bridgestone Dueler A/T Revo 3
Firestone Destination A/T
Yokohama Geolandar A/T G015
Cooper Discoverer AT3 XLT – Compare Prices
We found 7 online tire retailers selling Cooper Discoverer AT3 XLT. Refer to the details below to get the best price
Cooper Discoverer AT3 XLT
PRICE
SOLD BY
 

$192.99

$192.99

$192.99

Offers

$193

Offers
Discoverer AT3 XLT Ratings By Consumer