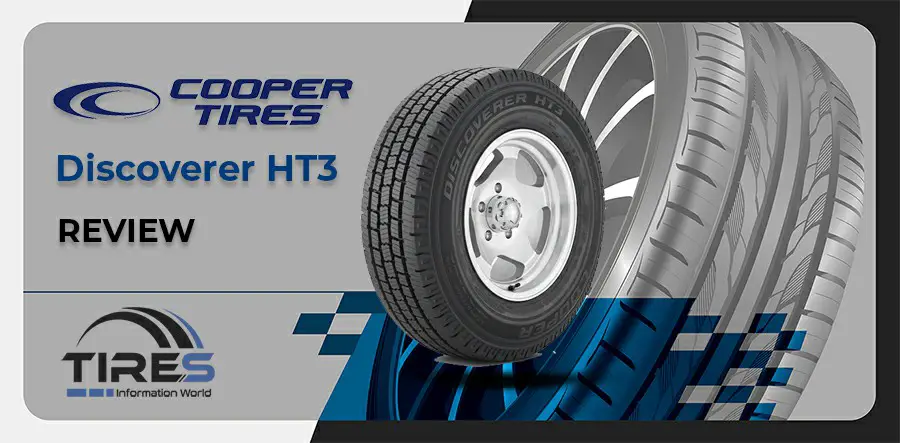 Driving the greatest car is still not the best experience if without the accompaniment of the best tires. In our search for those nice tires with great performance at a reasonable price, we've come across the Discoverer HT3 of our famous brand, Cooper.
That's why in today's article, we'll give you a thorough Cooper Discoverer HT3 that covers all the information you should know about this variant!
Introduction
What is the brand of this tire? What features does it have that are ideal for your travel? Let's explore this tire line and its characteristics in our content below:
Product Manufacturer
Drivers worldwide are familiar with Cooper Tire & Rubber Business, the parent firm of a network that manufactures tires and some types of trucks. The company's headquarters are in Ohio, USA, and smaller locations can be found all around the globe.
Cooper Tire & Rubber Company created the Cooper Discoverer HT3 tires to meet the needs of highway driving. Thanks to the exceptional quality it delivers, this tire has enjoyed a lot of success since its inception.
Product Features
Drivers always appreciate tires that provide a smooth ride. Fortunately, Discover HT3 satisfies this need! In general, this tire can function smoothly and quietly with an excellent warranty in addition to its lengthy lifespan. 
Let's take a closer look at the structure of the Cooper Discoverer HT3 tire. 
The manufacturer molds the tire into a symmetrical pattern with a silica-infused tread compound. In addition, continuous shoulder ribs play a huge role in this tire's wear resistance ability.
The track's layout is one of the things that draws car enthusiasts in. The four grooves on a Cooper Discoverer HT3 allow water to flow through while preventing hydroplaning. In addition, the zigzag pattern of these grooves provides the traction required to keep the wheels stable on slick roads.
What about Cooper Discoverer HT3's internal structure? This tire contains two high-tensile steel belts that keep the wheel stable. A single-layer nylon reinforced cap protects these steel belts.
Cooper Discoverer HT3 reviews: Pros & Cons
Discoverer HT3 – Tire Drive Test
A product with good features like the Cooper Discoverer HT3 will certainly bring great applications in practice. Indeed, we've tried those out ourselves. Let's see what we have to say about this tire!
Best Features
The tire's interior structure makes it strong and long-lasting. However, the major reasons this product has a significant impression on customers are the reasonable rates and a decent warranty.
On-road Performance 
Cooper Discoverer HT3's treads do their job well. In all three road conditions, wet, dry, and snow, they provide excellent handling for the vehicle. You won't have to worry about any slippage here.
Snow
It can handle winter roads, but the problem will arise if the snow is deep. To avoid this, you should avoid visiting places where there is a lot of snow.
Rocks and Debris
So, what about in road conditions with lots of rocks and debris? No need to worry. Cooper Discoverer HT3's spike design will help you overcome small obstacles on the road without any difficulty.
Noise
Besides the excellent grip of the tires, which protects your safety when driving, you won't have to worry about the noise the tire makes, which is fantastic! If you're sensitive to noise, this tire is the perfect match for you with its noise-canceling feature.
Fuel Consumption
You may want to know if the Cooper Discoverer HT3 can save them money on gas compared to other tires in the same class. Absolutely! This product's superior structure is what allows it to save so much fuel.
The Cooper Discoverer HT3 is a good choice for the price it offers. With the great features and performance, we consider the Cooper Discoverer HT3 one of the best tires in its class. Give it a try, and you won't be disappointed!
Competitors & Alternatives
| | |
| --- | --- |
| Treadlife Warranty: | 6 Years / 50,000 Miles  Half mileage for rear if different size than front  |
| Uniformity Warranty: | First 2/32″ of wear |
| Workmanship & Materials Warranty: | 6 Years / Free replacement first 2/32″ of wear, then prorated until 2/32″ remaining depth |
| Manufacturer's Road Hazard Warranty: | None |
| Manufacturer Special Warranty: | 45-Day Road Test (1) |
| Additional Information: | (1) Exchange for another Cooper brand tire |
Discoverer HT3
warranty summary for replacement tires purchased on or after 01/01/21
| 15 | | 16 | |
| --- | --- | --- | --- |
| 185/60R15C | LT 235/75R15 | LT 215/85R16 | LT 245/75R16 |
| 205/65R15C | LT 31X10.50R15 | LT 225/75R16 | LT 265/75R16 |
| | | 235/65R16C | LT 285/75R16 |
| | | LT 235/85R16 | |
| 17 | | 18 | |
| --- | --- | --- | --- |
| LT 225/75R17 | LT 265/70R17 | LT 265/70R18 | LT 275/70R18 |
| LT 235/80R17 | LT 275/70R17 | LT 275/65R18 | |
| LT 245/70R17 | LT 285/70R17 | | |
| LT 245/75R17 | | | |
Discoverer HT3 prices range approximately from $154.99 to $290.99 (Tirebuyer)
Firestone Destination LE 2
Yokohama Geolandar H/T G056
BFGoodrich Commercial T/A All-Season 2
Michelin Primacy XC
Cooper Discoverer HT3 – Compare Prices
We found 5 online tire retailers selling Cooper Discoverer HT3. Refer to the details below to get the best price
Cooper Discoverer HT3
PRICE
SOLD BY
 

$154.99

Offers

$154.99

Offers

$155
Discoverer HT3 Ratings By Consumer