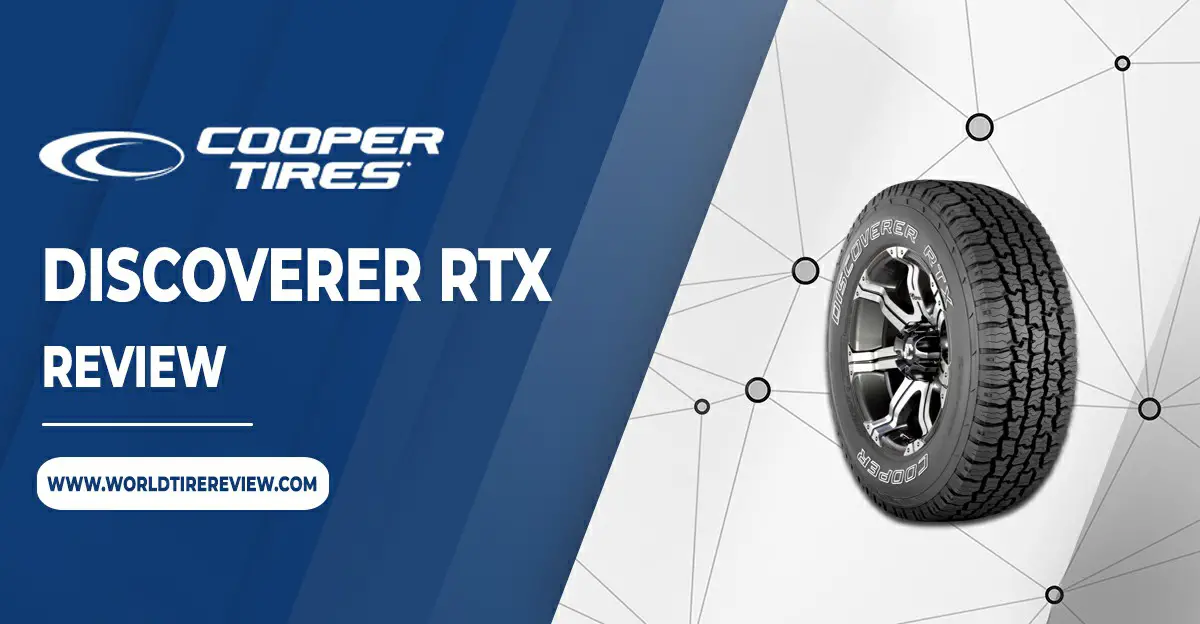 Cooper Tire & Rubber Company is headquartered in the United States. The company has always been renowned for its variety of top-notch tire collections. Therefore, we will analyze and review their pretty new product line called Discoverer RTX.
The best thing about this manufacturer is that their tires come with a warranty. Moreover, the mileage warranty and 45-day road test ensure your safety and satisfaction with the product.
Specifically, Cooper Discoverer RTX is a light weight, deeply threaded truck tire featuring a robust and aggressive design. This tire is equipped with great traction on and off the road, so you'll find it handling traction pretty well, both in the snow or on soft surfaces.
Here are the primary specifications of the Cooper Discoverer RTX We Tested:
Tire size: 235/75R15
UTQG: 500 A B
Load range: STD
Sidewall: OWL
Approved rim width: 6 – 8
Measured rim width: 6.5
Section width: 9.3
Overall diameter: 28.66
Tire weight: 31
Max load: 2039
Tread depth (1/32″): 13
Pros and Cons
Tire Drive Test
We have just completed a 64,000-mile run using Discoverer RTX tires, and we were so pleased with them that we went out and bought another set. We were surprised at how excellent its traction was, and these tires handle our truck's speed perfectly.
In addition to the satisfying quiet drive, we found no difficulty handling our truck under the rain. The stone ejectors are a big plus for Cooper, although we don't know how long it's going to last until we have to replace them.
After a few trials, this tire left such an impression on us that we felt obliged to tell others about how amazing they are, especially for the price. Because we have spent a lot of time on racing automobiles and motorcycles, we truly appreciate this product.
This Discoverer RTX is not only quiet and smooth, but it also performs well in every circumstance, including braking, sudden turns, acceleration, and even off-road.
The only problem with these tires is their rugged look. Cooper Discoverer RTX is not suitable for you if you prefer more medium-sized, elegant sets of tires. Besides, you are likely to need to work on fixing or replacing new sets of tires after you've reached 30,000 miles.
Conclusion
With this reviews, we have come to the conclusion that it would be a great choice for your truck. Not only does it handle abrupt movements perfectly, but it also performs amazingly under all conditions.
Competitors & Alternatives
| | |
| --- | --- |
| Treadlife Warranty: | Unlimited Time / 75,000 Miles (T-Rated) (2)  Unlimited Time / 70,000 Miles (H-Rated) (2)  Unlimited Time / 65,000 Miles (V-Rated) (2) |
| Uniformity Warranty: | First 2/32″ of wear |
| Workmanship & Materials Warranty: | Unlimited Time / Free replacement first 2/32″ of wear, then prorated until 2/32″ remaining depth |
| Manufacturer's Road Hazard Warranty: | None |
| Manufacturer Special Warranty: | 45 Day Road Test Guarantee (1) |
| Additional Information: | (1) Exchange for another Cooper brand tire(2) Half mileage for rear w/different front size |
Discoverer RTX warranty summary for replacement tires purchased on or after 01/01/19 at Tire Rack
| 15″ | | 16″ | |
| --- | --- | --- | --- |
| 235/75R15 | | 225/75R16 | 225/70R16 |
| | | 235/75R16 | 235/70R16 |
| | | 245/75R16 | 245/70R16 |
| | | 265/75R16 | 255/70R16 |
| | | 215/70R16 | 265/70R16 |
| 17″ | | 18″ | |
| --- | --- | --- | --- |
| 235/70R17 | 235/65R17 | 255/70R18 | 275/65R18 |
| 245/70R17 | 245/65R17 | 265/70R18 | 265/60R18 |
| 255/70R17 | 255/65R17 | 265/65R18 | |
| 265/70R17 | 265/65R17 | | |
Discoverer RTX prices range approximately from $143.99 – $248.99 – TireRack
Goodyear Vector 4Seasons SUV
Goodyear Vector 4 Seasons Gen 2 SUV
Yokohama Geolander AT G015
Dunlop Grandtrek ST20
Continental ContiCrossContact LX 2
Nokian WeatherProof SUV
Discoverer RTX Ratings By Consumer