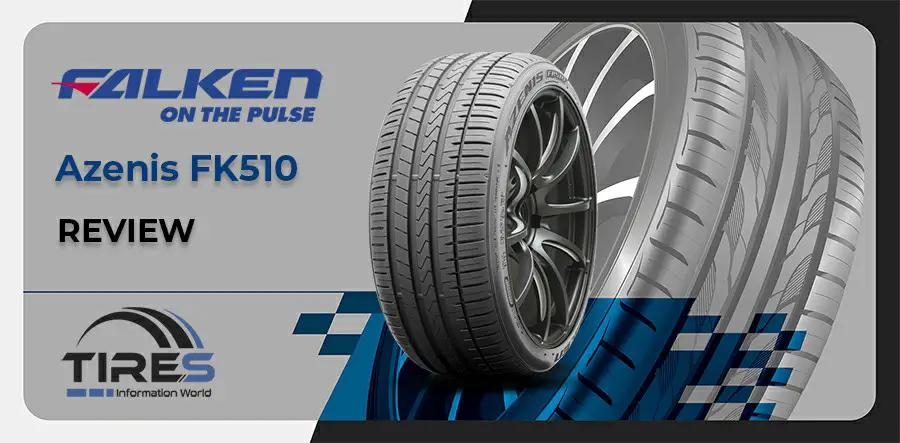 Why are so many drivers opting for Falken tires? This article will provide you with a thoughtful response and demonstrate how its manufacturers have earned user devotion over time.
The Falken Brand 
Falken launched its first debut in 1983 in Japan and has grown into one of the most well-known tire brands with great performance for trucks, cars, crossovers, and SUVs. 
Among excellent versions, the AZENIS FK510 tire stands out and has become one of the latest super-high performances for the summer tire line. This brand has earned a reputation for high-value tires thanks to its advanced technology and long legacy of experience in design.  
Falken Azenis FK510 – Key Features 
How about its features? Let's see what we have to say about this tire.
Traction 
This criterion shows how well the tires perform on three conditions: snow, wet, and dry traction. The FK510 variant combines 4D NanoTech with a silica-formed compound, which allows it to get the optimal level of adhesion and tread flexibility. This feature offers superior grip and traction in dry and wet conditions. 
Treadwear 
Our FK510 version has a Variable Depth Sipe with a minimum depth of 2/32 inches, adapting to control flexibility while ensuring general block rigidity.
Furthermore, this factor mates with a 4D design that can better handle the tread's condition and slow down the tread.
Braking and Speed 
The Falken Azenis FK510 is equipped with the ACP, which stands for Adaptive Constant Pressure, assuring equal pressure delivery throughout these tires. This feature boosts braking performance and directional stability, which enhances the overall driving experience for drivers.
The typical size and speed of the FK510 tire can range from 17 inches to 22 inches and 300 km/h- velocity rating of level Y, respectively. These indexes show that this version meets the requirements of premium-performance luxury automobiles, like BMW X5 – SUV/CUV, Dodge Charger, to name a few.
Noise 
Using ACPl, this variant is superior to its predecessors in terms of noise. Currently, the Falken Azenis FK510 tire belongs to one of the ultra-quiet excellent-performance tires. Although the noise level can differ on various surfaces, especially unpaved roads, drivers can rest assured about the criterion of this generation.
Pros & Cons
Falken Azenis Fk510 – Drive Test Review
We are experienced drivers and have spent years crossing the country on various kinds of tires. After testing the Falken Azenis FK510 tires, we can say that the FK510's advantages outweigh its flaws:
Life Span
The FK510 version belongs to the top summer tires having the longest-lifespan of ultra-performance. In particular,  you can reach 25,000 miles at ease when using this tire.
Off-Road Conditions Adaptability
Wet Conditions
Standard tread wear indexes of the Azenis FK510 from the Falken brand are built into the tire-tread pattern. These indicators show the driver how much the tread is left on this tire. Once inadequate tread depth, this tire will lose typical grip, thereby slowing down the handling, braking, and safe traction in wet conditions. 
Using nylon and aramid materials, the brand further promotes excellent speed stability and firm rigidity of these tires. Furthermore, thanks to this factor, the Azenis FK510 reaches an exceptional resistance to water, which enriches the safety function of this product.
Damp Conditions
The Switchback Siping feature allows this variant to get the optimal level of contacting and penetrating surface – especially on damp conditions, ensuring shorter braking distances and improving cornering performance. 
Snowy Conditions
As mentioned above, the FK510 is a leader in the summer tire line, so it isn't suitable for freezing temperatures. If you frequently utilize it in wintry conditions, you're placing your safety on the brink and ruining the tires. 
We can see why this version has become increasingly popular in recent years based on the above statistics. The Falken Azenis FK510 is ideal for customers who own high-end vehicles and require great grip and performance.
Competitors & Alternatives
| | |
| --- | --- |
| Treadlife Warranty: | None  |
| Uniformity Warranty: | First 2/32″ of wear |
| Workmanship & Materials Warranty: | 5 Years from date of production / Free replacement first 2/32″ of wear, then prorated until 2/32″ remaining depth |
| Manufacturer's Road Hazard Warranty: | 2 Years / first 3/32″ of wear (1) |
| Manufacturer Special Warranty: | 30 days or 1000 miles trial ride (1) |
| Additional Information: | (1) Whichever comes 1st |
Azenis Fk510
warranty summary for replacement tires purchased on or after 06/01/19
| 17 | | 18 | |
| --- | --- | --- | --- |
| 215/45ZR17 | 245/45ZR17 | 225/40ZR18 | 255/40ZR18 |
| 225/45ZR17 | 255/40ZR17 | 225/45ZR18 | 255/45ZR18 |
| 235/45ZR17 | 275/40ZR17 | 235/40ZR18 | 265/35ZR18 |
| 245/40ZR17 | | 245/35ZR18 | 275/35ZR18 |
| | | 245/40ZR18 | 275/40ZR18 |
| | | 245/45ZR18 | 285/35R18 |
| | | 255/35ZR18 | 295/30ZR18 |
| 19 | | 20 | |
| --- | --- | --- | --- |
| 225/35ZR19 | 265/30ZR19 | 225/35ZR20 | 265/30ZR20 |
| 225/40ZR19 | 265/35R19 | 235/30ZR20 | 265/35ZR20 |
| 225/45ZR19 | 275/30ZR19 | 235/35ZR20 | 265/40ZR20 |
| 235/35ZR19 | 275/35ZR19 | 245/30ZR20 | 275/30ZR20 |
| 245/35ZR19 | 275/40ZR19 | 245/35ZR20 | 275/35ZR20 |
| 245/40ZR19 | 285/30R19 | 245/40ZR20 | 275/40ZR20 |
| 245/45ZR19 | 285/35ZR19 | 245/45ZR20 | 285/30ZR20 |
| 255/30ZR19 | 295/30ZR19 | 255/30ZR20 | 285/35ZR20 |
| 255/35ZR19 | 305/30ZR19 | 255/35ZR20 | 295/25ZR20 |
| 255/40ZR19 | | 255/40ZR20 | 295/30ZR20 |
| | | 255/45ZR20 | 295/35ZR20 |
| | | | 315/35ZR20 |
| 21 | | 22 | |
| --- | --- | --- | --- |
| 245/35ZR21 | 265/35ZR21 | 295/25R22 | |
| 255/30ZR21 | 295/30ZR21 | | |
Azenis FK510 prices range approximately from $126.00 to $332.00 (Tire Rack)
Firestone Firehawk Indy 500
Kumho Ecsta PS31
BFGoodrich g-Force Sport COMP-2
Pirelli Cinturato P7
Falken Azenis FK510 – Compare Prices
We found 6 online tire retailers selling Falken Azenis FK510. Refer to the details below to get the best price:
Falken Azenis FK510
PRICE
SOLD BY
 

Offers

Offers

Offers

Offers

$126

Offers
Azenis FK510 Ratings By Consumer