prices range approximately from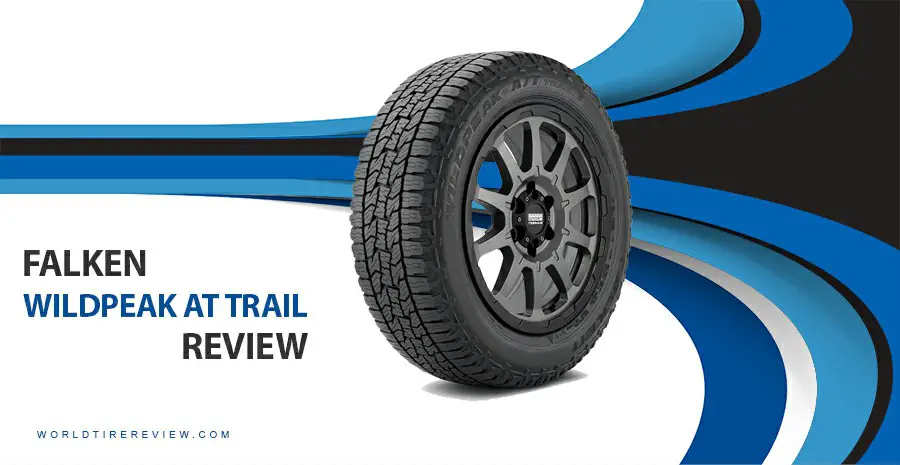 The Falken Wildpeak A/T Trail tire is the further expanded product of the successful Wildpeak family line, with the company's guarantee of striking a balance between off-road traction and all-weather performance.
Falken has long been known as the leader in high-performance tire technology for automotive, and the Falken Wildpeak A/T Trail tire is no exception.
Known as the first CUV all-terrain tire on the market, does the tire make a worthwhile investment?
Falken Wildpeak A/T Trail: Features
At first glance, the A/T Trail looks rather aggressive, just like most all-terrain tires.
The tire proposes big, rugged tread patterns with a center rib for traction. It also comes with a two-ply design for a smooth, quiet, and comfortable ride with a 65,000-mile warranty.
Usually, all-terrain and all-season tires gain a bunch of tire blow when driven, causing the tires to make loud roars, especially on highways.
That's not the case for the Falken Wildpeak A/T Trail. We would say this model is relatively quieter than most all-terrain tires out there, and it could be because there's more rubber within the tire.
Consequently, A/T Trail is equipped with the 3D Canyon sipes technology to increase winter traction. It also bears a 3PMSF rating for driving in severe snow weather.
The thing is, you may lose a mile or two on the fuel economy because the tire supports more rolling resistance from having lots of treads. Compared with the beneficial features it has to offer, this downside is tolerable.
Pros and Cons
Falken Wildpeak A/T Trail Drive Test
On Dry Tarmac
We found the A/T Trail to be quite enjoyable on dry pavement. Even though the tire is said to be all-terrain, it's more like a hybrid between A/T tires designed for light trucks and body-on-frame SUVs or all-season tires.
The sidewall flex is minimal, so it won't feel too stiff when you take a corner. Steering with this tire is light and responsive enough to keep you in control.
In the end, you shouldn't expect an engaging type of drive as A/T Trail is still an all-terrain, after all. Yet, for general commuting, this one works just fine.
With good traction for acceleration and short stopping distances, your vehicle will feel stable even at higher speeds.
On Wet/Slippery Roads
When carrying the test on a heavily rained day, the tire performed absolutely amazing – really great traction. Falken Wildpeak A/T Trail has deeper grooves and generally more aggressive tread compound, explaining the superiority in hydroplaning resistance.
On Snowy Roads
During testing, we must say these A/T tires have pretty outstanding acceleration traction as they are 3PMSF-rated. They work beautifully on light snow; a little bit of sliding was observed but very minimal.
We also noticed that when the ABS kicked in, the tires managed to stop very well without causing any sudden drop or pulsing sensation.
Off-Road Driving
You can expect ample traction and stability when driving off-road with a set of Falken Wildpeak A/T Trail tires. Since each one of the tread blocks has tons of biting edges, they provide sufficient off-road traction, even in light mud conditions.
Conclusion
The Falken Wildpeak A/T Trail is the perfect choice for crossover owners who spend free time on rugged trails and snow-covered roads but still need a tire that will last on the open highway.
Overall, we found that this product is a very well-accomplished tire that works well in various conditions, especially on dry tarmac and in light snow.
It also doesn't cost a fortune, so if you're thinking of getting yourself a new set of tires, it's the right time!
Competitors & Alternatives
| | |
| --- | --- |
| Treadlife Warranty: | 5 Years / 65,000 Miles  |
| Uniformity Warranty: | First 2/32″ of wear |
| Workmanship & Materials Warranty: | 5 Years from date of production / Free replacement first 2/32″ of wear, then prorated until 2/32″ remaining depth |
| Manufacturer's Road Hazard Warranty: | 2 Years / first 3/32″ of wear (1) |
| Manufacturer Special Warranty: | 30 days or 1000 miles trial ride (2) |
| Additional Information: | (1) Whichever comes 1st (2) Whichever comes 1st, full refund or exchange |
| 16 | | 17 | |
| --- | --- | --- | --- |
| 205/70R16 | 215/70R16 | 215/60R17 | 235/55R17 |
| 215/65R16 | | 215/65R17 | 235/60R17 |
| | | 225/55R17 | 235/65R17 |
| | | 225/60R17 | 245/65R17 |
| | | 225/65R17 | |
| 18 | | 19 | |
| --- | --- | --- | --- |
| 225/55R18 | 235/65R18 | 225/55R19 | 255/55R19 |
| 225/60R18 | 245/60R18 | 235/55R19 | 255/60R19 |
| 235/50R18 | 255/55R18 | 245/55R19 | |
| 235/55R18 | 255/65R18 | | |
| 235/60R18 | | | |
| 20 | | | |
| --- | --- | --- | --- |
| 245/50R20 | 255/55R20 | | |
| 255/50R20 | 265/50R20 | | |
Falken Wildpeak A/T Trail prices range approximately from $149.00 to $253.00 (Tire Rack)
Falken Wildpeak A/T Trail – Compare Prices
We found 6 online tire retailers selling Falken Wildpeak A/T Trail . Refer to the details below to get the best price
Falken Wildpeak A/T Trail
PRICE
SOLD BY

Offers

Offers

Offers

Offers

Offers

Offers
prices range approximately from
Wildpeak AT Trail Ratings By Consumer