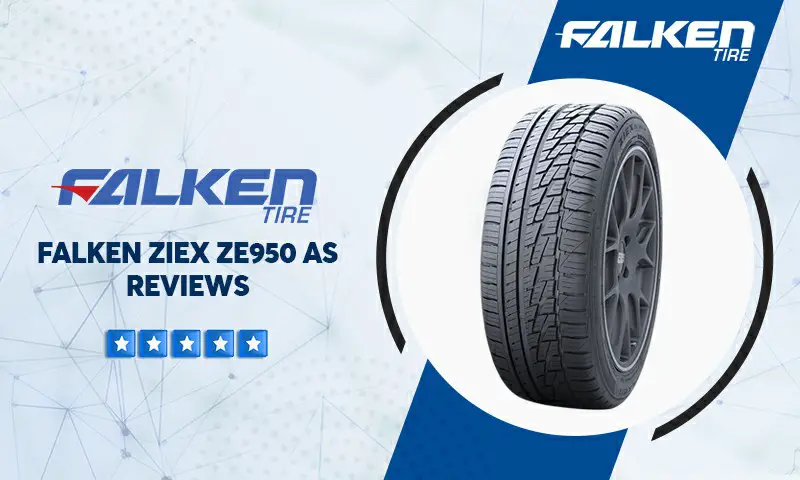 Falken is one of the most famous tire brands in the world. Since 1983, Falken has brought to the automotive market many high-quality tires, from light, medium trucks to passenger cars. In this article, we will review all the features of Falken's newest tire.
Firstly, Ziex ZE950 A/S brings to customers a wide range of tire sizes from 15 to 20 inches.  These sizes work following H, V, or W-speed rating. The great feature about Ziex ZE950 is it performs well in all seasons due to the optimum levels of wet, dry, snow, and ice grip. 
Canyon Sip Technology makes the tires faster and break accurately with even tread wear. Also, the rubber of the tire is heat-resistant. Because dynamic range technology collaborates with an exclusive silica tread compound to make the rubber remain pliable at low temperature. It also increases its grip in wet, snow, and icy conditions.
 In dry conditions, as the rubber is warmed up, chemical bonds remain strong. Large circumferential grooves evacuate water fast and remarkably enhance hydroplaning resistance for wet handling.  
Furthermore, Ziex ZE950 tires provide good braking that allows drivers to drive on a variety of surfaces like concrete and asphalt streets. Falken supports their customers up to a 65,000-mile tread warranty.
For more: Falken Ziex S/TZ05 Tire Reviews & Ratings In Details
Pros And Cons 
Now let's go to the positive features and drawbacks of this tire to see if its benefits outweigh the limitations: 
Falken Ziex ZE950 A/S Test Drive
Well, we have tried the Ziex ZE950 on our  BMW X3 (2018 version). And we would say that it has given us a fantastic experience. This tire is one of the most low-budget high-performance tires we have ever used for years.  Compared to other tire brands, Ziex ZE950 brings customers many comforts. 
Furthermore, this is a well-performing tire, its fraction adaptable to all seasons, good breaking. Users can easily handle it due to the responsive steering and cornering functions. Furthermore, you can buy this item at very affordable prices. 
There are two things that we don't really like about the Ziex ZE950 tire: 
It might get a bit loud while working
The tires tend to be a bit sloppy if there is plenty of snow on the road. 
These limitations can be acceptable, as Falken brings to customers more positive features than negative ones. This tire is fuel-efficient, and it is suitable for many types of cars such as Audi A3, BMW3, Nissan 370Z, etc. Therefore, in my view, it is a good option for every car driver to choose. If you are looking for value, tread life, high-quality tires that have a reasonable price, this one is highly recommended. 
The Bottom Line
We hope our reviews have given you more options to add to the list of the best tires for cars. Still, it is better to experience Falken ZE950 by yourself. And don't hesitate to share with us what you like about this tire!
Competitors & Alternatives
ZIEX ZE950 A/S (600-A-A UTQG/H&V Rated) : . 65,000 Miles / 105,000 Km
ZIEX ZE950 A/S (500-A-A UTQG/W Rated) : 45,000 Miles / 70,000 Km
| 15″ | | 16″ | |
| --- | --- | --- | --- |
| 175/65R15 | 195/65R15 | 185/55R16 | 215/55R16 |
| 185/60R15 | 205/60R15 | 195/50R16 | 215/60R16 |
| 185/65R15 | 205/65R15 | 195/55R16 | 215/65R16 |
| 195/50R15 | 215/60R15 | 205/45R16 | 225/50R16 |
| 195/55R15 | 215/65R15 | 205/50R16 | 225/55R16 |
| 195/60R15 | | 205/55R16 | 225/60R16 |
| | | 205/60R16 | 235/75R15 |
| | | 205/65R16 | 225/65R16 |
| | | 235/60R16 | 235/65R16 |
| | | | 245/50R16 |
| 17″ | | 18″ | |
| --- | --- | --- | --- |
| 205/40R17 | 225/55R17 | 215/35R18 | 235/60R18 |
| 205/45R17 | 225/60R17 | 215/40R18 | 235/65R18 |
| 205/50R17 | 225/65R17 | 215/45R18 | 245/40R18 |
| 215/45R17 | 235/45R17 | 215/55R18 | 245/45R18 |
| 215/50R17 | 235/50R17 | 225/40R18 | 245/55R18 |
| 215/55R17 | 235/55R17 | 225/45R18 | 245/60R18 |
| 215/60R17 | 235/60R17 | 225/50R18 | 255/35R18 |
| 215/65R17 | 235/65R17 | 225/55R18 | 255/40R18 |
| 225/45R17 | 245/40R17 | 225/60R18 | 255/45R18 |
| 225/50R17 | 245/45R17 | 235/40R18 | 255/55R18 |
| 255/40R17 | 245/50R17 | 235/45R18 | 255/65R18 |
| | 265/60R17 | 235/50R18 | 265/35R18 |
| | | 235/55R18 | 265/60R18 |
| | | | 275/35R18 |
| 19″ | | 20″ | |
| --- | --- | --- | --- |
| 225/40R19 | 255/35R19 | 235/55R20 | 255/35R20 |
| 225/55R19 | 255/40R19 | 245/40R20 | 255/45R20 |
| 235/55R19 | 255/45R19 | 245/45R20 | 275/35R20 |
| 245/40R19 | 255/50R19 | 245/50R20 | 275/40R20 |
| 245/45R19 | 255/60R19 | | |
| 245/55R19 | 275/40R19 | | |
| | | | |
Ziex ZE950 A/S prices range from approximately $57.99 – $182.49 – TireBuyer
Continental ExtremeContact DWS
Vredestein Quatrac Lite
Hankook Optimo 4S
Continental Extremecontact DWS 06
Goodyear Eagle Vector
Falken Ziex ZE950 A/S – Compare Prices
We found 4 online tire retailers selling Falken Ziex ZE950 A/S. Refer to the details below to get the best price:
Falken Ziex ZE950 A/S
PRICE
SOLD BY
 

Offers

$57.99

Offers

Offers
Ziex ZE950 A/S Ratings by consumer