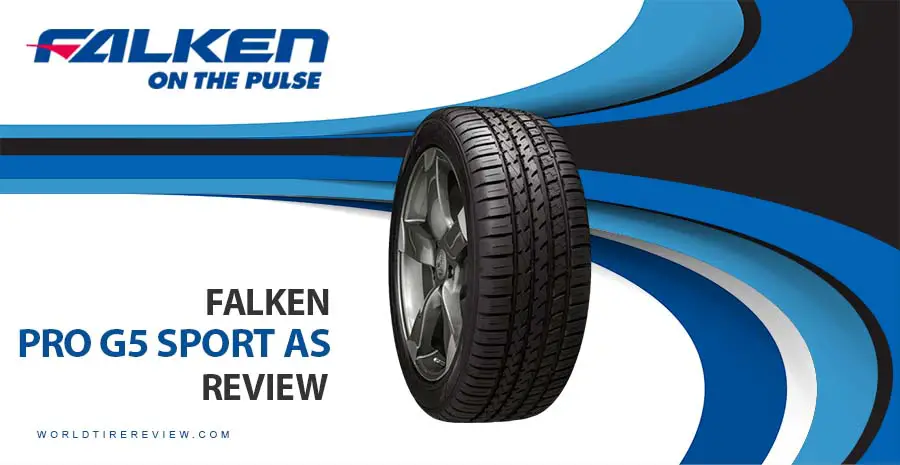 The Pro G5 Sport AS is the latest tire lineup of the Falken brand. Although it is quite new, it has many outstanding features that attract drivers worldwide.
Understanding your curiosity about this model, through researching and experience, we created a Falken Pro G5 Sport AS review to solve all your wonders.
Falken Pro G5 Sport AS Reviews
About Falken Tire Brand
Falken Tire is a subsidiary of the Japanese corporation – Sumitomo Rubber Industries. It was founded in 1983 in Japan, and after two years, Falken expanded its market to North America.
With more than 39 years of operating, this corporation has become a strong competitor in the tire market. It concentrated on Ultra High-Performance tires, which can be fitted on passenger cars, SUVs, and trucks.
Although Pro G5 Sport AS has not been the most famous product of the Falken, it gradually gets the customers' love and trust. Our detailed review will explain why this tire has become a favorite pick of consumers like that. 
Falken Pro G5 Sport AS Tire Review
Pro G5 Sport AS is an all-season tire for passenger cars. Three features creating the popularity of this model are its tread design, controllability, and comfortability.
The tread pattern is made dissymmetrically to improve the road-gripping capability in different weather conditions.
The large perimeter grooves can spread over water and slip it beneath the tire footprint. Hence, it also prevents hydroplaning, which may cause injuries for drivers and damages for cars.
The next plus relates to the handling ability of this Falken model. The Pro G5 Sport AS has a constant center rib and a great shoulder tread block to enhance its continual road contact.
Besides, this characteristic improves driving stability and steering responsiveness in all weather and surfaces. The controllability becomes precise and fast. At the same time, the tire deformation caused by driving pressure is prevented.
The shoulder tread blocks increase the cornering capability. They offer added biting edges on all surfaces to ensure safe cornering. Hence, it ensures drivers' control over the vehicle during the performance.
The last outstanding feature of the Pro G5 Sport AS tire is the comfortable driving experience it brings to users. 
Its internal structure was produced with the Tension Control technology to increase the road contact and absorb the vibration during driving in all conditions.
Falken Pro G5 Sport A/S reviews: Pros & Cons
Personal Opinion
Real Experience
After using the Pro G5 Sport AS tire, we consider that almost all the features in reality are similar to the descriptions of Falken.
Firstly, the tire's compound and tread design increase the traction in all seasons to resist hydroplaning. It provides a quick steering response thanks to the solid central rib, large outside shoulders, and circumferential grooves.
Moreover, the shoulder tread design is developed to create a secured cornering capability. As a result, this model guarantees a safer driving experience.
A satisfying driving experience is also a strong bonus point of the tire from the Falken brand. Thanks to Tension Control technology, this structure can lower the vibrations when you drive on rough surfaces.
That said, this model is not at all a winter tire. We've driven on a 4-inch snowy ground, but the tire performed with poor response and traction.
Why Should You Buy This?
Falken Pro G5 Sport AS has an affordable price with the performance which can be equal to some premium brands. Several competitors comparable to Falken tire are BF Goodrich, Pirelli, and Goodyear.
In general, if you want to own a good quality, long-lasting tire but have a tight budget, this model is a perfect choice. Furthermore, a 45,000-mile treadwear warranty is an attractive factor you should consider when choosing this product.
We hope that our Falken Pro G5 AS tire reviews are of great help for your shopping.
Competitors & Alternatives
| | |
| --- | --- |
| Treadlife Warranty: | 45,000-mile limited treadwear warranty |
| Uniformity Warranty: | 1 Year / first 3/32″ of wear. |
| Manufacturer's Road Hazard Warranty: | None |
| 16 | | 17 | |
| --- | --- | --- | --- |
| 205/50/R16 | 225/50/R16 | 225/45/R17 | 245/45/R17 |
| | | 215/45/R17 | 245/40/R17 |
| | | 235/45/R17 | |
| 18 | | 19 | |
| --- | --- | --- | --- |
| 225/40/R18 | 245/45/R18 | 245/45/R19 | 255/35/R19 |
| 215/45/R18 | 245/55/R18 | 245/40/R19 | 275/40/R19 |
| 235/40/R18 | 255/35/R18 | 255/40/R19 | |
| 225/45/R18 | 255/40/R18 | | |
| 235/50/R18 | 265/35/R18 | | |
| 245/40/R18 | | | |
| 20 | | | |
| --- | --- | --- | --- |
| 255/35/R20 | 245/45/R20 | | |
| 255/45/R20 | 275/40/R20 | | |
Falken Pro G5 Sport AS prices range approximately from $105.00 to $218.00 (Discount Tire)
prices range approximately from
Falken Pro G5 Sport A/S – Compare Prices
We found 1 online tire retailers selling Falken Pro G5 Sport A/S. Refer to the details below to get the best price
Falken Pro G5 Sport A/S
PRICE
SOLD BY

Offers



Pro G5 Sport A/S Ratings By Consumer