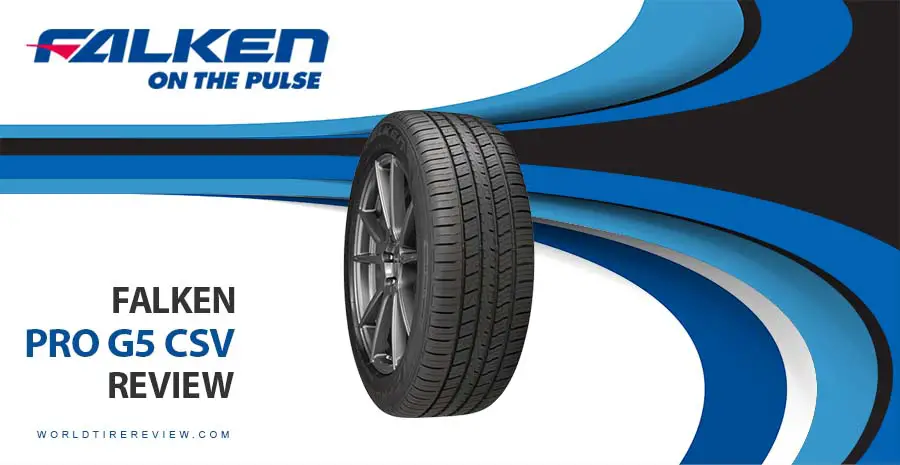 If you own SUVs or Crossovers, this Falken Pro G5 CSV article will be helpful for you. Many people love it because of its durability and economical price. Do not skip this post because it may be the things you are interested in about this product.
Introduction 
Falken is a brand specializing in the production of tires and rubber products. It is a subsidiary of the Japanese company Sumitomo Rubber Industries that was founded in 1983. Today, Falken has become an independent brand focusing on UHP (Ultra High Performance) tire products.
Design
Pro G5 CSV is made of super hard rubber. It helps the product withstand strong impacts and avoids deformation of the frame. It also creates stability for the vehicle when the driver is cornering or traveling at high speed. 
Besides, the tire uses a silica compound to save fuel and increase braking efficiency. The large tread design combined with the auxiliary grooves helps to maximize water drainage and increase traction on wet or rough terrain.
Moreover, the large tread spacing and the block structure of large, stiff outer tires help the car operate more stably and limit noise when traveling on the road.
Tire sizes
To meet the diverse needs of consumers, Falken offers a wide range of sizes for the product. According to the manufacturer's information, this tire line has all 27 sizes available with rim sizes ranging from 16 to 20 inches.
Performance
In dry weather, Falken Pro G5 CSV will bring experiences like what the manufacturer offered. The tires have good traction, so the driver can easily perform the brakes and accelerate. There is no phenomenon of inert or rubbing on the surface due to friction.
Also, good traction helps ensure balance and safety when you drive on the road. The quick turn will be more smooth with the equipment of sturdy and quality tires.
Traction
The Pro G5 CSV tire combines the central spike blocks with jagged edges. It helps the tire grip the road better whether in dry or wet conditions. The product has internal bumpers and a dual suction system to help drain water and improve traction.
Noise
We need to admit that the Falken Pro G5 CSV is just a mid-range product. For those who want absolute quiet while driving, it may not satisfy you.
However, the noise level is still at an acceptable level. When you drive at low or medium speeds, it is pretty quiet and will not disturb you. But when the speed increases, this tire will not be the quiet friend you had to expect it to be.
Off-road 
It is a line of on-road tires. Because of this, using it on difficult terrain would not be a wise idea.
You can drive it through bumpy roads. But, It will compromise the quality, performance, and longevity. And this is not Falken's purpose when launching this product line.
Falken Pro G5 CSV reviews: Pros & Cons
Personal Opinion
Features
In more difficult weather conditions such as heavy rain or snow, the performance is not very outstanding.Both performance and grip are not excellent when you move on slippery roads due to rain or snow. 
Not only that, the ability to brake and stop the vehicle is also affected. Although the manufacturer labels it as an all-season tire, it cannot fully promote its advantages as a specialized tire.
The noise level is average and can be acceptable. But, many people also rate this product line as not bringing smoothness on the road. 
Price
The Pro G5 CSV tire is reasonably priced. One thing that makes many people choose it is the longer lifespan and warranty than other products in the same segment. If you want alternatives but are on a budget, this is a consideration well worth a try.
Aimed Users
The target audience for this tire is SUVs and crossovers users. With the usual travel needs in both terrain and weather, it can meet the needs of these car models.
Is It Worthy To Choose?
First, you have to determine if it can respond to your expectations. For no performance concerns and average mobility needs, it's worth choosing. The reason is the great performance in dry weather plus the potential to save my pocket.
However, if you live in rainy or snowy all year round places and need one for road safety, you need to think more. Because aside from the cost, a wise choice is when the product can ensure your smooth and safe moving.
Tires are a very important part to give you a great driving experience and comfort. So, you have to be more careful when deciding to purchase new tires for your car. Falken Pro G5 CSV tire has provided you with much necessary information. It might be the right choice for you after careful consideration.
| | |
| --- | --- |
| Treadlife Warranty: | 60,000-mile warranty |
| Manufacturer's Road Hazard Warranty: | None |
| 16 | | 17 | |
| --- | --- | --- | --- |
| 225/65R16 | 235/70R16 | 215/60R17 | 235/55R17 |
| 235/60R16 | | 225/60R17 | 235/60R17 |
| | | 225/65R17 | 235/65R17 |
| 18 | | 19 | |
| --- | --- | --- | --- |
| 225/55R18 | 235/65R18 | 225/55R19 | 255/50R19 |
| 225/60R18 | 245/60R18 | 235/55R19 | 255/60R19 |
| 235/55R18 | 255/55R18 | 245/55R19 | |
| 235/60R18 | 255/65R18 | | |
| 20 | | | |
| --- | --- | --- | --- |
| 235/55R20 | 255/55R20 | | |
| 245/50R20 | 265/50R20 | | |
| 255/50R20 | | | |
Pro G5 CSV prices range approximately from $131.00 to $220.00 (Discount Tire)
prices range approximately from
Falken Pro G5 CSV – Compare Prices
We found 1 online tire retailers selling Falken Pro G5 CSV. Refer to the details below to get the best price
Falken Pro G5 CSV
PRICE
SOLD BY

Offers



Pro G5 CSV Ratings By Consumer