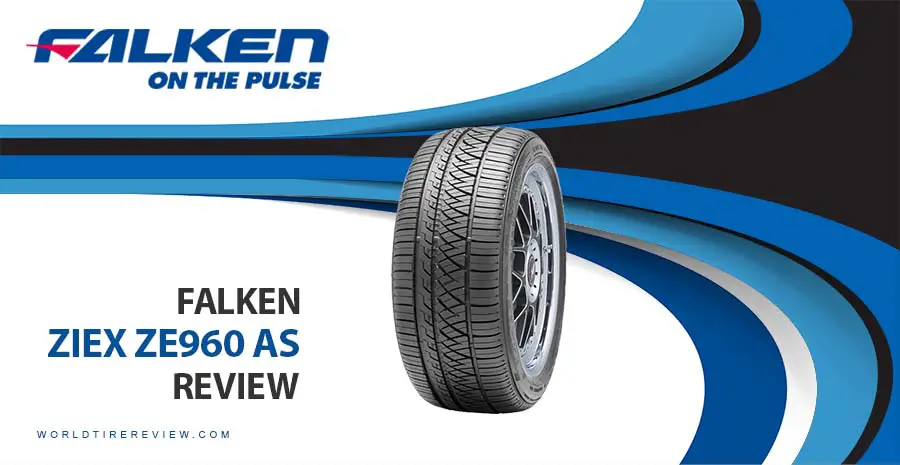 Ziex ZE960 AS is only a new product in the high-performance all-season lineup of Falken, but it is attracting more and more consumers.
What features are credited for this attractiveness? Please scroll down, and our Falken Ziex ZE960 AS will show you these golden characteristics.
Falken Ziex ZE960 AS Tire Review
About Falken Brand
Falken Tire is one of the youngest tire producers in recent years, operating as a branch of the Japanese corporation Sumitomo Rubber Industries. 
Since its launch in 1983 in Japan, it expanded its market to North America two years later and quickly earned a reputation in this area as well as all around the world.
Recently, the tire market has witnessed a considerable distribution from this brand. Its lineup includes various kinds of tires which can be fitted on trucks, SUVs, and passenger cars.
Falken Ziex ZE960 AS Reviews
All-season Performance
Ziex ZE960 AS belongs to the all-season category, which gets the job done right in summer and winter, especially in the snow. It can be considered one of the strongest points as not many tires in the market can work well in snow conditions.
This tire is engineered with Falken's exclusive rubber tread compound to maintain flexibility at low temperatures in icy conditions and increase gripping capability on wet surfaces.
The secret behind is by using an enriched silica rubber compound, making the model pliable in winter conditions. As the silica warms up during dry weather, chemical bonds are still strong to perform in the heat.
Long-lasting Safety In The Rain
After running for a time, tires usually wear down, and they may begin to have poor handling. However, the Ziex ZE960 AS is made to solve this problem.
Thanks to Flask Sipes in the design, this model can keep controllability on wet roads optimal and enhance water resistance. Besides, the perimeter and wide grooves avoid hydroplaning.
Dynamic Handling
Another feature of this Falken tire that gets the love from its fans is dynamic capability. The collaboration between the optimized tread design and a hard construction allows drivers to be fond of the tire's driving dynamics.
Improved Snow Traction
The Falken Ziex ZE960 AS should work well on snow, and the brand doesn't fail on this point. It used Canyon Groove technology to improve braking performance in snow.
In the middle groove, the model is engineered with ridges to boost the biting power on snow. Because they are the inner part of the groove, they can retain a quiet and comfortable driving experience.
Falken Ziex ZE960 A/S reviews: Pros & Cons
Personal Opinion
Real Experience
After experiencing this tire for a while, we are totally satisfied with its characteristics, except for some minus points relating to the noise.
First and foremost, this model performs excellently in all weather, even snow. Although it can't be comparable to a winter tire, it's still good enough for snowy conditions.
The road-gripping and traction of Ziex ZE960 AS won't disappoint you. If you speed up quickly, it won't cause a lot of skids. Moreover, the braking range is relatively short.
When cornering, the levels of road contact will keep the line perfectly. This can reduce many risks when you go into corners or drive on watery roads.
High-performance usually doesn't offer comfort, yet the Ziex ZE960 AS can surprisingly do. This model softens up surface imperfections or big holes at high speeds. You may feel some sways in the cabin. Still, they are acceptable.
The downside of this feature is the levels of noise. Around the city, the noise is not too loud, but things worsen when you drive on the highway.
Another dissatisfaction is the dynamics in the driving process. Although this brand attempted to improve this factor through the previous products, the reaction is still not amazing.
Should You Choose The Ziex ZE960 AS Tire?
Absolutely yes! If you want a decent high-performance tire and are on a tight budget, no tire can beat this model. We hope that our Falken Ziex ZE960 AS tire reviews are of great help for your shopping.
| | |
| --- | --- |
| Treadlife Warranty: | 65,000-mile limited treadwear warranty in H and V speed ratings or 45,000-mile warranty in W speed rated sizes |
| Uniformity Warranty: | 1 Year / first 3/32″ of wear |
| Manufacturer's Road Hazard Warranty: | None |
| 15 | | 16 | |
| --- | --- | --- | --- |
| 195/50R15 | 205/65R15 | 195/50R16 | 205/65R16 |
| 195/65R15 | | 195/55R16 | 215/55R16 |
| | | 205/45R16 | 215/60R16 |
| | | 205/50R16 | 225/55R16 |
| | | 205/55R16 | 225/60R16 |
| | | 205/60R16 | 245/50R16 |
| 17 | | 18 | |
| --- | --- | --- | --- |
| 205/40R17 | 225/50R17 | 215/40R18 | 235/50R18 |
| 205/45R17 | 225/55R17 | 215/45R18 | 235/55R18 |
| 205/50R17 | 235/45R17 | 225/40R18 | 245/40R18 |
| 215/45R17 | 235/50R17 | 225/45R18 | 245/45R18 |
| 215/50R17 | 235/55R17 | 225/50R18 | 245/55R18 |
| 215/55R17 | 245/40R17 | 235/40R18 | 255/40R18 |
| 215/65R17 | 245/45R17 | 235/45R18 | 255/45R18 |
| 225/45R17 | 245/50R17 | | |
| 19 | | 20 | |
| --- | --- | --- | --- |
| 225/45R19 | 245/40R19 | 245/35R20 | 245/45R20 |
| 235/40R19 | 255/45R19 | 245/40R20 | 255/35R20 |
Ziex ZE960 AS prices range approximately from $87.00 to $233.00 (Discount Tire)
prices range approximately from
Falken Ziex ZE960 A/S – Compare Prices
We found 3 online tire retailers selling Falken Ziex ZE960 A/S. Refer to the details below to get the best price
Falken Ziex ZE960 A/S
PRICE
SOLD BY
 

Offers




Offers




Offers



Ziex ZE960 A/S Ratings By Consumer