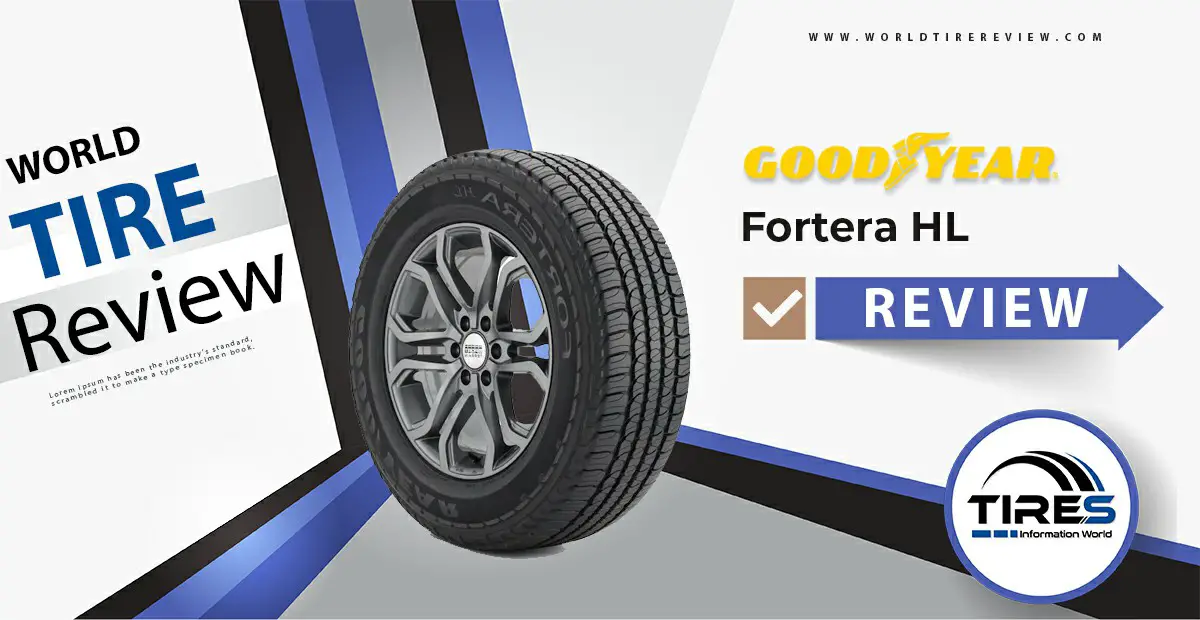 Goodyear Tire & Rubber Company, founded by Frank Seiberling in 1898, is a multinational tire manufacturing company. Their tires are famous for their great durability and impressive long tread life.
Goodyear Fortera HL tire is specifically designed for drivers of pickups, SUVs, and crossovers looking for dependable year-round traction. Our Goodyear Fortera HL will look into the tire's characteristics to see if it is worth investing in.
The list below is Goodyear Fortera HL performance in the UTQG test:
Treadwear quality is five times as durable as the standard number, 100.
An A rating is for good passenger tires. Goodyear Fortera HL slick roads are a minor problem.
Temperature Resistance: B
This means that the tire can withstand the heat in normal weather conditions. However, they have an average performance when the temperature increases.
Goodyear Fortera HL is developed with an all-season tread pattern to give year-round traction and handling for a smoother and more pleasant journey.
An all-season tread composite and computer-optimized symmetrical tread improve traction and handling either on wet or dry roads. On dry surfaces, the larger tread blocks provide increased cornering traction. Meanwhile, the middle ribs improve steering response and stability as well as the overall handling.
The additional sipes, staggered circumferential grooves, and curvilinear blades enhance the tire's performance on wet surfaces and even slightly snow-covered roads. Intricate blades together with centerline contribute to a quiet ride as they help minimize outside road noise. 
Two steel belts inside the tire are combined with a polyester cord body to improve longevity and strength. Furthermore, they improve the ride quality and promote more consistent treadwear. Sizes range from 17 to 20 inches, with T and S speed ratings. Goodyear also offers a 60,000-mile tread warranty.
Pros & Cons
Tire Drive Test
As tire lovers, we cannot miss out on the Goodyear Fortera HL Tire. After a while of driving on this tire, we have some mixed opinions. We were particularly impressed with its braking capabilities and dry traction. It's head and shoulders above other tires of the same class in these aspects. 
The ride comfort is great and less noisy. Fortera HL also offers a decent warranty. Although it is not a winter tire, the tire can handle quite well in light snow or when there's little ice on the road. You have some good reasons to buy this tire considering the budget-friendly price.
On the other hand, the tire produces more noise as it wears out. The tread life is good, but we think that there's still room for improvement. Many drivers complained that they only get 30,000-40,000 miles out of the tread. This problem also appears on most online complaints.
Overall, we highly recommend this tire to drivers of pickups and SUVs who do not have any special driving needs. Despite minor drawbacks, Goodyear Fortera HL delivers enjoyable rides, good year-round traction, and decent handling on snowy roads at an affordable price. It's a multi-benefit tire that you cannot miss.
| | |
| --- | --- |
| Treadlife Warranty: | 6 Years / 60,000 Miles  |
| Uniformity Warranty: | 1 Year / first 2/32″ wear |
| Workmanship & Materials Warranty: | 6 Years / Free replacement first year or 2/32″ of wear, then prorated until 2/32″ remaining depth |
| Manufacturer's Road Hazard Warranty: | None |
| Manufacturer Special Warranty: | None |
Fortera HL warranty summary for replacement tires purchased on or after 04/01/19 at Tire Rack
| 17″ | | 18″ | |
| --- | --- | --- | --- |
| 225/60R17 | P 245/70R17 | 235/55R18 | 245/60R18 |
| P 245/65R17 | | P 235/60R18 | P 255/65R18 |
Fortera HL prices range approximately from $160.99 to $272.98 – Simple Tire
Goodyear Fortera HL – Compare Prices
We found 4 online tire retailers selling Goodyear Fortera HL. Refer to the details below to get the best price:
Goodyear Fortera HL
PRICE
SOLD BY
 

Offers

$161.97

Offers

$165
Fortera HL Ratings By Consumer