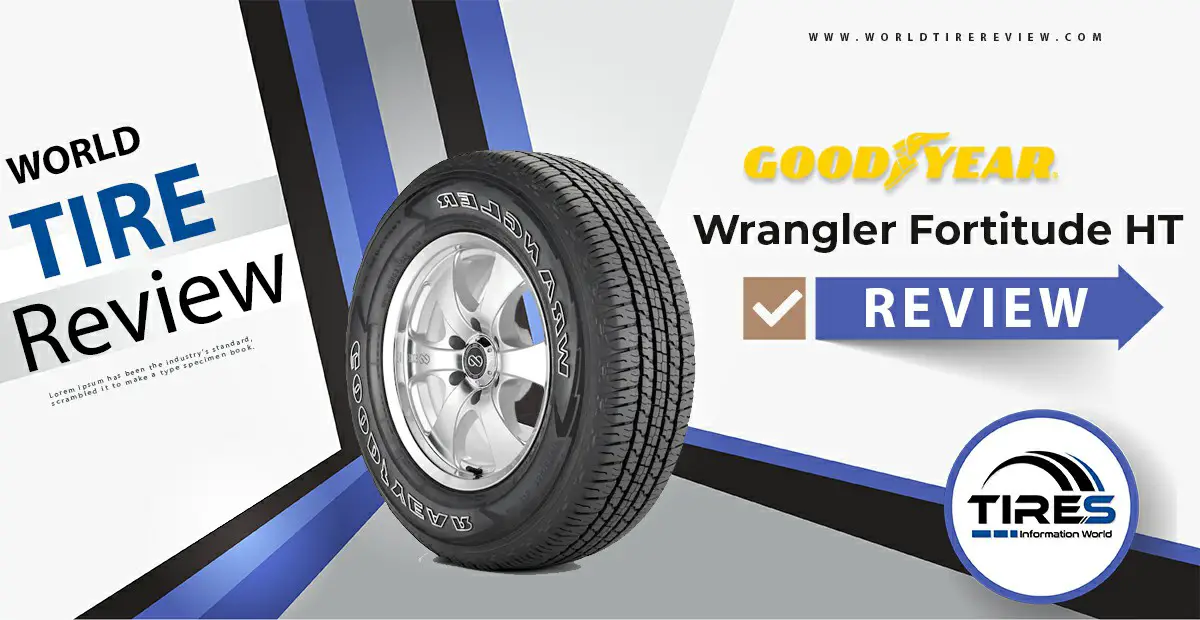 Since its introduction in 1898, Goodyear has carried out an outstanding job of keeping customers satisfied with their fantastic product year after year. 
They have created a massive explosion in the tire manufacturing industry with its long-lasting and reliable tire goods, and they have been named one of the finest tire manufacturers. To begin the Goodyear Wrangler Fortitude HT, let's check out different performance aspects of this highway all-season tire.
The most significant advantage of the Goodyear Wrangler Fortitude HT is that its design helps improve fuel economy. How is this possible? The tire will not cause excessive friction due to its low rolling resistance design. 
As an outcome, the tire will assist the vehicle in performing more innovatively and adequately without absorbing a big amount of gas. Fuelling your automobile every day will no longer be a major worry.
Additionally, the tread pattern has a symmetric design with wrap-around shoulder blocks and an uninterrupted center rib for improved handling and stability on dry pavement.
Not to add that the Goodyear Wrangler Fortitude HT provided a well-rounded capability for confident use in all-weather situations. Deep sipes and wide circumferential grooves are specifically engineered to enhance traction in wet or snowy situations, and many people were impressed by how durable it is.
Furthermore, its design components, which include two high-tensile steel belts sitting above a polyester cord casing, assist in decreasing noise during tracking for a pleasant and quiet drive.
Pros & Cons
Based on our road test, we can say this Goodyear tire provides a comfortable ride, excellent handling, and superior highway traction. Furthermore, these tires produce less in-vehicle noise on the road. 
You'll notice a decent level of ride comfort and noise, as well as decent tread life, traction, and dry handling in most situations. With these charming advantages, the tire will perform best on crossovers, SUVs, and trucks. 
The innovative, durable tread composition of this SUV and light truck tire allows it to prevent tire deterioration.. Thus, you'll be able to benefit from a long-lasting tread life.
They are equally reliable in mud and mild gravel roads. That said, most all-season tires frequently struggle to perform effectively in extreme winter conditions, and this model is not an exception.
While it handles effectively in light snow, it may struggle with moderate to heavy snow and ice, especially while braking or accelerating.
Throughout our reviews, you can see that the Fortitude HT is a competent tire. 
However, we struggled to pinpoint its competitive edge over other comparable tires. Considering the price and what this tire has to offer, it's worth shopping around for a better choice.
Competitors & Alternatives
| | |
| --- | --- |
| Treadlife Warranty: | 6 Years / 65,000 Miles (P- & Euro-metric sizes)  6 Years / 50,000 Miles (LT sizes)  None (Euro-commercial sizes) |
| Uniformity Warranty: | 1 Year / first 2/32″ wear |
| Workmanship & Materials Warranty: | 6 Years / Free replacement first year or 2/32″ of wear, then prorated until 2/32″ remaining depth |
| Manufacturer's Road Hazard Warranty: | None |
| Manufacturer Special Warranty: | 30 Day Test Drive (1) |
| Additional Information: | (1) Exchange for a different Goodyear brand tire |
Wrangler Fortitude HT warranty summary for replacement tires purchased on or after 04/01/19 at Tire Rack
| 15″ | | 6C" | |
| --- | --- | --- | --- |
| 235/75R15 | | 195/75R16C | 235/75R16 |
| | | LT 215/85R16 | 245/70R16 |
| | | 225/75R16 | 245/75R16 |
| | | 225/75R16C | LT 245/75R16 |
| | | LT 225/75R16 | 265/70R16 |
| | | 235/65R16C | 265/75R16 |
| | | 235/70R16 | LT 265/75R16 |
| 17″ | | 18″ | |
| --- | --- | --- | --- |
| 235/65R17 | LT 245/75R17 | 245/60R18 | 265/70R18 |
| 235/70R17 | 255/65R17 | 255/65R18 | LT 265/70R18 |
| 235/75R17 | 255/70R17 | 255/70R18 | 275/65R18 |
| LT 235/80R17 | 265/65R17 | 265/60R18 | LT 275/65R18 |
| 245/65R17 | 265/70R17 | 265/65R18 | LT 275/70R18 |
| 245/70R17 | LT 265/70R17 | P 265/65R18 | |
| LT 245/70R17 | LT 285/70R17 | | |
| 20″ | | 22″ | |
| --- | --- | --- | --- |
| LT 265/60R20 | LT 285/60R20 | 285/45R22 | |
| LT 275/65R20 | | | |
Wrangler Fortitude HT prices range approximately from ‎$150.48 to $333.99 – Tire Rack
Goodyear Vector 4Seasons SUV
Goodyear Vector 4 Seasons Gen 2 SUV
Yokohama Geolander AT G015
Dunlop Grandtrek ST20
Continental ContiCrossContact LX 2
Nokian WeatherProof SUV
Goodyear Wrangler Fortitude HT – Compare Prices
We found 5 online tire retailers selling Goodyear Wrangler Fortitude HT. Refer to the details below to get the best price:
Goodyear Wrangler Fortitude HT
PRICE
SOLD BY
 

Offers

Offers

Offers

$163

Offers
Wrangler Fortitude HT Ratings By Consumer