Goodyear Wrangler Duratrac and BFGoodrich All-Terrain T/A KO2 are both sought-after all-terrain tires currently. The one-of-the-kind features and design make them stand out. 
Their looks seem similar at first sight. Still, this point isn't true as they differ in many aspects from each other. Let us throw light on this right here
General Comparison
The Goodyear Duratrac has made its name for a long time. No wonder this all-terrain type becomes far-reaching in the segment. It goes well with off-roading, daily driving, muddy tracks, and notably winters. 
The tires look versatile, satisfying, and reliable. Its design blurs the distinction between all-terrain and mud tires fantastically.
Specifications

Tread depth: 18/32nds
Load capacity: 10.8 Inches
Load capacity: 3640 Pounds
Rim diameter: 18 Inches
Tire diameter: 33.2 inches
Speed Rating: R

Ratings
On the other hand, BFGoodrich KO2 tires are successors in the segment, also. This top-rated model shows the freaking-out features and tremendous merits most clients heading for. 
It's not an exaggeration. It performs enticingly and wonderfully on off-road conditions and highways. You can't miss out on its new technology named CoreGuard technology, which makes it unique.
Key Feature
Excellent traction, cornering performance
Wear balance rate
Superior traction on wet
Tire Size
15″, 16″, 17″, 18″, 20″ and 22″.
Price Range
$158.99 – $531.99
Ratings
They are all high-class and well-received products in the segment, owing to their wide-range application. They have plenty of common features, yet differences as well. First off, grab some key points of these two tires! 
Available Sizes
In the first round of the Duratrac vs KO2 match, they share some rim sizes: ranging from 15'', 16'', 17'', 18'', 20'', and 22''. Distinctly, Duratrac offers 19-inch-sized rims which KO2 doesn't. 
Height and Width
Wrangler Duratrac seems slightly higher than BF Goodrich KO2, while the KO2 is broader. 
In particular, Wrangler Duratrac has 2/32'' deeper treat grooves. Furthermore, the broader size adds KO2 to an aggressive and vigorous look. 
Weight
In reality, Wrangler Duratrac is somewhat heavier than its competitor – BF Goodrich KO2. Yet, the feature goes along with alleviating fuel mileage. 
Load Range
The Wrangler Duratrac is a way of a commercial tire because of its F load ranges, besides E, C, and D ranges. Meanwhile, BF Goodrich KO2 comes up with E, D, and C load ranges. 
Design
These two ones come in common looks at first sight. Notwithstanding, KO2 appears more seductive, elegant, and eye-catching, based on its size and treads.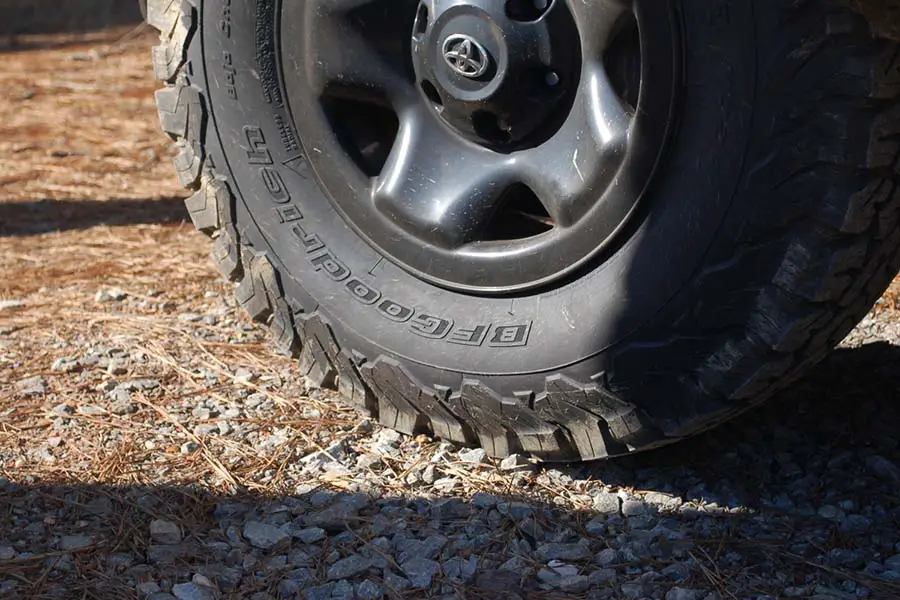 Meanwhile, the Wrangler Duratrac is exquisite with its sporty and revealing design. The good-looking dark black will catch the people's attention out there in no time. 
Tread Life
Treadlife is where they're not dominant at large. In return, if all you need is the application range, you've picked the right choices.
KO2's treadlife is not variable as its competitor, Duractrac. Still, it provides you tons of applications available, employed on lifted off-road vehicles or heavy or diesel trucks with no hesitation. 
Take a look at the Duratrac one! It doesn't match heavy or diesel trucks, though. The application range changed for sidewall alteration. Hence, this one stands out with a softer vibe. 
Duratrac excels at loaded applications such as towing or hauling due to its narrower pattern and higher load range. 
Durability
Hardly any enthusiast can overlook the tires' durability. The greater the tire's durability is, the better it is to prevent external impacts (rock edges, sharp stones,…). 
BFGoodrich KO2 enters the scene as one of the best sidewalls worldwide. Indeed, its CoreGard technology can freak any user out, boosting the sidewall durability by 20%. The latest KO2 model seems indestructive compared to its prior versions. 
Goodyear's current internal structure change compromises its comfort level on the Duratrac. Thus, the 3-ply sidewall available previously (like E-rated ones) is no longer essential. 
On-Road Performance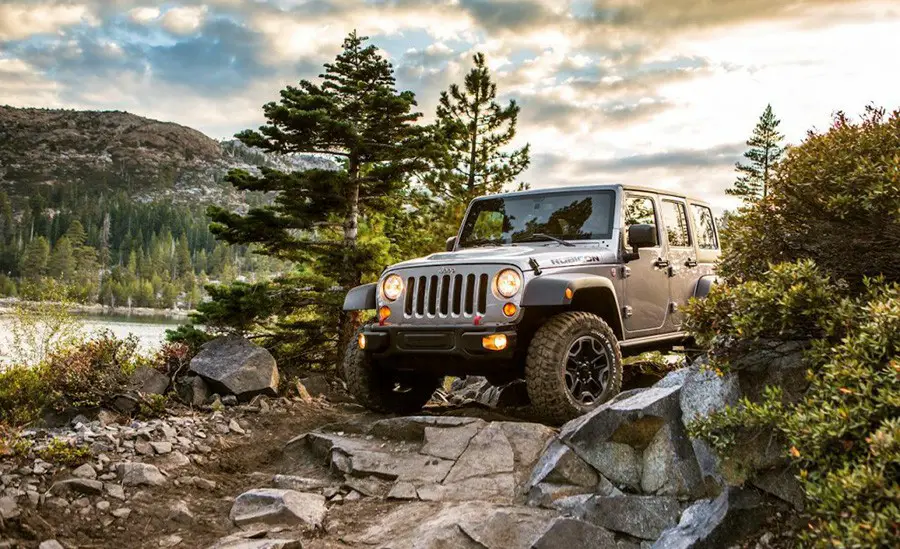 Behind great tires are awesome upsides and breakout performances. After comparing the general features, we dig into other vital aspects of Wrangler Duratrac vs KO2. Now we come to their on-road performance: 
Road Noise
What determines the tires' road noise level is their tread design. The larger the grooves are, the more the tires blast out. 
The smaller incision on KO2 causes less noise on the road. Its channels' deepness also lessens the sound remarkably. Goodyear Duratrac creates more noise than KO2 due to its thick and wide pattern blocks. 
Not to mention, BF Goodrich KO2's tread offers more void area distribution. Narrower gaps and minor blocks mitigate the road noise considerably. On the contrary, Duratrac's noise reduction ability is pretty poor. 
All in all, KO2 is much better than Duratrac in terms of noise.
Vibration
Vibration reflects how well you balance the tires during use. Interestingly, both the Goodyear Wrangler Duratrac and the BFG KO2 can get balanced easily. Still, Goodyear's heavyweight somewhat impedes its balance capability. 
As a result, BF Goodrich KO2 is out-performing for vibration. 
Comfort
Sidewall stiffness and compound impacts directly on one tire's comfort. Wrangler Duratrac's compound is softer, obviously making it outweighed and more convenient. 
Regarding BF Goodrich KO2, its sidewall thickness boosts its durability, somewhat hindering its flexibility under high inflation pressure.
Most all-terrain tires have stiffer compounds because of chipping durability and increased cut. There's no need for an introduction with Goodyear and BFG in this aspect. Still, Goodyear seems to be prevailing. 
Off-Road Performance
These all-terrain tires are good for most conditions. Each one will show its best in a specific situation. 
We've rounded up some ins and outs of their off-road performance:
Mud
Be fretful about deep mud? Thanks to the self-cleaning ability and segregated shoulders,  BF Goodrich is the game-changer in this case. The tiny and deep grooves allow it to have a stable and solid grip as mud fits its grooves, keeping the tire in contact optimally with the terrain. 
Duratrac looks good on soft terrains, yet it doesn't mean that its deep grooves don't aid much in retaining dirt and mud. 
In mud conditions, you could go either way. Notwithstanding, Wrangler Duratrac outweighs its competitor for such a voyage.
Gravel and Dirt
To these beasts, dirt, and gravel are never an issue. Yet, bear in mind that Wrangler Duratrac is better owing to its traction capability on loose grounds and high void area ratio.
There's no reason to undervalue their performance in dirt and gravel. 
Rock
KO2 is the king of rock crawling. Rocks and gravel can never hinder this rugged-built tire. 
Indeed, its robust sidewalls are optimized by cutting-edge Coreguard technology, causing its reliability. Moreover, the shoulders' serrated design saves the whole tire from getting damaged and bruised.  
Meanwhile, the Duratrac provides jaw-dropping handling traction and grip on the rocks. In other words, its incisions enable it to possess a firm grip with the strong shoulders, helping it cross the rocky grounds better. 
Sand
Duratrac's deep treads don't earn it a performance point in the sand. You'll get stuck in no time due to this feature. 
At the same time, BF Goodrich KO2 makes others out there admire you when watching you drive it on the beach. The vehicle can run at top speed on sand without facing many hassles of grip or stability.
For more: Best 7 Off Road Tires & Review Of 2022
Wet Performance
Typical all-terrain tires with stiff compounds and deep treads will be afraid of wet conditions. For explanation, deep treads impair evacuation capability. And stiff compounds hinder gripping power.  
But both tires' wet performances beat most competitors on the market. Wrangler Duratrac never upsets you with its softer and notched rubber, making it move ahead powerfully. Its hydroplaning resistance is also good to go. 
Considering BF Goodrich KO2, you will get hooked on its greater shoulder design for its water evacuation.  
In short, both top-rated tires have good wet performance. Yet, BF Goodrich KO2 seems to be a perfect fit for fast drivers. 
Winter Performance
It's non-debatable as the solid footing, good grip on uneven surfaces, and other premium features sent these two top tires worldwide.
These three sub-sections below with insight describe how well both tires work in winter conditions. 
Deep Snow
The two are outstanding in deep-snow conditions. They both show undoubted performance owing to their strong points with distinct designs. In comparison, the Wrangler Duratrac with deeper tread grooves streams its stable snow traction. 
Nonetheless, the staggering shoulder design of KO2 greatly elevates its traction level on loose grounds. 
Their awesome deep-snow performance gains the privileges the rest don't.
Ice Traction
Ice traction is undoubtedly a pivotal aspect while valuing all-terrain tires. Most tires worldwide offer a stiffer compound for ice traction,  never letting the tires grip enough  on icy conditions. 
For details, Goodyear brings you chances to establish studs. Unless you do not utilize its stud option, it's an average tire on ice. 
Light Snow
In reality, their light-snow and wet performance are not much different. Heated tires touching the light-snow surface will turn it into water. Thus, evacuation and gripping competency are two criteria to cope with wet ground. 
Both are perfect for light-snow conditions, but the Wrangler Duratrac is a bit better, though. 
Personal Evaluation
The most awaited part is yet to come – the authentic evaluation. We consider Goodyear as a warrior on highways, albeit a bit noisy. Indeed, it conquers all terrains' kinds yet performs best in wet and winter conditions, even on thick snow. 
On the other hand, KO2 works wonders for running on highways. It's really quiet and seamless. Only extreme harsh terrains can beat it. Overall, it's an off-roading tire without compromise. Beyond that, it maintains its great function up to 50,000, even 60,000 miles. 
For more: Goodyear Vs Michelin Tires: Choose The Best Tire For Your Journey
Summary Table
| | |
| --- | --- |
| BFG KO2 | Goodyear Wrangler Duratrac |
| Do not blast out much | Studdable and well-performance for icy conditions |
| Excellent off-road performance | Better for hauling and towing |
| Greater sidewall durability and top-rated technology, CoreGard | High-class quality: large lugs tread depth, and tremendous sidewall |
| Fuel-efficient feature | The aggressive look and splendid design |
| A perfect fit for heavy or Diesel trucks like F350 | It is built for SUV and truck owners in the most severe road conditions |
For more all-terrain tire options you can check out our article: The 12 Best All Terrain Tires: Top Picks For 2022
Key Takeaways
Everything encapsulates in this quick rundown of Goodyear Wrangler Duratrac and BF Goodrich KO2. Yet, it's not clear to call the winner. Each is recommended for distinct scenarios. 
Duratrac is praised for its qualified traction in winter conditions. Never look down on its good tread life as well! Still, it seems pretty noisier. These reasons conclude that Duratrac serves the best in off-road conditions and cold areas on snowy days. 
Back again, Goodrich KO2 is more solid and quieter. A better grip on any terrain is also a big point. Its modern technology boosts the sidewall 20% stronger, stable, and durable. Treadlife design also promises better traction in both wet and off-road conditions.  For anyone seeking a more chilling-out journey, KO2 should hit the spot. 
Which is better? The ultimate choice is up to your demand and hobby altogether.