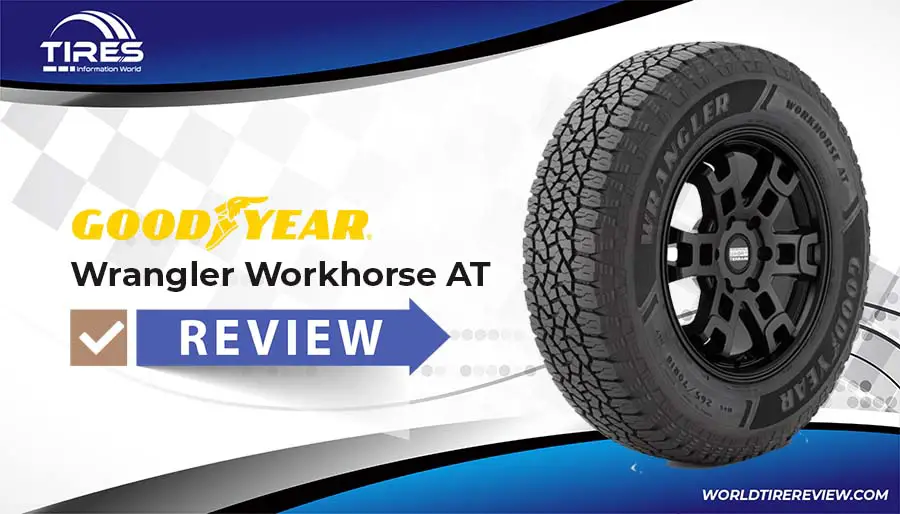 Overview Of Goodyear
The Goodyear Tire and Rubber Company manufactures Wrangler all-terrain tires. 
They combined high-end quality with a contemporary design to provide some of the strongest, most durable, and hardest tires on the market. Goodyear has spent more than a century studying and creating the greatest all-terrain tires.
Most of Goodyear's products are manufactured in Akron, Ohio, and the USA. Still, car lovers may find this product in Venezuela, India, Turkey, and Malaysia.
Goodyear Wrangler Workhorse AT Reviews
Traction
Goodyear has employed sophisticated compounding technology and designed its product to provide excellent traction in both dry and wet conditions. The rubber compound guarantees that the product lasts a long time.
The A traction grade strongly indicates a tire's ability to stop under controlled settings on a straight, wet pavement. It also enhances a car's appearance by providing distinctive performance.
Tread Design
This tire deserves a 9 out of 10 for its wearability. If you look closely, you'll notice that the tread blocks have been built to withstand chip chunks. Thus, it is durable in off-road and rough-surface situations. 
Besides that, this Wrangler Workhorse AT tire has a two-ply polyester casing with high-strength steel bands. Hence, combining all these features is the recipe for a well-balanced, reliable comfort ratio with a sturdy tire construction.
Treadwear
The big tread blocks aid in delivering aggressive traction capacity and draining considerable amounts of water away from the tire. And, this model offers large tread blocks to contribute to a sturdy footprint and assured handling.
Broader shoulders will assist in minimizing external damage and give additional grip on slick surfaces. Plus,  the tire comes with a 50,000-mile treadwear warranty, making it a good deal. It will last 5.4 times as long as a regular model.
On the downside, this tire has an average tread depth of 11/32 inches. This depth can deteriorate as it wears, increasing your risk of hydroplaning.
Speed & Noise Level 
As the tire rolls around the pavement, the air is trapped and released in the grooves and spaces of the tread, causing the noise.
Interestingly, the Wrangler workhorse AT tires have a unique tread pattern and shape that minimizes noise, so the sound rapidly fades into the background. This is beneficial, particularly for those seeking a quiet riding experience.
Temperature Rating
The temperature rating of the Wrangle tire is B, indicating the tire's average heat-generating and dissipation abilities. This rating will indicate how well a tire resists heat production under normal operating circumstances and prescribed inflation levels.
Pros & Cons
Our Thoughts 
After reading our review, you probably know that this product is an all-terrain tire developed for drivers of light trucks, cars and trucks, crossovers, and SUVs. Those who desire an item that delivers constant traction and predictable handling in all weather situations will also find this product worthy.
On Wet Roads 
You may know that aquaplaning is a dangerous driving situation caused by water, rendering your car's tires to lose contact with the wet road surface. 
Fortunately, the tread is well-designed, with the angles of the various tread blocks being utilized to produce biting services in the contact zone. This improved traction in a range of driving circumstances, especially in bad weather and in heavy rain.
We have driven this tire for about 3000 miles, and we found that this car was securely anchored to the ground in both wet and dry situations. In general, it will function as the above features we've discussed.
On Snow Roads
The Goodyear Wrangler workhorse AT has earned the industry's certification for tough snow conditions by providing appropriate winter traction. It also has enough traction on light snow to obtain the three-peak mountain snowflake insignia on its sidewall from the tire industry.
This model will perform well even if you are in large snowstorms. These tires performed admirably in snow and slippery situations thanks to its best all-terrain skills. That being said, they are just marginally louder and less smooth on the dry roads than the standard tires.
Competitors & Alternatives
| | |
| --- | --- |
| Treadlife Warranty: | 6 Years / 50,000 Miles  |
| Uniformity Warranty: | 1 Year / first 2/32″ wear |
| Workmanship & Materials Warranty: | 6 Years / Free replacement first year or 2/32″ of wear, then prorated until 2/32″ remaining depth |
| Manufacturer's Road Hazard Warranty: | None |
| Manufacturer Special Warranty: | 30 Day Test Drive (1) |
| Additional Information: | (1) Exchange for a different Goodyear brand tire |
warranty summary for replacement tires purchased on or after 06/01/19 at
| 16 | | 17 | |
| --- | --- | --- | --- |
| 225/65R17 | 255/70R16 | 225/65R17 | LT 245/70R17 |
| 225/75R16 | 265/70R16 | LT 225/65R17 | LT 245/75R17 |
| LT 225/75R16 | 265/75R16 | 235/65R17 | 255/70R17 |
| LT 235/85R16 | LT 265/75R16 | 235/70R17 | 265/65R17 |
| 245/70R16 | LT 285/75R16 | LT 235/80R17 | 265/70R17 |
| LT 245/75R16 | | 245/65R17 | LT 265/70R17 |
| | | 245/70R17 | 285/70R17 |
| 18 | | 20 | |
| --- | --- | --- | --- |
| 235/60R18 | 265/70R18 | LT 265/60R20 | 275/55R20 |
| 245/60R18 | LT 265/70R18 | | |
| 255/70R18 | LT 275/65R18 | | |
| 265/65R18 | LT 275/70R18 | | |
Wrangler workhorse AT prices range approximately from $171.99 to $335.99
Goodyear Wrangler Workhorse AT – Compare Prices
We found 4 online tire retailers selling Goodyear Wrangler Workhorse AT. Refer to the details below to get the best price
Goodyear Wrangler Workhorse AT
PRICE
SOLD BY
 

Offers

Offers




Offers




Offers



Wrangler Workhorse AT Ratings By Consumer