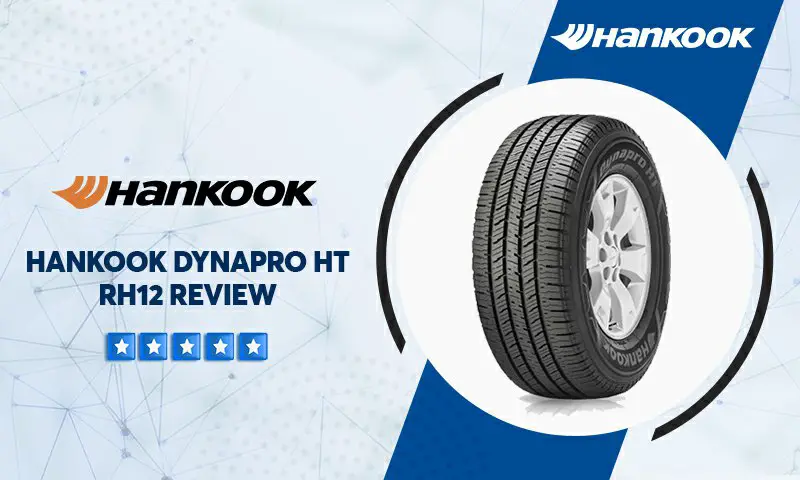 The Hankook DynaPro HT RH12 is a bestseller of the South Korean giant, The Hankook Tire & Technology group. With over 70 years of experience, it is a global player in the automotive industry that delivers high-tech tires for passenger cars, SUVs, trucks, and buses. Converging low-rolling resistance, specialized tread wear as well as all-season traction, this product is a promising premium tire.
Given its renowned name in the market, there are many reviews out there. However, a downside of this is that it makes it overwhelming for readers. So, bearing that in mind, our review is kept short and sweet! 
First, in terms of tire structure, it features environmentally-friendly LPAH, which offers long mileage. Second, steering is improved with high-strength steel belts, reinforced carcass, and rubber gauge. Moreover, it has a stiffness center block to support steering response.
Third, an under-tread layer and a high-tensile rubber sidewall protect the tire against abrasions and chips. In essence, thread life is lengthened. Altogether, these features give the driver a safe and comfortable riding experience.  
Its all-season tread includes four circumferential grooves and zig-zag sipes, which maximizes traction and grip in wet roads, boosting driver confidence in rough weather. Additionally, there are biting edges on the sipes that hold onto snow and ice. Without a doubt, the HT RH12 tire from Hankook DynaPro is marked M + S, suitable for all conditions and settings.
View more: Hankook Dynapro Atm RF10 Reviews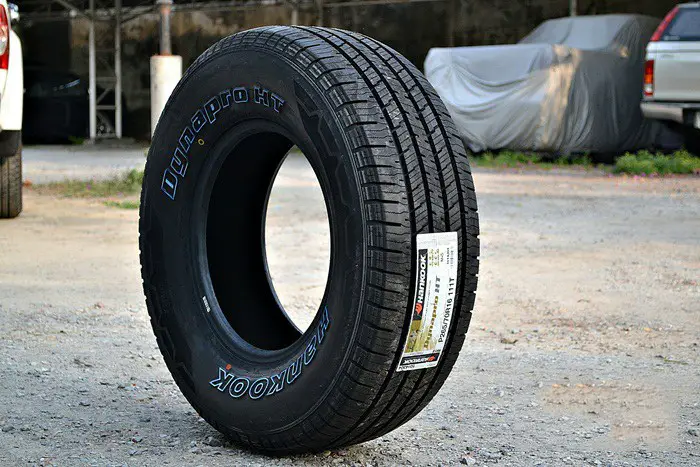 Pros & Cons
Hankook DynaPro HT RH12: Overall Thoughts
As car enthusiasts, it is not easy for a tire to capture our attention. Yet, this tire has left us a lasting impression! Its impressive features guarantee the safest and most comfortable driving experience. As a result, it has become one of our favorite tires.  
However, we found that this tire only delivers soft handling when having to change lanes or turn corners. You may realize that this has been mentioned in other HT RH12 tire report as well. This can lead to nausea and fatigue for drivers due to a bouncing phenomenon. Thus, it may compromise comfort. Coupled with its slightly general mushy construction, the tire can cause doubt for drivers. 
Nonetheless, its pros outweigh the cons. If you are looking for tires to drive during winters or in moderately-rough terrains, no other tires can beat this. It is a fine choice for highway SUVs and pickup trucks. If you are frequently driving on stiff roads or finely-paved highways, you should certainly opt for this tire. 
Conclusion 
From reviews above, you have a fellow car-lover input to consider. If you have other viewpoints to share on this topic, please comment below!
| | |
| --- | --- |
| Treadlife Warranty: | 6 Years / 70,000 Miles (Euro- & P-Metric tires) 6 Years / 40,000 Miles (LT tires) Half mileage front and rear if different sizes |
| Uniformity Warranty: | 1 Year / first 2/32″ of wear |
| Workmanship & Materials Warranty: | 6 Years / Free replacement first year or 2/32″ of wear, then prorated until 2/32″ remaining depth |
| Manufacturer's Road Hazard Warranty: | 1 Year / first 2/32″ of wear |
| Manufacturer Special Warranty: | 30 Day Free Trial (Euro- & P-Metric) (1) |
| Additional Information: | Road Hazard & 30 Day does not apply to LT tires(1) Purchase 4 exchange for another set of Hankook |
DynaPro HT RH12
warranty summary for replacement tires purchased on or after 01/01/19 at Tire Rack
| 15″ | | 16″ | |
| --- | --- | --- | --- |
| LT 235/75R15 | P 235/75R15 | 195/75R16C | LT 235/85R16 |
| | | 205/75R16C | P 245/70R16 |
| | | P 215/70R16 | LT 245/75R16 |
| | | LT 215/85R16 | P 245/75R16 |
| | | P 225/70R16 | 255/70R16 |
| | | 235/65R16C | P 255/70R16 |
| | | P 235/70R16 | P 265/70R16 |
| | | P 235/75R16 | LT 265/75R16 |
| | | | P 265/75R16 |
| 17″ | | 18″ | |
| --- | --- | --- | --- |
| 225/65R17 | LT 245/75R17 | P 255/70R18 | P 265/70R18 |
| P 235/70R17 | P 255/65R17 | 265/60R18 | 275/65R18 |
| LT 235/80R17 | P 255/70R17 | P 265/60R18 | P 275/65R18 |
| P 245/65R17 | P 265/65R17 | P 265/65R18 | |
| LT 245/70R17 | LT 265/70R17 | | |
| P 245/70R17 | P 265/70R17 | | |
| 205/65R16 | 235/65R16 | | P 235/65R17 |
| 20″ | | 22″ | |
| --- | --- | --- | --- |
| 275/55R20 | P 275/55R20 | 285/45R22 | |
| P 275/60R20 | | | |
DynaPro HT RH12 prices range approximately from $82.19 – $251.99 – Tirebuyer
Hankook DynaPro HT RH12 – Compare Prices
We found 7 online tire retailers selling Hankook DynaPro HT RH12. Refer to the details below to get the best price:
Hankook DynaPro HT RH12
PRICE
SOLD BY
 

Offers

Offers

$80.44

Offers

$122

Offers
DynaPro HT RH12 Ratings By Consumer