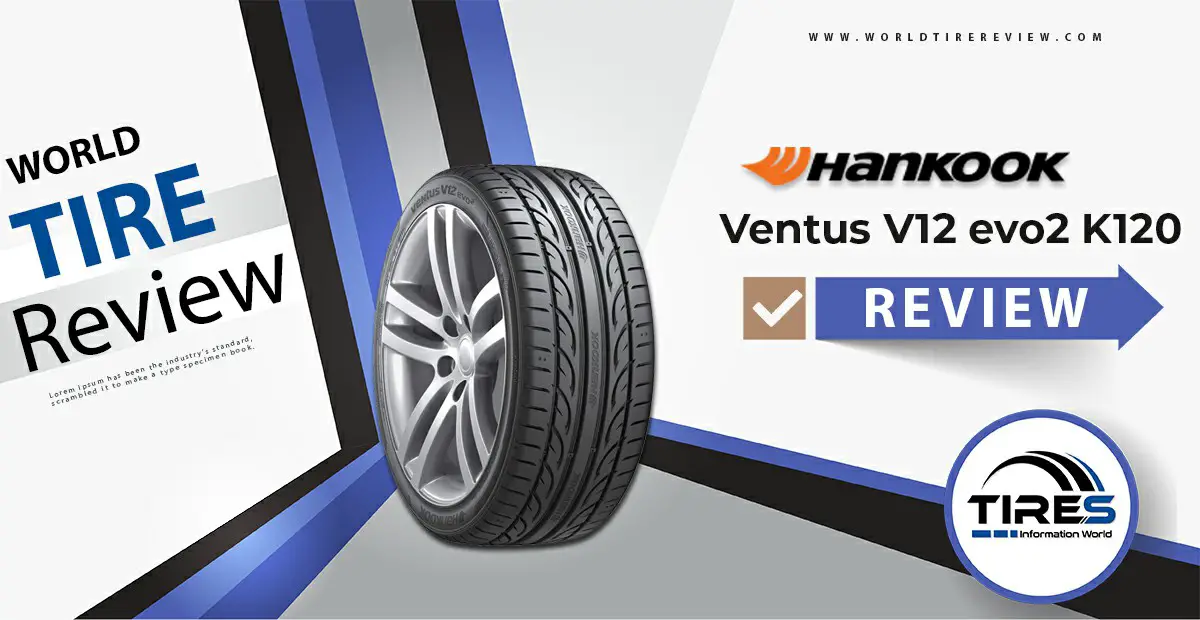 Much of a car's performance lies in the degree of robustness, durability, and facilitation of its tires over time. Plus, the tire set also reflects the personal style and character of its owner. Therefore, it is extremely important to understand how to choose a quality tire set.
To save you time scrolling endlessly elsewhere, our upcoming Hankook Ventus V12 evo2 K120 will unveil its technical specifications, how it plays out in extreme conditions, and why it is truly a value for money. 
First and foremost, the Korean brand Hankook is one of the biggest contenders in the tire market, widely known for its creative, futuristic design. It is not an understatement to say The Ventus V12 evo2 is a well-rounded reflection of the brand.
At first glance, its silica treads are slit in a controlled fashion, with two aggressive splits across the center, both being 10 millimeters in depth. The part between those lines – or the strip is what fiercely increases your dry traction.
This pick is ranked 87 out of 100 for dry grip, which is to say, it is a perfect build for a summer performance, sticking nicely to the asphalt.
To be specific, it only takes 33.8 meters to dry brake from 100km/h, and an average speed of 128.2 km/h for dry handling, making it superior to any other counterparts. 
Though only scored 82/100 for wet grip, the figure is decent enough to ride in rainy and humid weather. But bear in mind that it is not a wet tire by nature, so don't expect too much from its water/ mud/ snow shedding.
Built of soft, facilitating compound rubber, the tire could be run faster, thus consuming less fuel.
The treadwear seems rather disappointing as it quickly deteriorates after about three years of abuse. Yet, considering its economical price, this is just acceptable.
Pros & Cons
Tire Drive Test
First off, its dry grip is a real sensation. The way these tires respond sharply when gear-shifted, accelerated and steered duly proves our point. We are most impressed when they give an instant and direct feel during twisting.
Even though they still leave a few unwanted drifts across curves, they meet our needs just right for daily stable rides. 
Additionally, the tire's wet traction exceeds our expectations and gives such outstanding performance in wet road conditions. Yet, we advise you against using it under snowy weather since the soft rubber material in the tire is not compatible and even dangerous for use in this condition.
Another plus point that we notice is their ability to make next to no noise nor jumping, even when suddenly spinning. It is comparable to the ride quality of Michelin's, yet at a more affordable price.
Yet, on the other end of the spectrum, they become increasingly slippery and threadbare after 5000 miles. After all, you cannot expect everything from a low-budget pick.
Conclusion
That concludes our reviews for now. To recap, this tire set's winning points lie in its consistent performance under dry conditions, excellent handling responsiveness, and surprising affordability. 
If you are looking for an ultra-high-performance summer tire, this is it. Once again, kudos to the manufacturer.
Competitors & Alternatives
| | |
| --- | --- |
| Treadlife Warranty: | None |
| Uniformity Warranty: | 1 Year / first 2/32″ of wear |
| Workmanship & Materials Warranty: | 6 Years / Free replacement first year or 2/32″ of wear, then prorated until 2/32″ remaining depth |
| Manufacturer's Road Hazard Warranty: | 1 Year / first 2/32″ of wear |
| Manufacturer Special Warranty: | 30 Day Free Trial (1) |
| Additional Information: | (1) Purchase 4 exchange for another set of Hankook |
Ventus V12 evo2 K120 warranty summary for replacement tires purchased on or after 06/01/19 at Tire Rack
| 16″ | | 17″ | |
| --- | --- | --- | --- |
| 205/55ZR16 | | 205/45ZR17 | 225/50ZR17 |
| | | 205/50ZR17 | 235/45ZR17 |
| | | 215/45ZR17 | 245/40ZR17 |
| | | 215/50ZR17 | 245/45ZR17 |
| | | 225/45ZR17 | 255/40ZR17 |
| 18″ | | 19″ | |
| --- | --- | --- | --- |
| 215/40ZR18 | 255/35ZR18 | 225/35ZR19 | 265/30ZR19 |
| 215/45ZR18 | 255/40ZR18 | 225/40ZR19 | 265/35ZR19 |
| 225/40ZR18 | 255/45ZR18 | 225/45ZR19 | 275/30ZR19 |
| 225/45ZR18 | 265/35ZR18 | 235/35ZR19 | 275/35ZR19 |
| 235/40ZR18 | 265/40ZR18 | 245/35ZR19 | 275/40ZR19 |
| 235/50ZR18 | 275/35ZR18 | 245/40ZR19 | 285/30ZR19 |
| 245/35ZR18 | 275/40ZR18 | 245/45ZR19 | 285/35ZR19 |
| 245/40ZR18 | 285/35ZR18 | 255/30ZR19 | 295/30ZR19 |
| 245/45ZR18 | | 255/35ZR19 | 305/30ZR19 |
| | | 255/40ZR19 | 325/30ZR19 |
| | | 255/45ZR19 | |
| 20″ | | 21″ | |
| --- | --- | --- | --- |
| 245/30ZR20 | 255/45ZR20 | 245/35ZR21 | 275/30ZR21 |
| 245/35ZR20 | 275/30ZR20 | | |
| 245/40ZR20 | 275/35ZR20 | | |
| 245/45ZR20 | 275/40ZR20 | | |
| 255/30ZR20 | 285/30ZR20 | | |
| 255/35ZR20 | 305/25ZR20 | | |
Ventus V12 evo2 K120 prices range approximately from $135.99 – $271.99
Continental ExtremeContact DWS
Vredestein Quatrac Lite
Maxxis MA Z4S Victra
Hankook Optimo 4S
Continental Extremecontact DWS 06
Goodyear Eagle Vector
Hankook Ventus V12 evo2 K120 – Compare Prices
We found 6 online tire retailers selling Hankook Ventus V12 evo2 K120. Refer to the details below to get the best price:
Hankook Ventus V12 evo2 K120
PRICE
SOLD BY
 

Offers

$107.99

Offers

Offers

$108

Offers
Ventus V12 evo2 K120 Ratings By Consumer