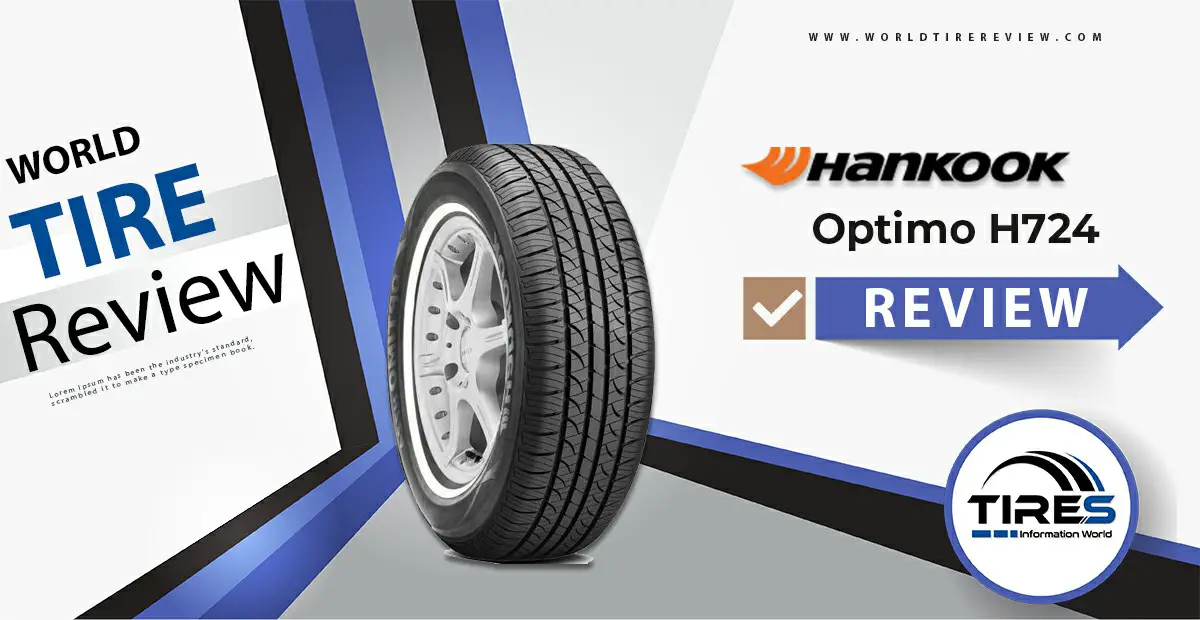 Hankook Tire & Technology is a global tire company headquartered in Korea with over 14.000 employees. The company supplies various high-tech tire sizes for SUVs, passenger cars, light trucks and buses to over 180 countries around the world. 
The Hankook Optimo H724 was created for drivers of sedans, coupes, minivans. It's a popular option for OE on sporty sedans and coupes or as a replacement for worn-out tires. This review will take a closer look at its features and performance on different conditions.
With a central rib block design that improves handling and stability during directional changes, the tire helps your vehicle move easily across different terrains and in all weather conditions.
Thanks to the deep grooves and enhanced, rounded shoulder, the tire can reliably grip the road, and handle well even in heavy rains.  The solid center rib helps optimize stability and improve responsiveness on dry and wet surfaces.
Besides, Hankook operates high-end pitch design technology to reduce tire noise during the trip and prevent it from passing to the steering wheel. 
Drivers can expect a smooth, quiet ride even while traveling on slightly bumpy roads with this Hankook model.
Hankook integrated the most advanced technology into the making of this touring, all-season tire. The innovative rubber compound, light-belt cord, and harder bead filler all contribute to creating a winning tire..
Hankook Group is constantly improving its production technology to offer users the most durable and quality products. They also offer a 70,000-mile tread warranty for this H724.
Tire Drive Test
According to our road tests, this tire provided an impressive amount of traction regardless of dry or wet conditions. Nevertheless, ice and snow are its weakness since the tire struggled to handle heavily snow-covered surfaces. Treadwear is decent, but we would like to see improvements in the future.
If you place a premium on large load capacity, this Optimo H724, with a load index rating up to 108.0, is perfect for you.
From the first mile, you will feel it is a smart move. Even when you are moving with a heavy load, the tire is still working well. With improved anti-wear technology and high-hardness grain fillers to increase tire performance, dry or wet roadways are not a problem. Your vehicle can move easily and smoothly. It's worth noting that the white wall can easily stain if stacked against other tires. Even though most consumers are impressed with the white wall, it can turn out to be a setback.
With budget-friendly price, good traction, decent quality, and great load capacity, the Optimo H724 should be one of the tires you should consider for daily driving.
Competitors & Alternatives
| | |
| --- | --- |
| Treadlife Warranty: | 6 Years / 70,000 miles  Half mileage front and rear if different sizes |
| Uniformity Warranty: | 1 Year / first 2/32″ of wear |
| Workmanship & Materials Warranty: | 6 Years / Free replacement first year or 2/32″ of wear, then prorated until 2/32″ remaining depth |
| Manufacturer's Road Hazard Warranty: | None |
| Manufacturer Special Warranty: | None |
Optimo H724 warranty summary for replacement tires purchased on or after 01/01/19 at Tire Rack
| 13″ | | 14″ | |
| --- | --- | --- | --- |
| 175/70R13 | | P 175/65R14 | P 195/70R14 |
| | | P 175/70R14 | P 195/75R14 |
| | | P 185/60R14 | P 205/70R14 |
| | | P 185/65R14 | P 205/75R14 |
| | | P 185/70R14 | P 215/70R14 |
| | | P 185/75R14 | P 215/75R14 |
| | | P 195/60R14 | |
| 15″ | | 16″ | |
| --- | --- | --- | --- |
| P 185/60R15 | P 215/60R15 | P 205/60R16 | 225/60R16 |
| P 185/65R15 | P 215/65R15 | P 205/65R16 | 235/60R16 |
| 195/60R15 | P 215/70R15 | P 215/60R16 | 235/65R16 |
| P 195/65R15 | P 215/75R15 | P 215/65R16 | |
| P 205/60R15 | P 225/70R15 | | |
| P 205/65R15 | P 225/75R15 | | |
| P 205/70R15 | P 235/75R15 | | |
| P 205/75R15 | | | |
| 17″ | | " | |
| --- | --- | --- | --- |
| 215/60R17 | P 225/60R17 | | |
| 215/65R17 | | | |
Optimo H724 prices range approximately from $44.99 – $102.99
Firestone MultiSeason Gen 02
Kleber Quadraxer 2
Goodride SW602
Kumho Solus HA31
Bridgestone Turanza GR90
Kleber Quadraxer
Hankook Optimo H724 – Compare Prices
We found 5 online tire retailers selling Hankook Optimo H724. Refer to the details below to get the best price:
Hankook Optimo H724
PRICE
SOLD BY
 

Offers

Offers

$44.99

Offers

Offers
Optimo H724 Ratings By Consumer