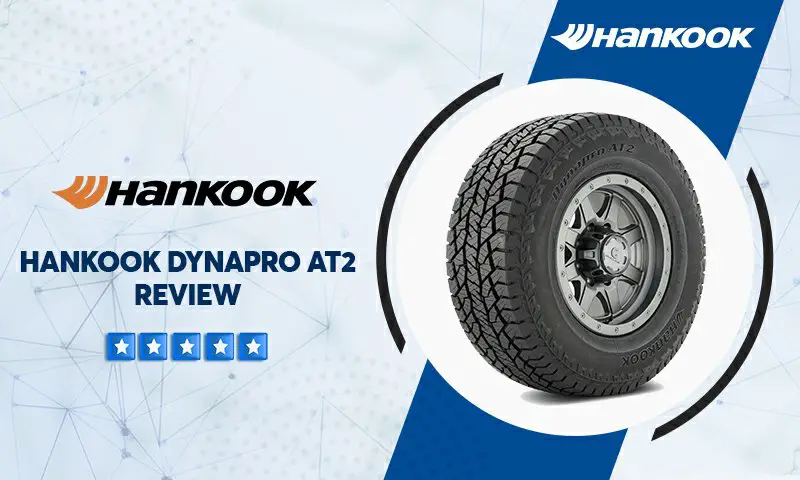 Tires are important investments. Thus, users often spend quite a bit of time on Hankook DynaPro AT2 to make sure that we chose the right tires. The Hankook DynaPro AT2 – a multi-terrain premium tire for light trucks, jeeps, and full-size SUVs. It is a well-performing product that Hankook, the South Korean tire-making giant, takes pride in. Racing alongside renowned brands in the automotive market, this tire can deliver great performance while still catering to on-and-off driving experiences.
There are several elements to digest when it comes to judging tires, but this can be rather overwhelming. Hence, we have kept this Hankook DynaPro AT2 tire as concise as possible!
With a long tread wear compound, this tire promises good fuel mileage and resistance against external impacts, such as cuts, chips, and abrasions. Also, it is supported by an under-tread gauge and nylon-reinforced belts. Biting edges and shoulder lugs are other features that permit effortless piloting on rugged surfaces.
Thanks to the high silica content in its tread composition, and the grooves and sipes that are arranged multi-directionally, this tire maximizes traction on wet surfaces as well as traction from any direction. 
Besides, a wide footprint is also included to disperse pressure evenly and boost tread life. Given this, the tire has impressive longevity.
An All-Around Tire: Hankook DynaPro AT2
See more: Hankook Dynapro HP2 RA33 Tire Reviews
Hankook DynaPro AT2 Test Drive
Right off the bat, we were hooked by this tire's intricate design. It remained true to its descriptions, offering solid fuel mileage. We were able to venture through rugged surfaces without having to worry about chips and cuts. We also felt confident because of its durable construction. 
However, under the rain amidst hard acceleration, we found that the tires can struggle to keep traction well. Thus, in this aspect, there is room for the tire to improve. Even though the tire is marked 3PMSF, which implies that it works well on ice and snow, it does not perform as solidly as other winter tires that we have used.
In essence, it is somewhat decent for snowy surfaces, but users who expect to combat harsh winter settings will most likely be disappointed. 
In terms of comfort and handling, this tire has rigid tie bars, which serve as shoulder stabilizers for the tread blocks. Also known as Aero Shoulder tech, this feature integrates stepped block edges to reduce tread growl and other noises from the cabin.  
All in all, given its price and positive features, this Hankook DynaPro AT2 tire is a good option. Drivers who are not always in wet or slippery settings will do well with this. However, drivers who are frequently in rough winters should reconsider. 
Conclusion 
Now, with my input for your consideration in our Hankook DynaPro AT2, you can make your purchasing decision with confidence. 
Be sure to share your experience post-purchase with me as well!
Competitors & Alternatives
| | |
| --- | --- |
| Treadlife Warranty: | 6 Years / 60,000 Miles Half mileage front and rear if different sizes |
| Uniformity Warranty: | 1 Year / first 2/32″ of wear |
| Workmanship & Materials Warranty: | 6 Years / Free replacement first year or 2/32″ of wear, then prorated until 2/32″ remaining depth |
| Manufacturer's Road Hazard Warranty: | 1 Year / first 2/32″ of wear (Euro- & P-Metric) |
| Manufacturer Special Warranty: | 30 Day Free Trial (1) |
| Additional Information: | Road Hazard does not apply to LT tires(1) Purchase 4 exchange for another set of Hankook |
Dynapro AT2
warranty summary for replacement tires purchased on or after 01/01/19 at Tire Rack
| 15″ | | 16″ | |
| --- | --- | --- | --- |
| 235/75R15 | LT 31X10.50R15 | LT 215/85R16 | 255/65R16 |
| LT 235/75R15 | LT 33X12.50R15 | 225/70R16 | 255/70R16 |
| LT 30X9.50R15 | | 225/75R16 | 265/70R16 |
| | | LT 225/75R16 | LT 265/70R16 |
| | | 235/70R16 | 265/75R16 |
| | | 235/75R16 | LT 265/75R16 |
| | | LT 235/85R16 | LT 285/75R16 |
| | | 245/70R16 | LT 305/70R16 |
| | | 245/75R16 | LT 315/75R16 |
| | | LT 245/75R16 | |
| 17″ | | 18″ | |
| --- | --- | --- | --- |
| 225/60R17 | 255/65R17 | 235/60R18 | LT 265/70R18 |
| LT 225/75R17 | 255/70R17 | 255/60R18 | 275/65R18 |
| 235/65R17 | 255/75R17 | 255/70R18 | LT 275/65R18 |
| 235/75R17 | 265/65R17 | 265/60R18 | LT 275/70R18 |
| LT 235/80R17 | 265/70R17 | 265/65R18 | LT 285/65R18 |
| 245/65R17 | LT 265/70R17 | 265/70R18 | LT 325/60R18 |
| 245/70R17 | LT 275/70R17 | | LT 325/65R18 |
| LT 245/70R17 | LT 285/70R17 | | LT 35X12.50R18 |
| 245/75R17 | LT 295/70R17 | | |
| LT 245/75R17 | LT 315/70R17 | | |
| | LT 35X12.50R17 | | |
| 20″ | | 22″ | |
| --- | --- | --- | --- |
| LT 265/60R20 | LT 285/55R20 | 285/45R22 | LT 325/50R22 |
| 275/55R20 | LT 285/65R20 | 305/45R22 | |
| LT 275/55R20 | LT 295/60R20 | | |
| 275/60R20 | 305/50R20 | | |
| LT 275/60R20 | LT 305/55R20 | | |
| LT 275/65R20 | LT 325/60R20 | | |
| | LT 35X12.50R20 | | |
DynaPro AT2 prices range approximately from $125.99 – $478.99 – Tirebuyer
Hankook DynaPro AT2 – Compare Prices
We found 7 online tire retailers selling Hankook DynaPro AT2. Refer to the details below to get the best price:
Hankook DynaPro AT2
PRICE
SOLD BY
 

Offers

$126.99

Offers

Offers

Offers

Offers
DynaPro AT2 Ratings By Consumer