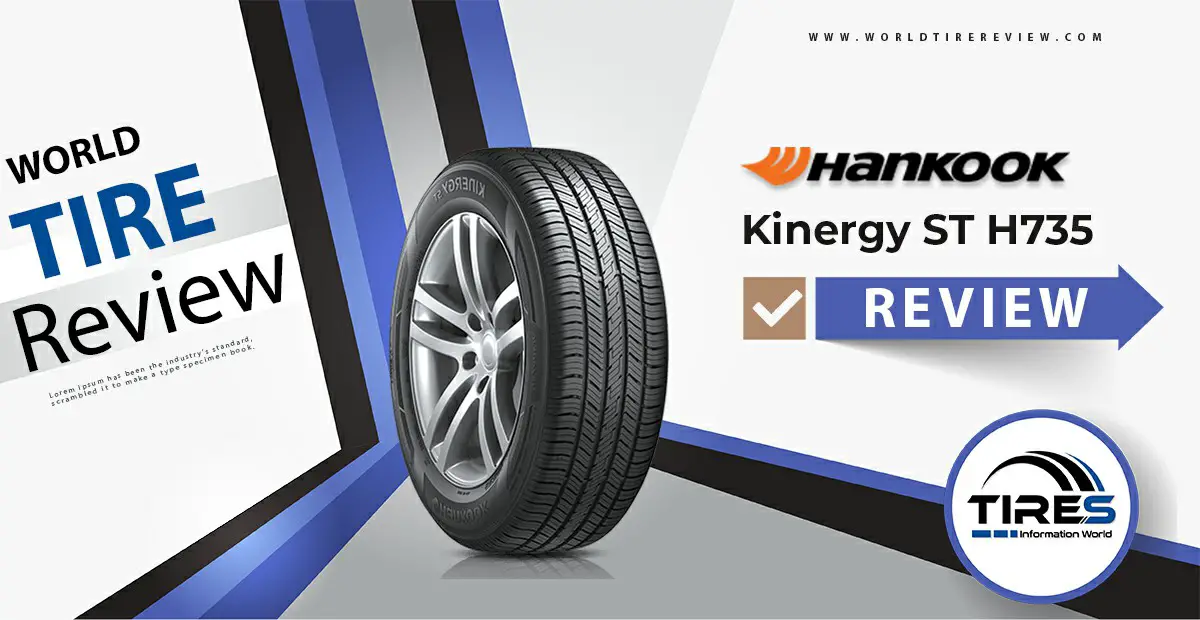 Hankook Tire has gained a large reputation around the globe as one of the world-leading manufacturers of high-quality tires. In the 70-year history of the tire-making field, the company always succeeds in bringing their customers the most comfortable experience in driving, with their hit named Hankook Kinergy ST H735.
Hankook Kinergy ST H735 is an excellent choice for those looking for smooth, long-lasting, and quiet tires. Let's dig deeper into our Hankook Kinergy ST H735 to explore what this touring tire has to offer.
The ST H735 is an all-season standard touring tire that can provide incredible traction regardless of weather conditions.
This particular model is designed to have enduring performance. The manufacturer used silica-based compounds and other modern construction materials to improve rubber traction for the tire. Whether it is scorching or freezing, wet or dry, the ST H735 can handle it pretty well. 
Handling and braking performance are also impressive. Moreover, the tread pattern helps prevent uneven tread wear and minimize noise in the cabin. 
Uniform, stiffened tread blocks spread throughout the whole pattern for a better grip. In high-stress situations, when you are hard braking, for example, the tire's tread maintains its shape and stops your vehicle faster.
Pros & Cons
Tire Drive Test
Good traction in both dry and wet environments is an integral feature of an all-season tire. In the design of the Kinergy ST, Hankook incorporated dual filler to drastically improve the grip on both dry and wet roads. 
Thanks to the filler, the tire becomes responsive and flexible on the road. From personal experiences, we can confirm that this tire works wonders under most dreadful weather conditions.
A center tread rib runs along the tire to promote the much-needed stability during a turn.  This rib constantly comes into contact with the road surface while the tire stretches during braking or cornering. This quickens the steering response and helps the tire bring your car to a stop faster, so we were able to make safer and more timely brakes. 
One thing we have also noticed is that there are wide grooves between the tread blocks that facilitate the gathering and channeling of water away from underneath the wheel. On wet or snowy roads, redirecting water out the sides is the job of lateral grooves.
This Kinergy ST can also resist hydroplaning by preventing water from getting between the road and the tire. The added notches onto the center tread can ensure greater mobility when traveling on light snow.
Radial tires can easily keep shape, even under high stress, all thanks to a strong tire surface. Make sure that the wheels or the tires stay quiet on the road since it stands as an important part of the touring style tires.
Another aspect that we enjoyed on these drives with this tire is how calm and relaxing they are. Utilizing audio engineering, Hankook can reduce the in-vehicle noise during the ride. For either long drives or everyday traveling, you'll enjoy a quiet and peaceful ride.
Overall, the Hankook Kinergy ST H735 provides great traction even in both wet and dry conditions. We were also impressed by responsive steering and quiet ride during our road test.
Therefore, if you are a driver searching for a comfortable and quiet tire with reliable braking and handling performance, we suggest you take this tire into consideration.
| | |
| --- | --- |
| Treadlife Warranty: | 6 Years / 70,000 Miles  Half mileage front and rear if different sizes |
| Uniformity Warranty: | 1 Year / first 2/32″ of wear |
| Workmanship & Materials Warranty: | 6 Years / Free replacement first year or 2/32″ of wear, then prorated until 2/32″ remaining depth |
| Manufacturer's Road Hazard Warranty: | 1 Year / first 2/32″ of wear |
| Manufacturer Special Warranty: | 30 Day Free Trial (1) |
| Additional Information: | (1) Purchase 4 exchange for another set of Hankook |
Kinergy ST H735 warranty summary for replacement tires purchased on or after 01/01/19 at Tire Rack
| 13″ | | 14″ | |
| --- | --- | --- | --- |
| 175/70R13 | | 175/65R14 | 195/70R14 |
| | | 175/70R14 | 195/75R14 |
| | | 185/60R14 | 205/70R14 |
| | | 185/65R14 | 205/75R14 |
| | | 185/70R14 | 215/70R14 |
| | | 185/75R14 | 215/75R14 |
| | | 195/60R14 | 225/70R14 |
| 15″ | | 16″ | |
| --- | --- | --- | --- |
| 175/65R15 | 225/70R15 | 205/55R16 | 215/70R16 |
| 185/60R15 | 225/75R15 | 205/60R16 | 225/60R16 |
| 185/65R15 | 235/60R15 | 205/65R16 | 225/65R16 |
| 195/60R15 | 235/70R15 | 215/55R16 | 225/70R16 |
| 195/65R15 | 235/75R15 | 215/60R16 | 235/60R16 |
| 205/60R15 | 245/60R15 | 215/65R16 | 235/65R16 |
| 205/65R15 | 255/60R15 | | |
| 205/70R15 | 255/70R15 | | |
| 205/75R15 | P265/50R15 | | |
| 215/65R15 | P275/60R15 | | |
| 215/70R15 | P295/50R15 | | |
| 215/75R15 | | | |
| 17″ | | 18″ | |
| --- | --- | --- | --- |
| 215/50R17 | 225/60R17 | 225/50R18 | 235/55R18 |
| 215/55R17 | 225/65R17 | 225/55R18 | 235/60R18 |
| 215/60R17 | 235/55R17 | 225/60R18 | |
| 215/65R17 | 235/60R17 | | |
| 225/45R17 | 235/65R17 | | |
| 225/50R17 | 245/45R17 | | |
| 225/55R17 | | | |
Kinergy ST H735 prices range approximately from $65.99 – $160.99 – Tirebuyer
Hankook Kinergy ST H735 – Compare Prices
We found 7 online tire retailers selling Hankook Kinergy ST H735. Refer to the details below to get the best price:
Hankook Kinergy ST H735
PRICE
SOLD BY
 

$66.43

Offers

$65.99

Offers

$66

Offers
Kinergy ST H735 Ratings By Consumer