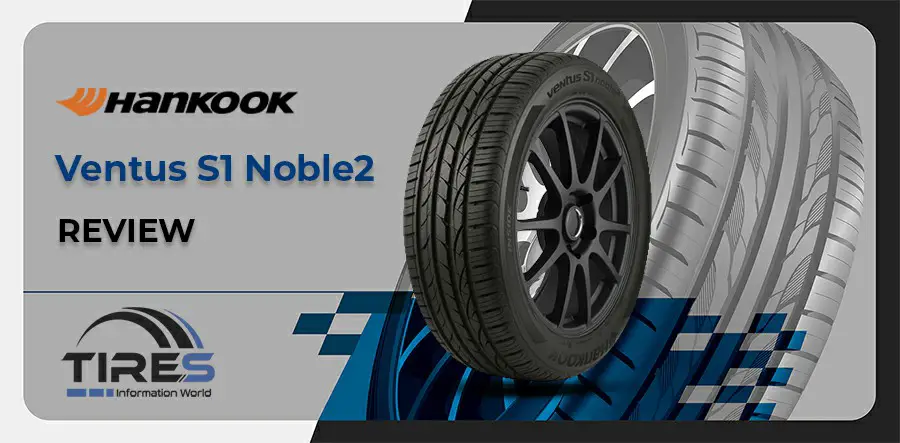 It's your ability to operate the steering wheel and the tire you choose that mostly influence your safety. So take the time to find the ideal tires so you can relax and enjoy the ride with your loved ones. If you're wondering if the Hankook Ventus is worth your investment, check our review out now and let us aid you in the purchase decision.
Hankook Ventus S1 Noble2 H452 Overview:
About Hankook Brand 
Hankook first entered the tire business in 1941, and in comparison to top-rated tire brands, it's a little late. Nonetheless, the inclusion of the name "Hankook" in the Top 10 Tire Global Company Rank might be interpreted as a sign of its success and popularity.
This new Korean player has its headquarters in North America and provides thousands of original equipment tires every year for many well-known car brands like Toyota, Honda, etc. One of the most excellent products that customers shouldn't overlook is the Hankook Ventus S1 Noble2 H452.
Details Of Hankook Ventus S1 Noble2 H452
It is important to go through the main technique features when reviewing the tire in detail. The first feature leaving an impression is the special rough design of the tire and an asymmetric tread pattern with various inner/outer slots.
The interior of the tread one can inhibit advanced aqua hydro, reducing hydroplaning by distributing water outside the tread. At the same time, the outside shoulders assist you during cornering and driving on hard surfaces with rigid straight blocks. 
Regarding tire material, Hankook uses a high-quality hybrid silica compound combined with the real-steel rim that reduces the rapid wear down and fuel consumption to some extent. This brand also combines 3D vibration measurement technology with these above grooves to optimize the high braking performance, which is why this tire meets the UTQG treadwear standard.
Furthermore, this tire features distinct sedan and coupe lineups, resulting in unrivaled temperature resistance.
What Are Its Advantages And Disadvantages?
Let's take a look at this table for an overview:
Hankook Ventus S1 Noble2 H452 Driving Test
The majority of automotive experts praise Hankook's tire quality. We can assure you of this after years of driving with Hankook Ventus S1 Noble2 H452. Let's have a look at how well it works.
How Does It Work In Different Kinds Of Weather? 
It's no exaggeration to say that Hankook Ventus S1 Noble2 H452 obtains the most high-degree traction in the same high-performance driving tire. Thanks to the advanced material and unique construction, it would keep your car from slipping off the highway. Even moving in wet/dry weather or making a sudden car corner is not a big problem.
However, its M+S (mud + snow traction) index only maintains the average rate. In the winter, the amount of heavy snow will make these tires lose traction control, leading to unexpected accidents.
Other Testing Matters Involved 
Our driving test also focuses on assessing the feeling of the driver and passenger during the journey. 
With its multiple ribs and blocks, we barely hear any loud sound when accelerating. Even when moving on poor-status roads with many potholes, it still ensures its noise blocking ability and brings the most comfort for drivers.
Moreover, an amazing feature we would like to mention is treadwear. These tires look nearly fresh, although we have driven on them for long miles. The longer you use Hankook tires, the lower the cost of tires.
In other words, the cost per use of these tires is extremely beneficial to drivers. So, you can save thousands of dollars every year in maintenance and replacement. Be it the price or its features, the Hankook Ventus S1 Noble2 H452 never disappoints its customers.
Competitors & Alternatives
| | |
| --- | --- |
| Treadlife Warranty: | 6 Years / 50,000 Miles (40 series and above only)  Half mileage front and rear if different sizes  |
| Uniformity Warranty: | 1 Year / first 2/32″ of wear |
| Workmanship & Materials Warranty: | 6 Years / Free replacement first year or 2/32″ of wear, then prorated until 2/32″ remaining depth |
| Manufacturer's Road Hazard Warranty: | 1 Year / first 2/32″ of wear |
| Manufacturer Special Warranty: | 30 Day Free Trial (1) |
| Additional Information: | (1) Purchase 4 exchange for another set of Hankook |
warranty summary for replacement tires purchased on or after 06/01/19
| 18 | | 19 | |
| --- | --- | --- | --- |
| 225/45R18 | 285/35ZR18 | 255/45R19 | 245/50ZR19 |
| 235/45R18 | 245/45ZR18 | 255/45R19 | 275/40ZR19 |
| 225/40R18 | 245/40ZR18 | 225/45ZR19 | 255/45ZR19 |
| 225/60ZR18 | 235/40ZR18 | 245/55R19 | 255/40ZR19 |
| 225/40R18 | 225/40ZR18 | 285/35ZR19 | 245/45ZR19 |
| 245/45R18 | 235/45ZR18 | 235/50R19 | 255/35ZR19 |
| 235/55ZR18 | 225/50ZR18 | | |
| 245/50ZR18 | 255/40ZR18 | | |
| 275/35ZR18 | 235/50ZR18 | | |
| 265/35ZR18 | 225/45ZR18 | | |
| 255/45ZR18 | 255/35ZR18 | | |
| 20 | | | |
| --- | --- | --- | --- |
| 255/40R20 | 255/50R20 | | |
| 245/50R20 | 275/35ZR20 | | |
| 275/40ZR20 | 245/40ZR20 | | |
| 245/45ZR20 | 255/35ZR20 | | |
| 255/45ZR20 | | | |
Ventus S1 Noble2 prices range approximately from ‎$115.72 to $267.70 (Tire Rack)
Pirelli P Zero Nero All Season
Dunlop SP Sport 5000 M
Hankook Ventus V4 ES H105
Yokohama ADVAN Sport A/S+
Cooper Zeon RS3-G1
Hankook Ventus S1 Noble2 H452 – Compare Prices
We found 5 online tire retailers selling Hankook Ventus S1 Noble2 H452. Refer to the details below to get the best price:
Hankook Ventus S1 Noble2 H452
PRICE
SOLD BY
 

$115.99

Offers

$115.99

Offers

Offers
Ventus S1 Noble2 H452 Ratings By Consumer