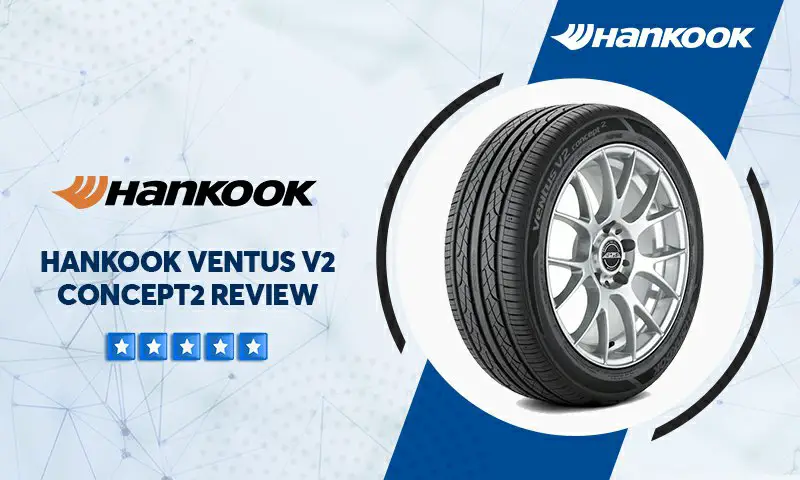 With many options for Hankook out there, which one is the best one? To help you find out, the following are some Hankook Ventus V2 Concept2 Reviews for your reference.
Hankook Ventus V2 Concept2 Overview
As one of the most famous and precious brands in the world for tire manufacturing, Hankook always applies the most modern technology for its products. Among them, the Ventus V2 Concept2 H457 version is the top option.
The most important things that our Hankook Ventus V2 Concept2 H457 can not ignore is that you can use this tire for all seasons, including the wet, dry, or lightly snowy. This tire has a special strength like that due to its high grip and the compound from enhanced silica. 
The strength of this tire also comes from the great design of four grooves with large circumference. Other than that, the pattern in V tread has made the tire relive from the water under, which makes this item perfect for wet traction. And for the best performance in the wintertime, the 3-D tread and its surrounded sipes will greatly help. 
Continuing our Ventus V2 Concept2 H457, we have another feature that engineers from Hankook focus on is to reduce the noise during every move. The Noise Block Management system eliminates extensive noise from the tire, making your drive more enjoyable.
For better durability and strength, the manufacturer also put the two belts of steel covered with nylon on the inside. 
With this tire, you can have the option of the size from 15 to 18 inches, and the speed ratings of H, W, or V. A tread warranty of 45K mile is offered with the item by Hankook.
Now, let's continue the Hankook Ventus V2 Concept2 H457 tire with some advantages and disadvantages of this item:
See more: Hankook Kinergy PT H737 Reviews – All You Need To Know
Hankook Ventus V2 Concept2: Our Experience
As the tire lover and the hope of a perfect Hankook Ventus V2 Concept2 H457 reviews, we have tried to drive with this tire. And it is needless to say this tire is a real deal.
On both wet and dry roads, we have found that the traction works out well. This is a plus point when you have to face the rain or on a slippery surface.
Other than that, it is seldom for you to find road noise during driving. With this, your driving time will be more enjoyable. 
And we have seen how this tire can dry quickly by trying on a long wet road. And it is a surprise to us that the water can quickly be removed from the tire. 
However, we also find some drawbacks. Even though this tire's thickness makes it durable and strong, they make you a little bit hard for the cornering act.
Furthermore, this item can only work on a weak snowy season. If there is a thick ice surface in hard snowy circumstances, you cannot use this tire. The reason is that this item is not designed with high friction. As a result, it will be slippery to drive when the road is covered by thick ice.  
Conclusion
In general, this tire is ideal for use on wet and dry roads thanks to its great design and long lasting features. If you hope your car becomes sportier or search for a good quality tire, this item is a great choice for you.
Competitors & Alternatives
| | |
| --- | --- |
| Treadlife Warranty: | 6 Years / 45,000 Miles Half mileage front and rear if different sizes |
| Uniformity Warranty: | 1 Year / first 2/32″ of wear |
| Workmanship & Materials Warranty: | 6 Years / Free replacement first year or 2/32″ of wear, then prorated until 2/32″ remaining depth |
| Manufacturer's Road Hazard Warranty: | 1 Year / first 2/32″ of wear |
| Manufacturer Special Warranty: | 30 Day Free Trial (1) |
| Additional Information: | (1) Purchase 4 exchange for another set of Hankook |
Ventus V2 Concept2
warranty summary for replacement tires purchased on or after 01/01/19 at Tire Rack
| 15″ | | 16″ | |
| --- | --- | --- | --- |
| 195/50R15 | 205/50R15 | 185/55R16 | 215/55R16 |
| 195/55R15 | | 205/45R16 | 225/50R16 |
| | | 205/50R16 | 225/55R16 |
| | | 205/55R16 | 245/50R16 |
| 17″ | | 18″ | |
| --- | --- | --- | --- |
| 205/40R17 | 215/50R17 | 215/45R18 | 225/40R18 |
| 205/45R17 | 225/45R17 | | |
| 205/50R17 | 225/50R17 | | |
| 215/45R17 | 235/45R17 | | |
| | 245/45R17 | | |
Ventus V2 Concept H457 prices range approximately from $68.99 – $191.99 – Tirebuyer
Yokohama Advan Sport V103
Cooper Zeon CS Sport
Fulda SportControl
Pace AZURA Pace
Nexen N Fera SU4
Giti GitiSport S1
Hankook Ventus V2 Concept2 H457 – Compare Prices
We found 6 online tire retailers selling Hankook Ventus V2 Concept2 H457. Refer to the details below to get the best price:
Hankook Ventus V2 Concept2 H457
PRICE
SOLD BY
 

Offers

Offers

$72.99

Offers

$73

Offers
Ventus V2 Concept2 Ratings By Consumer