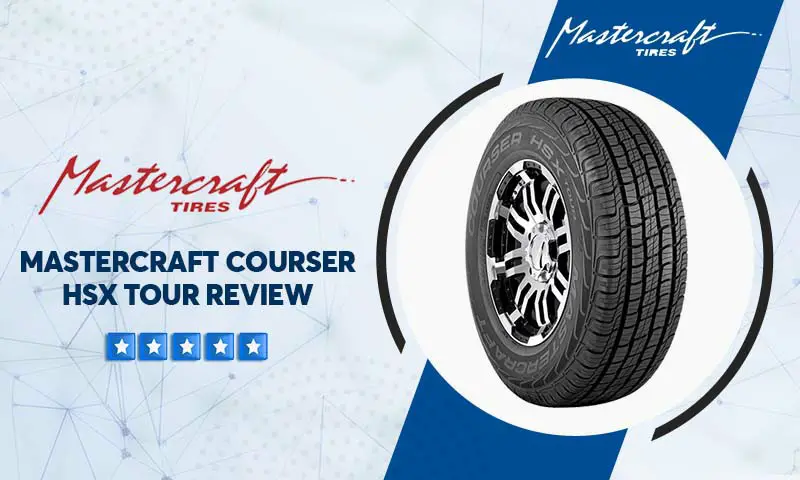 Before going to the in-depth Mastercraft Courser HSX Tour, let's get started with learning about the brand – Mastercraft. 
About Mastercraft
Mastercraft is a brand owned and backed by Cooper, the dominating tire and rubber company. This subsidiary has gained a good reputation for offering premium quality at the most affordable price. 
Mastercraft also gains popularity by offering a wide range of tires to complement all kinds of terrain and driving styles. Until now, it has launched 17 tire types. The most dominating tires are Stratus AP and Stratus HT, Courser AXT2, Courser HSX Tour, Courser HTR, Courser CXT, and HXT.
Mastercraft Courser HSX sets it apart from the year-around touring SUV tires available as an exceptional value for money. It comes with comparable features you could expect from the other well-known brand names. 
Now, let go along with us in the concise review to discover its amazing features. 
Features: Mastercraft Courser HSX Tour Reviews
This product utilizes stability control siping technology. This revolutionary technology makes tread blocks stiffen as a solid unit to increase stability in almost harsh driving conditions. 
Additionally, it will increase tire longevity thanks to the improvement of even treadwear.
Remarkably, 3-D sipes and wide circumferential grooves are optimized for better resistance to hydroplaning. Once being driven at the average speed in wet weather, it performs adequately. That means it gets good traction and grip on the wet road. 
However, it will be more challenging for these tires in adverse weather conditions. Significantly exceeding its traction limit in heavy rain can cause oversteering. 
As an M+S rated tire, the Mastercraft courser HSX tour is reliable on light snow surfaces. It won't slip and skid when stopped and started at a slow speed, but slippage could be an issue at high speed on snow.
Another significant feature to mark Mastercraft courser HSX as an excellent choice is its big sidewalls to absorb the impacts from bumpy roads. 
Thus, you barely hear any sound once they are rotated regularly and balanced in terms of road noise. Yet, once they get older, you may notice some noise at an acceptable level. 
Last but not least, the ventless molds make the tires polished look.
Pros & Cons
Personal Experience
To give you a closer look,  we will share our personal experiences in this part of the Mastercraft Courser HSX Tour tire. We put two pairs of Courser HSX Tour on both front and rear of 95 GMC 1500XC 2wd. 
Courser HSX Tour came across us by chance. We decided to give Mastercraft a try among other American tire producers. We expected sharing the same vehicle production lines also make HSX Tour have an excellent driving performance.   
Until now, once it has already passed the half time of the treadwear warranty, we are still satisfied with the overall performance. The car rides smoothly on almost town roads and highways. It delivers superior tractions and consistent responsiveness under dry conditions or in light rain. 
I'm only aware that the rear tires got cupped with a roar once they had worn out. After rotating them, the sound was noticeable but acceptable. 
We just tried to drive on the backroad a few times. We had to accept it needed an improvement in traction and gripping.
Many reviews do not mention a distinct feature is an R-Tech Construction built into the tire's sidewall. Yet, in our opinion, it is a decent feature to enhance response and corner stability at various speeds. 
At the bottom line, through personal experience, we believe that Mastercraft is well designed for comfort, dependability, and value. With the affordable price range and city driving, Master Courser HSX Tour would be one of your most worthy considering choice.
| | |
| --- | --- |
| Treadlife Warranty: | 60,000 Miles |
| Manufacturer's Road Hazard Warranty: | None |
| 15 | | 16 | |
| --- | --- | --- | --- |
| 265/70R15 | 265/75R15 | 215/70R16 | 245/75R16 |
| | | 225/70R16 | 255/65R16 |
| | | 225/75R16 | 255/70R16 |
| | | 235/70R16 | 265/70R16 |
| | | 235/75R16 | 265/75R16 |
| | | 245/70R16 | |
| 17 | | 18 | |
| --- | --- | --- | --- |
| 225/65R17 | 245/70R17 | 235/55R18 | 255/70R18 |
| 235/60R17 | 255/65R17 | 235/60R18 XL | 265/60R18 |
| 235/65R17 | 265/65R17 | 235/65R18 | 265/65R18 |
| 235/70R17 XL | 265/70R17 | 245/60R18 | 265/70R18 |
| 245/65R17 | | 255/55R18 XL | 275/65R18 |
| | | 255/65R18 | |
| 19 | | 20 | |
| --- | --- | --- | --- |
| 225/55R19 | 255/50R19 XL (BW) | 235/55R20 | 265/50R20 |
| 245/55R19 | 255/60R19 | 245/50R20 | 275/55R20 XL |
| | | 255/50R20 XL | 275/60R20 |
| | | 255/55R20 | |
Mastercraft Courser HSX Tour prices range approximately from $127.97 to $240.98 (Simple Tire)
prices range approximately from
Mastercraft Courser HSX Tour – Compare Prices
We found 2 online tire retailers selling Mastercraft Courser HSX Tour. Refer to the details below to get the best price
Mastercraft Courser HSX Tour
PRICE
SOLD BY
 

Offers




Offers



Mastercraft Courser HSX Tour Ratings By Consumer